Slow cooker keto butter chicken. This Crockpot Butter Chicken is an Indian dish that's easy to make in your slow cooker. It's packed with spices that make a delicious meal.
My friend introduced me to Indian food. We went to an Indian buffet and I chose the food that looked delicious. One of my favorites was Butter Chicken – yum!
I loved Butter Chicken the minute I tried it. I think I was drawn to the name, plus who doesn't love butter? It was creamy and just a little sweet, but not too spicy. It was love at first bite!
This version of butter chicken is lighter than usual. No butter or heavy cream is needed – just add some coconut milk for creaminess. Try blending Indian spices like ginger, garam masala, and curry with tomatoes to make a tasty sauce. It's super yummy!
This meal is so yummy that everyone in your family will love it! Even better, the flavor of this dish gets better the next day, so you should make double the amount.
Ingredients Needed to Make Slow Cooker Keto Butter Chicken
Chicken breasts- or replace chicken breasts with boneless, skinless chicken thighs. This means removing the bones and skin from the thighs, leaving just the meat. This type of chicken is often easier to cook and can be used to make all kinds of delicious meals.
Garlic- Garlic is an amazing ingredient that can give your food a big flavor and a lot of nutrients. It's part of the allium family, which includes onions, chives, shallots, and leeks. Use garlic in the right way and you'll get loads of benefits!
Yellow onion – Are onions keto-friendly? Yes, it's okay to eat onions on a keto diet! Onions have a low amount of net carbs, so you can have them as part of your meal. Just remember to eat them in moderation.
Coconut milk – Coconut milk is a type of milk made from coconuts. It comes in cans and is full-fat, so it can be a bit thicker and richer in flavor than other kinds of milk.
Tomato paste – Tomato paste is a yummy way to make food taste even better. It adds a special taste to dishes that you can't get from anything else.
Almond flour – Almond flour can help thicken up a sauce. It's like adding extra ingredients without changing the flavor.
Ginger – I used fresh ginger in this recipe.
Curry powder – Curry powder can be either mild or spicy. Mild curry contains ginger and black pepper, while spicy curry usually contains some kind of chili pepper.
Garam masala – Garam masala and curry powder are both used to make food taste better and look brighter. The main difference is that garam masala doesn't have turmeric, which gives curry powder its yellow color.
Chili powder – Chili powder is an ingredient you can add to a dish. You can adjust the amount to make it taste the way you want. Put more for a spicier dish, or less for a milder taste.
Cilantro – Fresh cilantro can be used to add a pop of flavor to a dish. It's not necessary to use, but using a bit of it can really make a difference in the way your food tastes.
Greek yogurt – Greek yogurt can be added to your meal as a topping. If you don't eat dairy, you can skip this step.
YOU MAY ALSO LIKE:
Slow Cooker Keto French Onion Soup
Slow Cooker Keto Cauliflower Soup
Slow Cooker Keto Creamy Asparagus Soup
Slow Cooker Keto Chicken Divan
Slow Cooker Paleo Orange Sesame Chicken
How to Make Slow Cooker Keto Butter Chicken
Heat some olive oil in a pan, then add the onion and garlic. Cook until they are soft.
Add coconut milk, tomato paste, flour, ginger, curry powder, garam masala, chili powder, and salt & pepper to a pot. Cook for a short time, around 1-2 minutes, until the mixture slightly thickened.
Place the chicken in the slow cooker and pour sauce over it. Close the pot and cook on a low heat setting for 6 hours.
Serve the dish with cilantro and plain Greek yogurt sprinkled on top.
How to Store It
Store leftovers in a container with a tight-fitting lid in the fridge. You can eat them up to 3 days later. To heat them up, you can use the microwave or put them in a pan on the stove over medium heat.
How to Serve the Dish
Serve this dish with cauliflower rice or quinoa. Cauliflower rice is a substitute for regular rice, and quinoa is a grain that is similar to rice.
Enjoy a delicious meal with warm, keto naan bread and a generous helping of cool, creamy raita sauce.
Serve up some tasty side dishes with your meal! Try sautéed spinach, roasted delicata squash, or roasted butternut squash. Yum!
Slow Cooker Keto Butter Chicken
So, here is the final point- This slow cooker keto butter chicken is an Indian dish made easily thanks to the Crockpot. It's flavored with an array of spices for a delicious flavor.
1) Slow cooker keto butter chicken is an Indian dish.
2) It's easy to make in your Crockpot.
3) It's packed with unique spices to bring out a delicious flavor.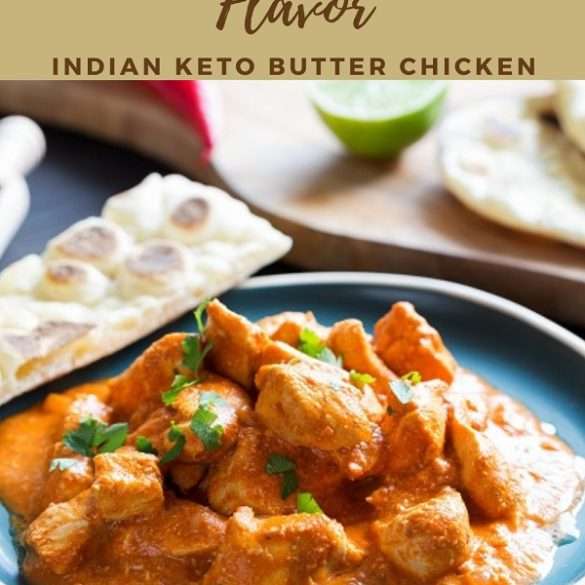 Ingredients
1 tablespoon avocado oil
4 cloves garlic, peeled and minced
1 yellow onion, peeled and diced
14 oz (420 ml) can of coconut milk
6 oz (180 ml) can of tomato paste
2 tablespoons almond flour
1 tablespoon fresh ginger, peeled and minced
1 tablespoon curry powder
2 teaspoons garam masala
1 teaspoon chili powder
1 teaspoon salt
1/2 teaspoon freshly ground black pepper
2 pounds (960 g) of boneless and skinless chicken breasts, cubed
4 tablespoons chopped fresh cilantro (optional)
Greek yogurt (optional)
Instructions
Heat the avocado oil in a large nonstick skillet over medium-high heat.
Add garlic and onion. Cook them until the onions become translucent, which will take about 2-3 minutes.
Mix in the coconut milk, tomato paste, flour, ginger, curry powder, garam masala, chili powder, salt, and pepper. Keep stirring until it's all blended and a bit thicker, about a minute or two.
Put cubed chicken in a slow cooker. Pour the sauce over it.
Cover the pot and cook for 3 hours on high heat or for 6 hours on low heat.
Serve the dish with a topping of chopped fresh cilantro and a dollop of Greek yogurt. Enjoy!
Did You Make This Recipe?