Slow cooker keto chicken divan. Whip up a quick and easy low-carb meal with our keto chicken divan recipe. Savory and creamy, it features a mix of fresh vegetables and perfectly cooked chicken. Get started on the keto diet today!
What is Keto Chicken Divan and Why It's So Popular
Keto Chicken Divan is an easy slow cooker dish that has become increasingly popular due to its low-carb, high-protein content. This dish is made by combining cooked chicken, broccoli, and a creamy sauce made from mayonnaise, cream cheese, and Parmesan cheese.
The combination of these ingredients makes for a delicious meal that is both healthy and filling. It's no wonder why this dish has become so popular among those who follow the ketogenic diet! With its easy preparation method in the slow cooker and its delicious flavor, Keto Chicken Divan is sure to be a hit with anyone who tries it!
YOU MAY ALSO LIKE:
Air Fryer Keto Broccoli Parmesan
The Benefits of Using a Slow Cooker for Keto Recipes
Slow cooking is a great way to get the maximum health benefits from your food, and it's especially beneficial for those following a Keto diet. Slow cookers are designed to make cooking easier and healthier, as they require less energy and time than traditional cooking methods. Not only that, but slow-cooked meals tend to be much more flavorful than their regular counterparts.
Why use a slow cooker for keto? Slow cookers allow you to cook without constantly stirring or flipping your food. This makes them a popular choice for foods that require long, slow cooking times such as stews, soups, and bone broth. You can make many of these keto-friendly dishes in your crockpot so it's easier to get dinner on the table!
Keto-Friendly Crockpot Recipes: Crockpot Kielbasa Soup: This hearty and delicious soup is a perfect addition to your dinner plans. It's easy to make, filling, and tastes so good!
Crockpot Buffalo Chicken Wing Dip: A crowd favorite at any gathering, this slow cooker dip will disappear in no time. Serve it with celery sticks, carrots, or tortilla chips for dipping!
Crockpot Beef Stew: A low-carb beef stew that's a great alternative to the classic beef stew recipes you may be used to. A slow cooker is an electric cookware that uses an external heat source such as hot air or electrical coils to convert the heat energy into a time-controlled threshold.
What Other Ingredients Can You Add To Your Chicken Divan?
Chicken Divan is a classic family favorite that can be easily adapted to suit individual tastes and dietary needs. With the right mix-and-match ingredients, you can create your own version of this delicious dish. Whether you're looking for a gluten-free version or something with a little more kick, there are plenty of options to choose from. In this article, we'll explore some of the different ingredients you can add to your Chicken Divan and provide suggestions on how to make it unique. to your tastes.
Ingredients for a Gluten-Free Chicken DivanThis option is quite simple: use gluten-free pasta, marinara sauce, and gluten-free bread crumbs. If you're looking for a vegetarian option that's still full of flavor, try replacing the chicken with sauteed vegetables and adding some Daiya cheese to the mix. For something even creamier and richer, substitute butter or vegan margarine with coconut oil. You can also add any seasonings you like to this dish in place of salt and pepper: ground cumin, oregano, thyme, smoked paprika, cayenne pepper, etc.
Slow Cooker Keto Chicken Divan
Slow-cooker keto chicken divan is an easy-to-make low-carb dish that cooks in a slow cooker for a delicious and convenient meal. The dish contains chicken breasts, steamed broccoli florets, and a creamy sauce made with heavy cream, sour cream, and spices.
By combining all the ingredients in the slow cooker and cooking it on low, the dish can be ready in 3-4 hours. The key takeaways from this article are that slow cooker keto chicken divan is an easy, delicious, and convenient meal; it contains cooked chicken, raw cauliflower, and a creamy sauce made of heavy cream, sour cream, and spices; and it can be ready in 3-4 hours.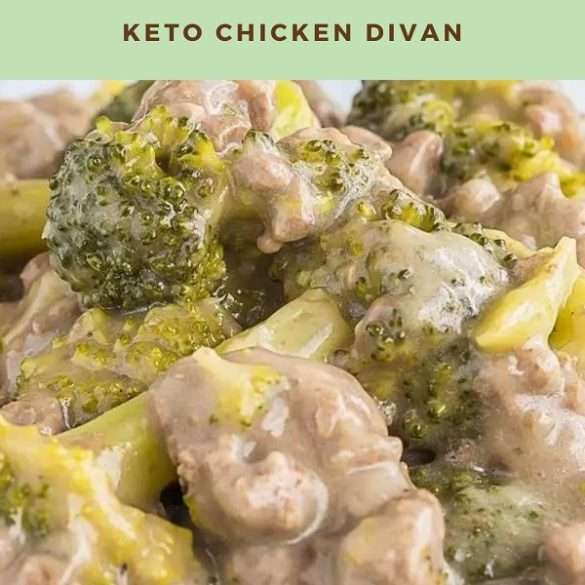 Ingredients
2 pounds (960 g) of boneless, skinless chicken breasts, cubed
16 oz. (480 g) steamed broccoli florets
1 pound (480 g) grated cheese (cheddar, mozzarella, or your favorite variety)
1/2 cup (125 ml) canola mayonnaise
1/2 cup (125 ml) sour cream
1/4 cup (60 ml) heavy cream
1/4 cup (60 ml) chicken broth
1/4 teaspoon garlic powder
1/4 teaspoon onion powder
1 teaspoon freshly squeezed lemon juice
1/2 teaspoon paprika
1 teaspoon dried parsley
1/2 teaspoon salt
1/4 teaspoon freshly ground black pepper
Instructions
Place the chicken breasts in the slow cooker and season with garlic powder, onion powder, paprika, salt, and pepper.
In a bowl, combine the mayonnaise, sour cream, heavy cream, and chicken broth until smooth.
Pour the sauce over the chicken in the slow cooker.
Add the lemon juice, parsley, and broccoli florets to the slow cooker and stir.
Cover and cook on low for 4 hours.
After the 4 hours, remove the lid and stir in the grated cheese.
Replace the lid and cook for another 30 minutes, or until the cheese has melted.
Serve hot with your favorite sides. Enjoy!
Did You Make This Recipe?