Air fryer keto broccoli Parmesan. Delicious and nutritious meals don't have to take hours to make. Cook Keto Broccoli Parmesan in minutes with your air fryer! Try this delicious low-carb recipe that is sure to please. Get cooking today and discover an easier way to stay on track with Keto!
If you want to make crunchy broccoli with less effort than roasting it in the oven, air frying is the answer. You can quickly and easily air-fry broccoli to get delicious, crispy edges.
Make broccoli super tasty with this easy air fryer recipe! Top with parmesan cheese for a healthy and delicious side dish. It's perfect for any meal.
YOU MAY ALSO LIKE:
Slow Cooker Keto Barbacoa Beef
Tips for Getting the Perfect Texture and Taste for Your Keto Broccoli Parmesan
Keto Broccoli Parmesan is a delicious dish that can be enjoyed by anyone following a keto diet. This dish is packed with flavor and texture, and it's the perfect way to get your daily dose of vegetables without compromising on taste. But how do you get the perfect texture and taste for your Keto Broccoli Parmesan?
To start, let's talk about the two types of Parmesan that are available for purchase. It is important to know which type you will use when you want your Keto Broccoli Parmesan to have a creamy texture and rich flavor.
The first type of cheese is called "Parmigiano-Reggiano" because it is made from raw cow's milk. Note: You can also make your own Parmigiano Reggiano with this recipe! It has a range of savory flavors that go well with dishes like Seafood Squash Casserole, Roasted Garlic Butter Chicken, and Tenderloin with Morels! The second type is called "Parmesan" because it's made from pasteurized cow's milk. It will provide a more mild, less grainy flavor that goes well with dishes like Blackened Tilapia and Stuffed Portobello Mushrooms. We're going to start by making our version of Parmigiano Reggiano so that we can make the most flavorful dish possible!
How to Fry Broccoli in an Air Fryer
1. Set your air fryer to 400°F. Cut the broccoli into small pieces, separating the head from the stalk. Take a break and mix the butter.
2. Melt some butter in a bowl. Add garlic, salt, pepper, and some red pepper flakes (optional). Mix it all together with a whisk.
3. Add the broccoli florets to the mix and stir. Make sure they're covered with the other ingredients.
4. Sprinkle the grated Parmesan cheese on the florets. Gently mix until the florets are all covered with the cheese.
5. Put the broccoli in the air fryer. Make sure it is spread out. Cook it for 8 minutes, shaking the basket or flipping the broccoli every 4 minutes.
6. Take the broccoli out of the air fryer. Sprinkle more Parmesan cheese on top to make it as cheesy as you like.
Put the leftover roasted broccoli in a container and store it in the fridge. You can keep it for up to 3 days.
Tips and Tricks to Make Air Fryer Keto Broccoli Parmesan
1. Cook roasted broccoli in the air fryer by arranging it in one layer. This makes sure the broccoli cooks evenly.
2. Add the Parmesan cheese before you start cooking, or it won't stick to the broccoli. Otherwise, it will melt and fall away.
3. For a delicious flavor, use freshly grated parmesan cheese. But if you don't have that, powdered parmesan cheese also tastes great!
4. Watch the broccoli carefully while it's cooking. Lower the temperature to 360º F (180º C) if it starts to turn brown too quickly.
5. Cut the broccoli stalks into small, equal-sized pieces so they all cook the same way.
Air Fryer Keto Broccoli Parmesan Variations
Add diced chicken to the recipe to make a chicken and broccoli dish. Turn the oven to 360º F (180º C) and cook until the chicken is done – about 10 minutes.
Add some lemon juice or zest for a citrusy taste. The juice and zest from a fresh lemon will give your dish a zingy flavor.
Replace the Parmesan with teriyaki or stir-fry sauce.
Add some garlic to your dish – either fresh, chopped, or in powder form – or coat it with garlic sauce for a new taste.
Put the cauliflower in the air fryer with the broccoli. Cook for a few minutes until both are cooked through.
Try using a store-bought veggie seasoning to flavor your air fryer broccoli. A good choice is Traeger Grills' Veggie Rub. Just sprinkle some on and you'll have a more flavorful broccoli dish.
Can I Use Frozen Broccoli?
Yes! Frozen broccoli makes it taste better and yummier! Set the air fryer to 400º F (200º C). Put the frozen broccoli in the fryer and leave it for 20 minutes.
Air Fryer Keto Broccoli Parmesan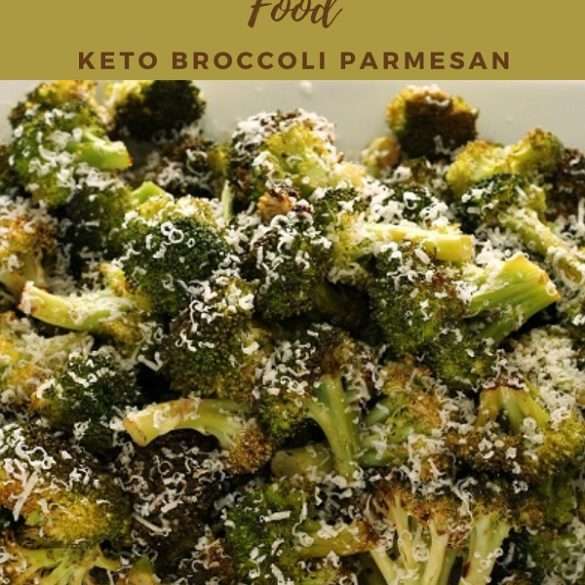 Ingredients
1 head of broccoli, cut into florets
2 tablespoons unsalted butter, melted
1clove garlic, peeled and minced
salt and freshly ground black pepper, to taste
1/4 cup freshly grated Parmesan cheese
More grated Parmesan cheese for serving
pinch of red pepper flakes (optional)
Instructions
Set your air fryer to 400º F (200º C) before you start cooking.
In a mixing bowl, combine melted butter, garlic, salt, black pepper, and red pepper flakes (if you like it spicy). Stir well.
Add the broccoli florets and stir to combine thoroughly.
Add the Parmesan cheese and stir. Make sure the cheese covers all of the food evenly.
Put the broccoli in the preheated air fryer. Cook for 6 to 8 minutes, then take the basket out and shake it. Put the basket back in and keep frying.
Take the broccoli out of the air fryer and enjoy it right away!
Sprinkle with extra parmesan cheese. Enjoy!
Notes
If your broccoli is getting too brown while cooking, lower the heat to 360 degrees. Keep cooking it for the same amount of time that you were before.
Did You Make This Recipe?