Slow cooker keto barbacoa beef. Enjoy a flavorful and healthy dinner with Keto Barbacoa Beef. This low-carb dish is packed with flavor and is the perfect way to make a delicious dinner for the whole family.
Have you tried the barbacoa beef at Chipotle? Their chicken is delicious, the veggies in the fajitas are yummy and the Mexican chorizo is amazing! But the barbacoa beef? That's something special! I think it's the best food choice – especially if you get guacamole. It's really good if you've tried it.
Have you ever wondered if you can make slow-cooked barbacoa meat at home? It's totally possible! Good news: This beef barbacoa is really simple to make! You just need ten common ingredients, like you would for making pulled pork or beef short ribs. And it's as easy as using an Instant Pot!
You will love your Crock Pot even more after you try this barbacoa beef recipe! It's a delicious version of a Chipotle favorite and one of the best Mexican beef dishes. Give it a try!
So, What is Barbacoa?
Barbacoa is a Mexican dish made with meat, spices, and herbs. It's cooked slowly, so the meat is tender and full of flavor. It often gets shredded and used as a topping or filling in tacos, burritos, and other meals. Mexican barbacoa is made with a variety of meats like beef, goat, or lamb – usually chuck roast or brisket.
Barbacoa beef requires three things to make it taste its best: the right cut of meat, the perfect spices, and enough cooking time to let the flavors mix together. Combine Mexican spices like peppers, adobo, lime, and broth to make a marinade. Let the marinade sit with the meat and cook it slowly. This gives the flavors time to blend together and the meat a chance to become tender and juicy.
What Does Mexican Barbacoa Taste Like?
Barbacoa is a type of Mexican food that has a unique flavor. It is usually made from beef, lamb, goat, or fish. The meat is cooked with lots of spices and herbs, often in a pit in the ground, then shredded and mixed with onions, garlic, and cilantro. It is usually served with warm tortillas and fresh salsa. Barbacoa tastes savory, smoky, and slightly spicy.
YOU MAY ALSO LIKE:
Slow Cooker Keto Chicken Stroganoff
Instant Pot Keto Eggs Benedict
Slow Cooker Keto Beef Stroganoff
Keto Barbacoa Beef Ingredients
Did you know that Chipotle has a list of all the ingredients in its food? It's available for everyone to see. So you know exactly what's in your meal. To make your Chipotle-style barbacoa at home, start by looking at what's in the beef. Chipotle's recipe only needs eleven ingredients plus water!
Here are the ingredients for my barbacoa recipe, which is very similar to Chipotles:
Beef-Use beef brisket or chuck roast for barbacoa. These cuts have a lot of fat and connective tissue, like collagen. When cooked slowly, they become juicy and tender. Cut off any large pieces of fat, but leave some for flavor. Cut the meat into two-inch (5 cm) chunks.
Chipotle Peppers in Adobo Sauce-Chipotle peppers in adobo sauce adds a spicy kick to dishes. My version of this sauce is spicier than the original, so if you don't like spicy food, you should use less of the chile chilies in the adobo sauce.
Beef Broth-Barbacoa meat needs liquid to stay moist. To add flavor, use beef broth instead of water when cooking barbacoa beef in a slow cooker. For an even tastier dish, try using bone broth. It also makes it more nutritious!
Apple Cider Vinegar-Apple Cider Vinegar can add a tangy taste to beef. It also helps the barbacoa meat become really soft. The vinegar breaks down the tough pieces in the beef so it's easier to chew.
Lime Juice-Lime juice makes the spices in this barbacoa recipe taste even better. It also helps soften the meat. You can use freshly-squeezed juice or bottled juice – whichever works best for you.
Herbs and Spices-Add herbs and spices to your cooking for extra flavor! Oregano, cumin, cloves, sea salt (or kosher salt), black pepper and bay leaves are all great options. All of these come in dried form, making them easy to store and use. Sprinkle them in your dishes to give them extra zing!
How to Prepare Slow Cooker Keto Barbacoa Beef
This section can help you make yummy barbacoa in your slow cooker. It has information to help you understand how to do it. If you want all the details like amounts and temperatures, check out the recipe card below.
How to Make Barbacoa Sauce-Mix beef broth, chipotle chiles, garlic, apple cider vinegar, lime juice, oregano, cumin, salt, pepper, and cloves in a blender. Blend until it's like a thick paste. If you don't have a blender, you can use a small food processor. Don't add the beef or bay leaves – those go in later.
Cut the beef into 2-inch cubes. Put the cubes in the slow cooker so that they cover the bottom of the cooker. You don't have to do this, but if you have time, try it!
Heat some oil in a pan over medium-high heat, and add the beef to the pan in a single layer. Cook it until it turns a brown color. That will make the flavor even tastier. Do this in batches if you don't have enough room in the pan.
Pour the barbacoa sauce over the beef in the slow cooker. Top with 2 bay leaves. Turn on your slow cooker and choose either the "Low" or "High" setting, depending on how much time you have. Then, take the day off and do something fun! When you come back later, you'll have delicious barbacoa beef.
To shred beef for barbacoa, use two large forks. If the meat has cooked long enough, this should be super simple. You can either shred it directly in the slow cooker or put the beef into a bowl and then shred it.
After shredding, add the meat back into the liquid in the Crock Pot. When you're ready to eat, serve the barbacoa with a slotted spoon.
Slow Cooker Keto Barbacoa Beef
This post presents a slow cooker keto barbacoa beef recipe, which is a low-carb version of the traditional Mexican dish. The ingredients include beef chuck roast, beef broth, chipotle chiles in an adobo sauce, garlic, cumin, oregano, vinegar, ground cloves, and bay leaves.
The preparation time is 5 minutes while the cooking time ranges from 8 to 10 hours. The recipe also lists the nutrition facts and a few tips for an improved taste along with step-by-step instructions.
1) This is a low-carb recipe for the Mexican barbacoa beef dish;
2) The ingredients needed for the recipe are easy to find;
3) It takes only 5 minutes to prepare the dish and 8 to 10 hours to cook it.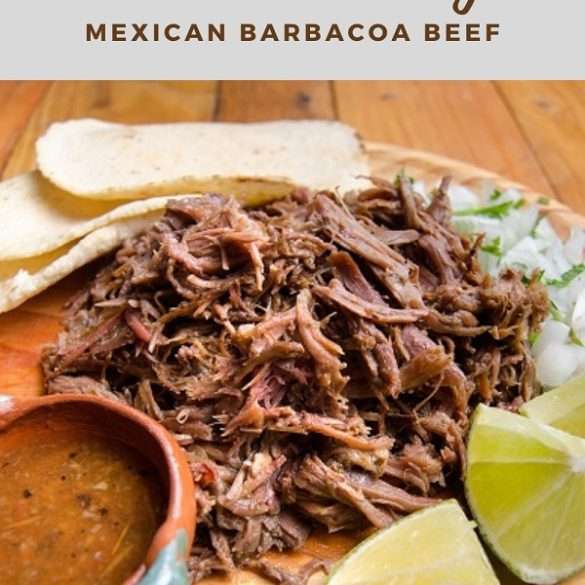 Ingredients
3 pounds (1.44 kg) beef chuck roast, trimmed and chunked
1/2 cup (125 ml) beef broth
2 medium chipotle chiles in adobo sauce
5 cloves garlic, peeled and minced
2 tablespoons apple cider vinegar
2 tablespoons freshly squeezed lime juice
1 tablespoon dried oregano
2 teaspoons dried cumin
2 teaspoons sea salt
1 teaspoon freshly ground black pepper
1/2 teaspoon ground cloves
2 bay leaves
Instructions
In a blender, combine the broth, chipotle chiles, garlic, vinegar, lime juice, oregano, cumin, sea salt, black pepper, and ground cloves.
Blend until smooth.
Place chunked beef chuck roast in a slow cooker. Pour the pureed mixture over the beef. Add bay leaves.
Cover the pot and cook on a low-heat setting for 8-10 hours, or until beef is tender.
Turn off the cooker and open the lid. Discard bay leaves.
Using two forks shred the meat and stir it into the cooking liquid.
Cover the slow cooker and let the meat rest for 5-10 minutes. This will help the beef absorb more flavor.
Using a slotted spoon remove shredded beef from the cooker and transfer it to a serving plate.
Serve hot.
Did You Make This Recipe?