Instant pot keto eggs Benedict. Enjoy a delicious & hearty breakfast with this easy Keto Eggs Benedict recipe! Make it in minutes with our simple steps & use of the Instant Pot. Get the perfect texture and taste without a hassle – the perfect keto breakfast!
What is Keto Eggs Benedict and Why Make it In an Instant Pot?
Keto Eggs Benedict is a delicious and healthy breakfast option that can be easily made in an Instant Pot. This dish is a great way to start off your day with a nutritious meal that will keep you energized throughout the day.
Not only does it taste great, but it's also low in carbs, making it perfect for those who follow the ketogenic diet. It's also incredibly simple to make, taking only minutes in the Instant Pot. With this recipe, you can enjoy a delicious and healthy breakfast without having to spend hours in the kitchen.
You May Also Like:
Instant Pot Paleo Pulled Pork: Quick & Delicious!
Air Fryer Keto Mozzarella Sticks
Health Benefits of Eating Keto-friendly Eggs Prepared Through an Instant Pot
Eating a keto-friendly diet can be beneficial for your health, and one of the best ways to get started is by preparing eggs in an Instant Pot. Eggs are a low-carb food that is high in protein, making them a great choice for those on the keto diet.
Not only do they provide essential vitamins and minerals, but they also provide healthy fats that can help you stay full longer and improve your overall health. Preparing them in an Instant Pot allows you to quickly and easily make delicious egg dishes without sacrificing any of the nutrients.
Eating keto-friendly eggs prepared through an Instant Pot can help you maintain a healthy lifestyle while getting all of the benefits that come with it.
How to Make Keto Muffins
Make these delicious low-carb muffins in just one minute. Start by gathering the ingredients you need – almond flour, baking powder, salt, an egg, melted butter, and sweetener.
Put all these ingredients in a mug or ramekin and mix them together. Then, heat it up in the microwave for 90 seconds. Enjoy your one-minute keto muffins!
Let the muffin cool until it's firm. Then cut it in half and you can toast it either in a toaster, oven, or toaster oven.
I used the egg whites for the muffins instead of throwing them away. Egg yolks are used to make hollandaise sauce, but the whites can still be put to good use!
What other keto recipes can be made in an Instant Pot?
If you're on a keto diet and looking for new recipes to make in your Instant Pot, you've come to the right place! With the help of an Instant Pot, you can quickly and easily make delicious keto-friendly meals that are sure to satisfy your taste buds. From low-carb soups and stews to flavorful main dishes, there are plenty of options available for those who want to enjoy the convenience of an Instant Pot without compromising their dietary goals.
1. Simple Keto Chicken Rice Soup  An easy keto recipe that's quick to make, this simple soup is also low in carbs and calories and can be eaten for breakfast, lunch, or dinner. This keto chicken rice soup is made with only three ingredients: uncooked rice, chicken breasts, and water. In your Instant Pot, you'll cook the chicken breasts in the pot itself until they're no longer pink before adding the water and rice mixture. Once everything has been cooked together for as long as desired, you can enjoy your delicious keto-friendly meal without any guilt!
2 . Keto-Friendly Stir Fry  Looking for a quick and easy stir fry recipe that's low in carbs, calories, and fat? This keto stir fry is made with only three ingredients: chicken breast, broccoli, and shiitake mushrooms. With this keto-friendly recipe, you'll add the ingredients to your Instant Pot before cooking them together in a savory sauce consisting of chili oil, soy sauce, and ginger. The satisfying result is a simple meal that takes just 10 minutes to make but provides plenty of healthy nutrients!
3. Easy Keto Chicken Salad  With no mayo or mayonnaise used in this recipe, this keto chicken salad is high in protein and low in carbs. The secret to the tangy flavor is a mixture of apple cider vinegar, Dijon mustard, raw honey, and lemon juice mixed together with salt and pepper. This simple recipe makes it easy to enjoy a delicious lunch on the go or share at a potluck.
Instant Pot Keto Eggs Benedict
Instant Pot Keto Eggs Benedict is a delicious and healthy low-carb breakfast option. It can be made in just 15 minutes and requires only a few simple ingredients. The eggs are cooked directly in the Instant Pot, resulting in perfectly poached eggs with a runny yolk. The dish is then topped off with a creamy Hollandaise sauce and Canadian bacon. Three key takeaways from this article are:
1) Instant Pot Keto Eggs Benedict is a quick and delicious breakfast;
2) It requires only a few simple ingredients;
3) It is a healthy and low-carb meal option.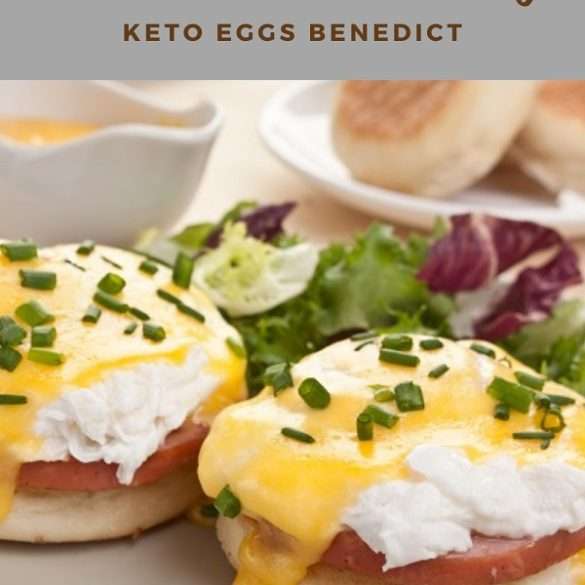 Ingredients
4 English muffins split in half
4 eggs
4 slices Canadian bacon
1 cup Hollandaise sauce
1/4 cup (60 ml) water
1 cup (250 ml) heavy cream
2 tablespoons cream cheese
1 teaspoon Dijon mustard
1/4 teaspoon garlic powder
1/4 teaspoon salt
Fresh cracked pepper to taste
chopped green onions
Instructions
Place water in the Instant Pot and add the steaming rack. Place 4 eggs onto the steaming rack, reduce the heat to low, and cook for 3 minutes.
Once the timer has finished, do a quick release of the pressure. Remove eggs and place them into a bowl of cold water.
Turn the Instant Pot to the "saute" function and fry the Canadian bacon until crispy. Remove and place onto a paper towel-lined plate.
To make the Hollandaise sauce, add the cream, cream cheese, mustard, garlic powder, salt, and pepper to the Instant Pot and stir to combine.
Cook on the sauté setting for about 10 minutes, stirring constantly, until the mixture is thick and creamy.
Toast the English muffins in the oven or toaster.
Assemble the Instant Pot Keto Eggs Benedict: Place 2 halves of the English muffin onto plates, and top with a slice of Canadian bacon.
Peel the boiled eggs and place one on each plate. Top with the hollandaise sauce and a sprinkle of fresh cracked pepper and chopped green onions.
Enjoy!
Did You Make This Recipe?