Crockpot keto sausages with onions and peppers. This quick Crock Pot recipe is super tasty! All you need are 7 ingredients: sausage, peppers, onions, and tomato sauce. Just pop them all into your slow cooker and let them simmer for a delicious meal. Yum!
Grab your slow cooker and make this easy Italian sausage and peppers recipe! All you need is some sausage, peppers, onions, marinara sauce, and Italian seasoning.
Just add the ingredients to the slow cooker and let it do the work. In a few minutes, you'll have a tasty, healthy dinner – Italian comfort food that's sure to please!
If you like the taste of sausage and marinara together, there are lots of different recipes you can try. Sausage-stuffed zucchini, crustless pizza, and Italian stuffed artichokes all have that delicious combination. If you want an easier and faster option, air fryer sausages are a good option.
So, What Are Italian Sausages with Onions And Peppers?
Italian sausage and peppers are an easy and tasty dish to make! It's made with slow-cooked bell peppers, onions, Italian sausages, and marinara sauce. All these ingredients cook together for a yummy meal with lots of flavors. Plus, the slow cooker makes it juicy and tender – yum!
YOU MAY ALSO LIKE:
Instant Pot Paleo Chicken Breasts with Cauliflower Rice
Slow Cooker Keto Cauliflower Mac and Cheese
Ingredients
Olive Oil-Add some flavor to your sausages by sautéing them in olive oil. If you're short on time, you can skip this step, but it's worth it! Just a few minutes of browning will make a big difference. If you don't have olive oil, you can use any other cooking oil, like avocado oil.
Sausages-Use any type of sausage you like to make this meal. We used mild pork Italian sausages, but you could use sweet Italian, chicken or turkey, kielbasa, or bratwurst instead.
Bell Peppers-Cut bell peppers into strips, like you would to make fajitas. Get one of each color, like orange, yellow, and red, or pick your favorite.
Onions-This Crock Pot dish has Italian sausage, peppers, and onions. Use any type of onion you have – like red, white, or yellow. Slice the onion into pieces the same width as the peppers. If you have any leftover caramelized onions, you can add them too!
Garlic-Cut up fresh garlic cloves for the tastiest flavor, or use pre-minced garlic from a jar for an easy option.
Marinara Sauce-Make your own marinara sauce in a jiffy! Or you can buy a jar from the grocery store. If you can't find either of those, use crushed tomatoes or regular tomato sauce instead. Make sure you add the right amount of salt and spices so the sauce tastes yummy.
How To Make Keto Crockpot Sausages With Onions And Peppers
To make brown Italian sausages, heat a skillet with olive oil and put the sausages in. Cook them on both sides until they are brown.
Don't worry about completely cooking them; we just want the flavor to be locked in. Now, you can put bell peppers, onions, garlic, and Italian seasoning into the slow cooker and toss them together.
Add marinara and sausage. Pour marinara sauce over the vegetables, then put the sausages on top. Cook it long and slow. Put it all in a slow cooker and wait several hours until the sausages are done and the peppers and onions are soft.
Can I Cook Sausages With Onions and Peppers In The Oven?
Absolutely! You can make baked sausage and peppers. Brown the sausage on the stovetop and then put it and the peppers in an oven-safe dish. Bake the dish at 400 degrees Fahrenheit for 20 to 30 minutes, until the peppers soften.
Can I Store This Dish?
Yes, put your leftovers in the fridge, and they will stay good for about 3 to 4 days.
Meal prep is an easy way to save time when cooking. You can make this dish ahead of time — up to two days before. Preparing the peppers and onions before you start cooking also saves time. Then, when you're ready, all you have to do is add them to the slow cooker.
Reheat your food easily! You can use the microwave or a skillet on the stove. Make sure to add a little bit of water or chicken broth if you use the skillet. Also, you can put it in a Crock Pot (a slow cooker) to heat it up.
How To Serve Cooked Sausages With Onions And Peppers?
Serve up some yummy sides with your Crock Pot sausage peppers and onions! Garlic bread, rolls, or even hoagie rolls are tasty options for a simple side.
You can also make a simple green salad or a heartier salad, like cauliflower potato salad or avocado Caprese salad. Cauliflower rice or regular rice is great, too, and don't forget the marinara sauce for dipping!
Crockpot Keto Sausages with Onions and Peppers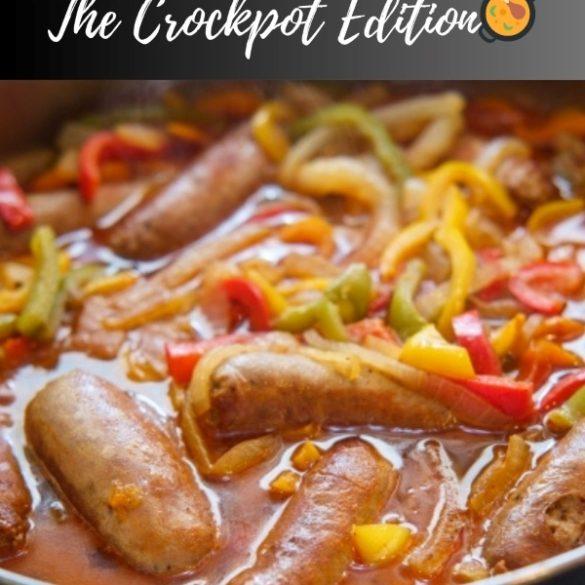 Ingredients
1 tablespoon olive oil
6 medium Italian pork sausages
3 large bell pepper, cut into strips
1 large yellow onion, peeled and cut into strips
6 cloves garlic, peeled and minced
1 tablespoon Italian seasoning
1/2 teaspoon sea salt
1/4 teaspoon freshly ground black pepper
1½ cups (375 ml) marinara sauce
Instructions
Heat the olive oil in a large nonstick skillet over medium-high heat. Add sausages and cook until browned, for about 2 minutes per side.
In a slow cooker, combine the bell peppers, onions, garlic, Italian seasoning, salt, and black pepper. Toss well to coat.
Pour marinara sauce over the vegetables.
Remove browned sausages from the skillet and transfer them to the slow cooker. Do not mix!
Cover the pot and cook on a low-heat setting for 4-5 hours or until sausages and vegetables are cooked through.
Did You Make This Recipe?