Slow cooker keto mushroom soup. This roasted mushroom soup is flavorful and easy to make. You can make it in your slow cooker so the flavors have time to develop.
Preparing the mushrooms is simple: Wipe them with a damp towel to clean them, and then bake them at a high temperature until they turn golden brown.
I love making classic soup recipes in the winter. Cream of mushroom soup is classic and easy to make keto-friendly. Add more ingredients to make it creamier and tastier.
This homemade slow cooker keto mushroom soup is perfect for lunch or as a side dish with dinner.
I highly suggest using grass-fed butter when you can because it has more vitamins and antioxidants. If that's not possible, use real butter, not margarine to make this healthy slow cooker keto mushroom soup.
If you're vegan, you can swap out the butter and cream for vegan butter and coconut milk. This soup is also great for meal prep! Make a large batch and store the leftovers in the fridge. When you're ready to eat, just pop it in the microwave until it's warm.
YOU MAY ALSO LIKE:
Slow Cooker Paleo Turkey Meatballs
Air Fryer Keto Teriyaki Chicken Wings
Instant Pot Keto Asian Short Ribs: The Ultimate Comfort Food
Can You Avoid Roasting the Mushrooms?
I don't suggest it since roasting helps bring out their flavor. To clean them, don't put them in water. That would make them too soft. Wipe them with a damp cloth instead.
If they're extra dirty, you can rinse them but make sure they're totally dry before cooking. To get the best taste, bake them at a high temperature until they get a golden-brown color.
Mushrooms and onions are a great combination for more than just flavor – they have health benefits, too! Scientists have discovered that the duo may help prevent cancer. When cooking, fry the mushrooms and onions until they are soft and lightly browned.
Make your soup yummy by adding homemade vegetable broth and fresh thyme. The chicken broth is good to help with dehydration and replace lost electrolytes, especially if you're just starting a keto diet.
Now all you have to do is add some heavy cream. It makes this soup even better for those following a keto diet. The cream gives your body good fats to use for energy and makes the soup creamier.
This homemade slow cooker keto mushroom soup is so much better than canned soup. It's a delicious and easy low-carb meal. The heavy cream really makes it even better. Try it now and see how good it is!
Is This Soup Suitable for Meal Preparation?
Yes! Making this soup is a great way to have Keto-friendly meals ready in no time. Just make a big pot of it, eat some for dinner, and put the rest in storage containers in the fridge.
When you're hungry, just heat in the microwave for a couple of minutes and you'll have a delicious, nutritious meal!
Slow Cooker Keto Mushroom Soup
This recipe for slow cooker keto mushroom soup. Ingredients include chopped mushrooms, garlic, onion, dry sherry, butter, vegetable broth, cream, lemon juice, and thyme.
Instructions are given for mixing all the ingredients into the slow cooker and setting the cooking time to 6 hours on low. The end result is a rich and creamy mushroom soup.
1) Slow cookers are a great way to make savory and creamy soups.
2) A combination of mushrooms, cream, and butter creates a creamy and flavorful soup; and
3) Combining homemade herbs gives the soup an extra layer of flavor.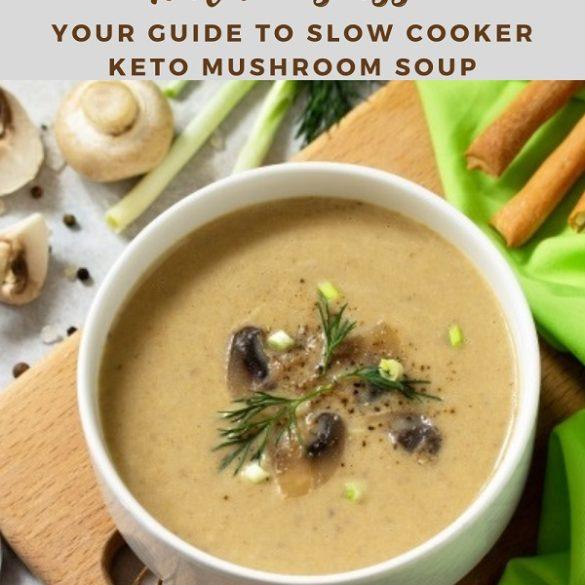 Ingredients
1 cup (300 g) Crimini mushrooms, sliced
3 tablespoons of unsalted butter, melted
1 yellow onion, peeled and chopped
2 cloves garlic, peeled and chopped
1½ cups (375 ml) vegetable broth
2 tablespoons dry sherry
1/2 teaspoon freshly ground black pepper
3 sprigs of fresh thyme
1/3 cup (80 ml) heavy cream
2 teaspoons freshly squeezed lemon juice
chopped green onions
Instructions
Set your oven to 200°C (400°F). Put a wire rack on top of a baking sheet.
Cut the mushrooms into slices and put them in a bowl.
Add the melted butter, salt, and crushed garlic. Mix it all together.
Toss the bowl until the ingredients are mixed. Spread the mushrooms on a wire rack.
Move the baking sheets into the oven. Roast the mushrooms for 15-17 minutes until they are soft and dark. The mushrooms will become smaller.
Transfer the mushrooms to the slow cooker.
Chop the onions finely, then put them into the slow cooker. Pour in sherry, broth, black pepper, and some thyme sprigs. Give it a stir, then cook it for 3-4 hours on high, or 5-6 hours on low.
Take out the thyme sprigs, scoop out some of the cooked mushrooms, and put them in a bowl.
Blend the soup with an immersion blender. Put the reserved mushrooms back in the soup.
Pour in heavy cream and lemon juice, give it a stir.
Check the soup's seasoning and add more if needed. Ladle the soup into 4 bowls. Garnish with fresh thyme and chopped green onions.
Serve hot.
Did You Make This Recipe?