Air fryer keto salmon patties. I had a can of salmon and I needed something to do with it. That's how I came up with this salmon patty recipe. It's super easy and you can make it in your air fryer!
Using pork rinds instead of breadcrumbs makes the outside of salmon cakes crispy and the inside tender. You can prepare them in advance and store them in the freezer until you're ready to eat them.
Air Fryer Salmon cakes are a healthy choice because they don't have any gluten, are low in carbs, and are good for the keto diet.
Crush The Pork Rinds
Set your air fryer to 360 degrees F. Put 2 ounces of pork rinds in a plastic bag. Use a bowl or rolling pin to smash them until they're broken into small pieces.
You can mix in some bigger pieces, too. This will give extra crunch to the salmon patties. Put the crushed rinds in a bowl.
Mix All Ingredients:
Mix together the ingredients in a large mixing bowl. Take out any bones and skin from the canned salmon before you start. Add Parmesan cheese, mayonnaise, an egg, some chives, a bit of dill, garlic powder, onion powder, salt, and pepper.
Make Salmon Patties
Split the mixture into four equal parts. Firmly shape each part into a patty about one inch thick. Put each patty in a bowl of pork rinds.
Push down firmly so the pork rinds stick to all sides of the patty. Do this for the other side too. Now your patties are ready to cook!
Fry the Patties
Put the salmon patties in an air fryer basket. Spray the top of them with a cooking spray made with olive oil. Cook them for 5 minutes, then flip them over and spray the other side with olive oil spray.
Keep cooking for another 5 minutes, or until they are golden brown and hot all the way through.
Put your leftovers in a container with a tight lid and store them in the fridge. You can keep the food in there for up to three days.
YOU MAY ALSO LIKE:
Slow Cooker Paleo Barley Risotto
Air Fryer Keto Coconut Pancakes
Salmon Patties Variation:
You can customize your air fryer salmon patties in lots of ways!
Instead of canned salmon, you can try using crab meat.
Add some chopped red bell pepper for crunch and a few drops of hot sauce for a spicy kick.
To make them tangy, try adding 1 teaspoon of Dijon mustard or lemon juice.
Some mayonnaise brands are already a bit tangy, so you don't need to add extra. You can also experiment with different seasonings and herbs.
Try swapping the chives for parsley, but don't replace the dill – it's what makes this recipe special!
How to Serve Air Fryer Keto Salmon Patties
Serve air fryer salmon patties with some tasty sides! Squeeze fresh lemon or add creamy dill dressing. Put on some parsley or chives for extra flavor.
You can make your own cocktail sauce too. For a full meal, try seafood pasta salad, air fryer green beans, asparagus, or cabbage. If you're serving as an appetizer, make smaller patties, and don't forget to dip in dill sauce!
Tips and Tricks to Make Keto Salmon Patties
Press your patties firmly together to keep them from falling apart.
Use 100% olive oil spray to coat the patties. The cook time may need to be adjusted depending on your air fryer.
How to Make Salmon Patties Healthy?
You can make yummy and healthy salmon patties with an air fryer!
This recipe needs no breadcrumbs and it's gluten-free, low-carb, and keto-friendly.
Is Salmon a Keto-Friendly?
Yes, you can eat salmon on a keto diet. Three ounces of salmon have zero carbs, 4 grams of fat, 19 grams of protein, and 112 calories.
Air Fryer Keto Salmon Patties
This recipe for air fryer keto salmon patties that are healthy, delicious, and easy to make. The ingredients for the recipe are salmon, cheese, mayonnaise, garlic powder, onion powder, eggs, pork rinds, sea salt, black pepper, dill, and olive oil.
The patties are low-carb, keto, and naturally gluten-free.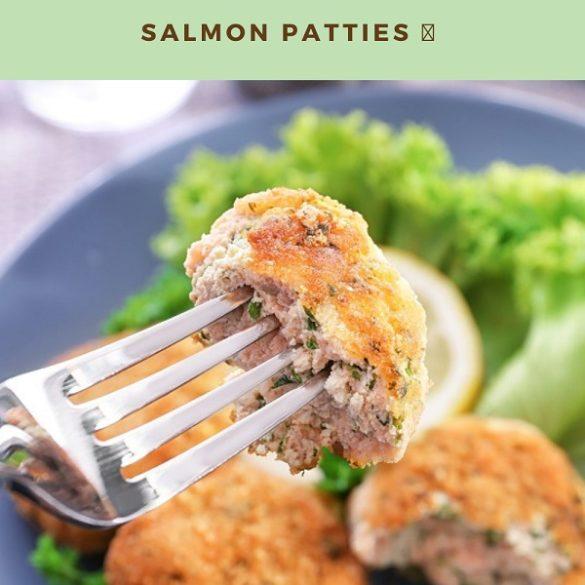 Ingredients
1 14¾ oz (435 ml) can of salmon, bones removed
1/4 cup grated Parmesan cheese
4 tablespoons mayonnaise
1 large egg, beaten
1/2 tablespoon fresh chives
1/2 tablespoon chopped fresh dill
1/4 teaspoon garlic powder
1/4 teaspoon onion powder
1/2 teaspoon salt
1/2 teaspoon freshly ground black pepper
1 cup crushed pork rinds
olive oil cooking spray
Instructions
Preheat your air fryer to 360º F (180º C) for 5 minutes.
In a mixing bowl, combine canned salmon, cheese, mayonnaise, egg, chives, garlic and onion powders, salt, and black pepper.
Mix well. Make 4 patties that are about an inch (2.5 cm) thick.
Put the pork rinds that you grated into a bowl.
Take each salmon cake and press it into the bowl of pork rinds. Make sure the pork rinds stick to the cake. Flip it over and do the same thing on the other side.
Place the patties in the air fryer basket, then spray them with olive oil spray.
Fry for 5 minutes, then carefully flip them, spray with more oil, and cook for a further 5 minutes.
Did You Make This Recipe?