Air fryer keto shrimp. These Keto Air Fryer Shrimp are super crunchy and yummy – but still healthy! And to make them even more delicious, I dip them in my delicious Keto Sweet Chili Sauce. It's a must-try!
This meal is awesome and you'll want to eat it every week! The shrimp is good for Whole30, Keto, and Paleo diets, but the sauce isn't Whole30-approved, but it is okay for Paleo and Keto.
I enjoy eating shrimp in my meals. It's so easy to make and it can be cooked in different ways. You can grill, broil, or fry it.
My favorite way to cook shrimp is in the air fryer. I cover them in an almond flour coating and let them fry for 8 minutes. When they come out, they're crispy and tender. Yum!
These Keto Air Fryer Shrimp are a great snack for a party or a tasty family dinner. You can try different flavors by dipping them in a Sweet Chili Sauce, ranch dip, or a cocktail.
YOU MAY ALSO LIKE:
Slow Cooker Keto Beef Stroganoff
Tips and Tricks for These Air Fryer Keto Shrimp
Cooking shrimp correctly is important. Flip them over halfway through so they get cooked evenly and both sides get crispy.
Spray the shrimp with cooking spray before you start cooking. Then spray them again when you take the basket off the heat halfway through. This will help them be nice and crunchy when they're done.
I usually coat my shrimp in two steps. If you want a thicker coating, you can 'double-dip' the shrimp. That means, dip the shrimp in the egg first, and then in the flour mixture. Then, do it again.
Is Shrimp Keto-Friendly?
Do shrimp fit into the popular keto diet? How many carbs are in shrimp? Find out here, plus some great keto-friendly shrimp recipes you can try!
Shrimp is a popular seafood. But if you're following the keto diet, how do the carbs in shrimp compare to other types of protein? Is shrimp okay to eat on the keto diet? Let's answer all your questions about low-carb shrimp recipes.
Shrimp is a great food for the keto diet! It has no carbs, so it's okay to eat. You can add it to meals with other low-carb vegetables, like broccoli or cauliflower, to make a great dinner. Fish, crab, and lobster are also good choices.
Yes, shrimp does have carbs. It contains a very small amount – 0.2 grams per 3-ounce serving. This is a very tiny amount that won't make much difference in your carb intake.
When eating shrimp on a keto diet, it's important to think about how it's prepared. Different ways of cooking can cause the number of carbs in the shrimp to increase.
Can you eat shrimp on keto when they're fried? Keto fried shrimp might be possible, but a typical fried shrimp dish is not so keto-friendly.
A 3-ounce serving of fried shrimp has 9.8 grams of carbs and 9.4 grams of net carbs. That's the same as eating about 3 slices of bread. Shrimp may be okay to eat on a "dirty keto" or low-carb diet, but it's not the best choice. The serving size is small, and the breading is made of wheat, which isn't allowed on keto.
If you like fried shrimp but are following the keto diet, there are two options. One option is to make keto coconut shrimp. The other is to make traditional breaded shrimp using the same method as for keto chicken tenders.
Air Fryer Keto Shrimp
Air frying is a great way to prepare tasty, low-carb meals, such as keto shrimp. This method of cooking is healthy, easy, and fast, as it requires little or no oil.
A few minutes in the right spices, coupled with the right temperature, will yield the perfect batch of crispy, juicy keto shrimp.
1) Air frying is a great way to prepare low-carb meals;
2) The right temperature and spices will yield the perfect batch of crispy, juicy keto shrimp.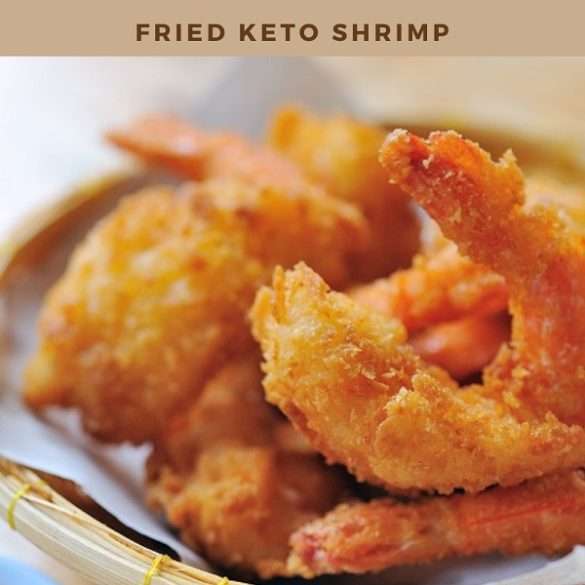 Ingredients
1½ pounds ( 720 g) of raw shrimp, peeled and deveined
1¹⁄³ cups almond flour
1/2 teaspoon garlic powder
1/2 teaspoon onion powder
1 teaspoon paprika
1/2 teaspoon sea salt
1/4 teaspoon freshly ground black pepper
2 teaspoons chopped fresh parsley
1 large egg, beaten
Instructions
Turn on your air fryer and set the temperature to 380º F (190º C).
In a bowl, mix together almond flour, garlic powder, onion powder, paprika, parsley, salt, and pepper.
In a bowl, put in the egg that has been beaten.
Dip each shrimp in the egg, then in the flour. Put them on a plate until all the shrimp have a coating.
Spray your air fryer basket with cooking spray and put the shrimp inside, making sure they don't touch. You might have to cook them in two batches.
Spray the top of the shrimp with cooking spray. Set the air fryer to 380°F. Cook the shrimp for 9-10 minutes, flipping them halfway through. Spray the shrimp with cooking spray again after you turn them over.
Notes
I usually coat my shrimp in two steps. If you want it thicker, you can do two dips. First, dip the shrimp in egg, then in a flour mixture. Then, do it again.
Nutrition information does not include sauces. It only applies to the shrimp.
Did You Make This Recipe?