Slow cooker keto Kalua pork. Are you looking for a delicious meal that won't take all day? Our Keto slow cooker kalua pork could be just what you need! It's juicy, flavorful, and cooked in a slow cooker, not an oven. Perfect for a busy weekday!
Kalua is a cooking method from Hawaii. It means to bake food in a special oven buried in the ground. People might think of luaus and other delicious meals when they hear the word Kalua, but it means using this special ancient technique.
Hawaiians cooked a whole pig in an Imu for celebrations. Before 1819, only chiefs could eat the kalua pig. But then King Kamehameha II said everyone could enjoy it – ladies, women, and commoners could all enjoy the luau feast.
A slow cooker can be just as great as digging a big hole when it comes to making delicious meals. With a slow cooker, you don't have to do all the work of digging!
Is Liquid Smoke Keto-Friendly?
Have you ever wondered what liquid smoke is? How does it get made? I wanted to know and now I'm going to tell you what I found out. Liquid smoke is made by burning wood, turning it into smoke, and then condensing it into a liquid. The smoke is then bottled so you can use it to add a smoky flavor to food.
Liquid smoke is not made of chemicals – it's made from actual smoke. Recipes like kalua pork use liquid smoke to give the food a smoky flavor, like you would get from a barbecue, without having to use a grill.
Wood is burned specially and this creates smoke. The smoke and steam from the burning wood are collected in a condenser and then cooked until it's some kind of concentrated liquid. This liquid is called liquid smoke.
Liquid smoke is good for people who follow the Keto and Paleo diets. It adds flavor to meats, so try adding it to your meals. Before using it, though, check the ingredients on the bottle. Some brands may contain added sugar, molasses, or even high fructose corn syrup, so double-check to make sure.
YOU MAY ALSO LIKE:
Slow Cooker Keto Chicken Stroganoff
Instant Pot Keto Eggs Benedict
Instant Pot Paleo Pulled Pork: Quick & Delicious!
How to Eat Kalua Pork?
I suggest trying this Keto slow cooker Kalua pork with cooked cabbage and fresh salad. If you don't like that, here are some other tasty options:
1. Add some Keto BBQ sauce to your lettuce wraps for a delicious twist! It's a great way to enjoy a low-carb meal.
2. Top your eggs with pork, salsa, and a touch of Southwestern flavor for a breakfast that will keep you going all morning. This tasty combination is sure to satisfy your appetite.
3. Try using cauliflower instead of ham to make a delicious Keto Fried Rice. Cauliflower is a good substitute because it has very few carbs, making it a healthy choice for people following the Keto diet.
4. Make a big salad for a tasty and fulfilling Keto lunch! Instead of using taco beef, add other ingredients like lettuce, tomatoes, onions, and peppers. You can also add protein such as chicken, eggs, or fish. And don't forget about healthy fats like olive oil and avocado!
Is Cabbage Keto-Friendly?
If you're on a diet like the keto diet, you need to be careful about which vegetables you consume. Is cabbage part of the keto diet?
Cabbage might not seem like an exciting food to some, but it's used a lot in different meals. You can find it in side dishes like coleslaw, and entrées like stir-fries. It's also an ingredient in condiments like sauerkraut and kimchi, and it's been showing up in some trendy recipes, like egg roll in a bowl.
If you follow a keto diet, cabbage is a good choice for you. It has few carbs and eating it adds more volume and fiber to your meals.
Cabbage is a vegetable, but it's not a starchy one. You can prepare it in lots of ways: chopped, shredded, or turned into sauerkraut or kimchi, which are both different types of tasty ferments.
According to the U.S. Department of Agriculture, one cup of shredded cabbage has 4 grams of carbs and 2 grams of net carbs.
Net carbs measure roughly how many carbs your body will digest. They're figured by taking away fiber and sugar alcohols from total carbs. Fiber and sugar alcohols are partially digested, meaning they can still affect blood sugar. It's an estimate, though, according to the American Diabetes Association
Net carbs aren't officially recognized as a part of our diet, like carbs, fat, and protein. But if you're following a keto diet, it can help you make sure you stay within the range of carbs you should eat.
Cabbage doesn't have many carbs. One cup of shredded cabbage has 2 grams of fiber, so it only has 2 grams of net carbs.
Slow Cooker Keto Kalua Pork
So, here is the final touch- This recipe explains how to make a slow cooker keto Kalua pork that is low in carbohydrates and full of flavor. It outlines the ingredients and cooking instructions, elaborating on the importance of adding liquid smoke for extra smokiness.
1) Kalua pork can easily be made in a slow cooker;
2) Liquid smoke is required to achieve the traditional smoky flavor; and
3) The recipe is low in carbohydrates, making it suitable for a ketogenic diet.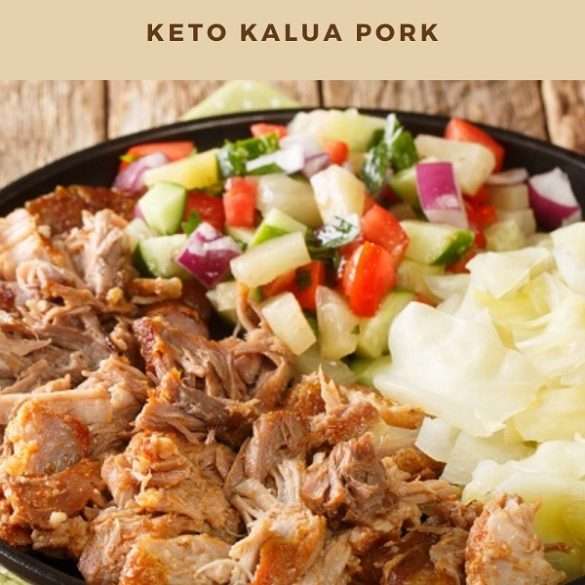 Ingredients
4 pounds (1.9 kg) of pork butt or pork shoulder
1 tablespoon liquid smoke
3 tablespoons sea salt
Instructions
In a small mixing bowl, combine the liquid smoke and sea salt. Mix well.
Use a knife or fork to make a few holes or little cuts in the pork. This will help the flavor get inside the meat.
Rub the liquid smoke and salt mixture into the meat. Make sure it's covered evenly.
Put the meat into your slow cooker, set it to low, and let it cook for 8 hours. The meat will be really soft when it's ready.
Turn off the cooker and open the lid.
Using tongs, remove cooked pork from the slow cooker and transfer it to a cutting board.
Shredded with two forks and serve with your favorite keto meal. Enjoy!
Did You Make This Recipe?