Slow cooker keto pulled pork. Make a delicious pulled pork dish with minimal effort! This slow cooker keto pulled pork recipe is so easy, you just need to add your ingredients and let the slow cooker work its magic. Enjoy the savory aroma and juicy flavors of this low-carb, keto-friendly pulled pork in a bun or over cauliflower rice for a healthy, satisfying meal.
I tried this recipe for pulled pork for the first time and it was delicious! It came out moist and flavorful and was surprisingly easy to make. I didn't even have to braise the outside of the pork. I'm so glad I found this recipe. We'll keep making it again and again.
I have made many different slow cooker recipes in my life and love how versatile the slow cooker can be. I also know that it can be difficult to find new things to make with it. So I'm always looking for new low-carb recipes that use the slow cooker as an easy way to prepare dishes you might not normally make on your own. This pulled pork recipe is one of those recipes! It uses simple ingredients like garlic powder, onion powder, chili powder, smoked paprika, and chicken broth to make a rich, sweet sauce that's great for topping on tacos, sandwiches, or even keto-friendly sliders.
What Keto Pulled Pork and Why Should You Try It?
Keto Pulled Pork is a delicious and healthy way to enjoy pork while following the ketogenic diet. It's made with slow-cooked pork shoulder, which is marinated in a flavorful blend of spices, herbs, and seasonings.
This low-carb dish is packed with protein and healthy fats, making it an ideal meal for anyone looking to lose weight or maintain their current weight. Plus, it's incredibly easy to make in your slow cooker. So if you're looking for an easy yet delicious meal that fits into your keto diet plan, Keto Pulled Pork is a perfect choice!
You May Also Like:
Slow Cooker Keto Zucchini Bread
Slow Cooker Paleo Pork Carnitas
Instant Pot Keto Coconut Salmon Fillets
What Are the Benefits of Eating Keto Pulled Pork?
Eating keto-pulled pork is an excellent way to enjoy the benefits of a low-carb, high-fat diet. This type of diet has been linked with numerous health benefits, such as improved mental clarity, increased energy levels, and weight loss. It also provides a great source of protein and healthy fats that can help you stay full for longer periods of time. Additionally, this dish is incredibly easy to make and can be enjoyed in a variety of ways.
With all these benefits in mind, it's no wonder why so many people are turning to keto-pulled pork as part of their daily diet! This recipe is easy to make, flavorful, and can be enjoyed in many different ways. Here are a few of the best ways to enjoy keto pulled pork:
Keto-style pulled pork sliders: This classic sandwich takes on an entirely new meaning when you swap traditional buns for low-carb, high-fiber vegetables such as lettuce cups, though you could also use gluten-free buns or even burger buns. If you're looking for something more filling than just a bun with some sliders, try serving your pulled pork with a side of crock pot macaroni and cheese.
Keto BBQ Pulled Pork: Searing, smoky pulled pork can be paired with a classic bbq sauce or even a sweet and tangy Thai-style sauce. If you're not a fan of barbecue sauce, try making your own by combining equal parts organic ketchup, raw honey, and apple cider vinegar for an all-natural take on this tradition.
Slow Cooker Keto Pulled Pork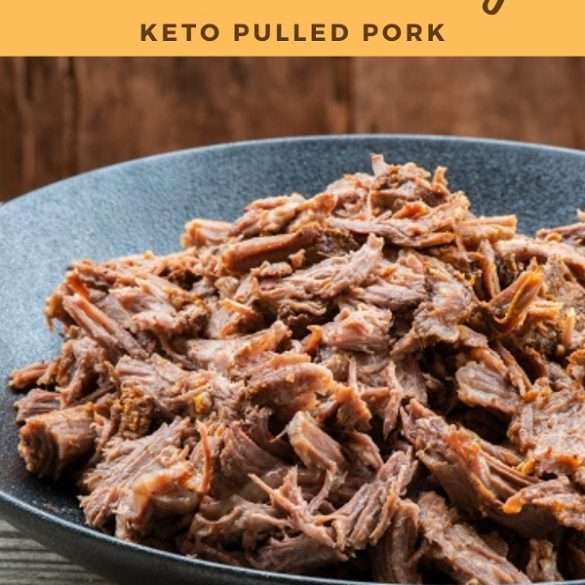 Ingredients
4 pounds (1.9 kg) pork butt or shoulder
1 tablespoon salt
1 tablespoon freshly ground black pepper
1 tablespoon garlic powder
1 tablespoon onion powder
1 tablespoon smoked paprika
1 cup (250 ml) chicken broth
Instructions
Put all the spices in a bowl and stir them together. This is the rub you'll use for the dish.
Put the pork in your slow cooker. Rub the spices all over it. If you have a smaller piece, you may have some of the spices left over.
Put the meat in the fridge for 3 hours or up to a day. If you have time, it's best to let the seasonings set in. If you don't, just season the pork and start cooking.
When you're ready to cook, pour the chicken broth into your slow cooker. Cover the pot,  set it to low, and let it cook for 8-10 hours.
Shred the pork with a fork or tongs and put it on a plate. You can pour some of the liquid from the slow cooker over the pork for extra flavor.
Notes
Nutrition facts are like a set of guidelines for people who are on a special diet. A keto or low-carb diet means you eat fewer carbohydrates (like bread, rice, and pasta) and more fat. So nutrition facts help you know how much of each thing to eat.
Did You Make This Recipe?