Slow cooker keto beef Stroganoff. Make an easy and delicious dinner with this Slow Cooker Keto Beef Stroganoff recipe! Our simple step-by-step recipe is packed with flavor and only takes a few steps. Enjoy a delicious low-carb dinner with this keto-friendly dish. Try it today!
This recipe includes keto-friendly rice.
What is Keto-Friendly Rice?
Konjac rice, also called keto-friendly rice, is a great replacement for regular rice on a keto diet. It's full of fiber and very few net carbs, making it healthy and delicious. Plus, it tastes so much better than cauliflower rice! If you could have one or the other, I'd pick konjac rice every time.
The only issue is that it usually comes in pre-packaged servings of two, which may not be as healthy as just eating a vegetable like riced cauliflower.
This type of food is called Shirataki noodles and has been eaten in China, Japan, and Korea for centuries. It looks like rice, but it's actually sliced-up noodles made from konjac.
Noodles are made from konjac root, water, and lime water. First, these ingredients are boiled, cooled, and then turned into noodles. Because they easily break, they are packaged with water to stop them from being damaged.
Keto-friendly noodles sometimes have a bit of seaweed added to make them stay firm. This means some packets of noodles or rice might have a slightly "fishy" or salty taste.
You May Also Like:
Air Fryer Keto Mozzarella Sticks
Slow Cooker Keto Zucchini Bread
What is Slow Cooker Keto Beef Stroganoff & What Are the Health Benefits?
Keto beef stroganoff is a delicious and healthy low-carb meal that can be prepared in a crock pot. This dish is packed with protein, fiber, and healthy fats, making it a great meal for those following the keto diet.
It's also easy to prepare and can be cooked in just minutes. In this article, we'll discuss what keto beef Stroganoff is, what its health benefits are, and some delicious low-carb meal ideas you can use to make this dish.
How to Choose the Best Cut of Beef for Keto-Friendly Stroganoff
When it comes to cooking keto-friendly stroganoff, choosing the right cut of beef is essential. The best cut of beef for a stroganoff dish should be lean and tender, such as sirloin or cubed steak. These cuts are lower in fat and therefore better for a keto diet.
Additionally, they are also more flavorful and tend to hold up better when cooked in sauces like the one used in stroganoff recipes. With these tips in mind, you can be sure to choose the best cut of beef for your next keto-friendly stroganoff dish!
The best cut of beef for a keto-friendly Stroganoff is cubed steak. This cut is lower in fat and has more flavor than other cuts like sirloin or tenderloin. In addition, it holds up better to the sauce and produces less grease when cooked. Ground beef is another alternative that is excellent for a keto-friendly stroganoff recipe as long as it has no excess fat added to it.
When choosing your meat, make sure that you are purchasing lean cuts like sirloin or cubed steak. These cuts have more flavor than other cuts like fillet or pork tenderloin. If you are not a fan of ground beef, then make sure your meat is 95% lean. Ground beef should be purchased in small quantities and stored in the fridge to prevent the buildup of fat.
Slow Cooker Keto Beef Stroganoff
This post provides a recipe for a healthy and delicious version of the classic dish, Beef Stroganoff. It gives instructions for making it in a slow cooker, which is a convenient way to prepare the dish.
The ingredients include beef, onions, mushrooms, tomato paste, beef broth, cream cheese, and sour cream. The key takeaways from it are:
1) Slow cookers are a convenient cooking method for Stroganoff;
2) The ingredients used are all keto-friendly, and 3) The recipe is a great way to enjoy a comforting and healthy dinner. Enjoy it!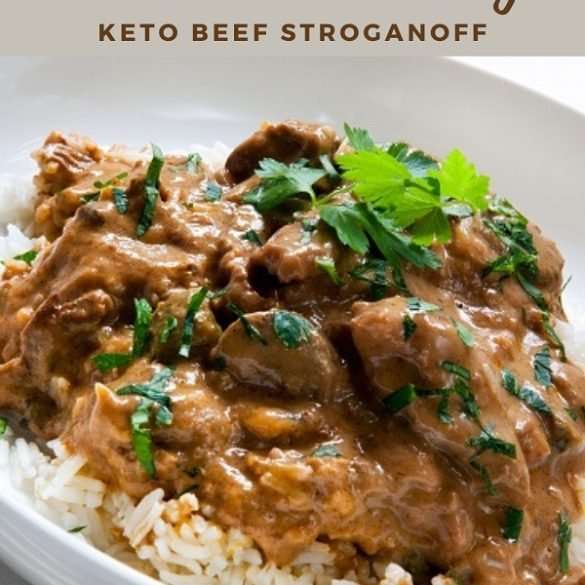 Ingredients
2 pounds (960 g) beef stew meat, cubed
1 large yellow onion, peeled and chopped
3 cloves garlic, peeled and minced
2 cups (500 ml) beef broth
1 cup (250 ml) sour cream
1 cup (250 ml) tomato sauce
2 tablespoons Worcestershire sauce
1 tablespoon fresh thyme leaves
Salt and ground black pepper to taste
1 cup sliced mushrooms
1/4 cup fresh parsley leaves, chopped
2 tablespoons avocado oil oil
konjac rice
Instructions
1. Heat the avocado oil in a deep skillet and add the cubed beef, onion, mushrooms, and garlic. Cook, stirring occasionally until the beef is no longer pink and the onion is softened.
2. Transfer the beef mixture to the slow cooker crock.
3. Add the beef broth, sour cream, tomato sauce, Worcestershire sauce, and fresh thyme leaves to the slow cooker and stir to combine.
4. Cover and cook on low for 6-8 hours or on high for 3-4 hours.
5. When ready to serve, season with salt and ground black pepper to taste.
6. Prepare the konjac rice according to package instructions.
7. Scoop the slow cooker stroganoff onto a plate and top with the cooked rice and a sprinkle of chopped fresh parsley. Enjoy!
Did You Make This Recipe?