Slow cooker keto bbq ribs. Enjoy a delicious and nutritious meal with this easy-to-follow  BBQ Ribs recipe! Perfect for a low-carb lifestyle, it's packed with flavor and ready in 4 hours.
Tender, juicy ribs that are cooked slowly in a cooker. To make them extra delicious, top them off with sugar-free BBQ sauce.
This recipe makes enough for two full racks of ribs. If you have a family, you can cut the ribs into thirds and get 6 portions out of it. Enjoy a tasty, low-carb dinner! Try it today and enjoy the savory flavor!
I love to cook ribs! One of our favorite ways is in the crock pot. It makes them really tender and juicy. It's also easy! And my special dry rub makes them low-carb (keto).
I brush them with our favorite sauce and then pop them in the oven to get them nice and saucy and yummy. Yum!
Ingredients:
Ribs-Use baby back ribs for this recipe! They make great dishes in the slow cooker.
Brown Sugar Substitute-You can use a special type of sugar for this recipe that helps reduce carbohydrates. It's called a "brown sugar substitute", or use homemade keto brown sugar.
Sugar-Free BBQ Sauce-Choose your favorite brand of sugar substitute for the ribs. You can find lots of sugar-free BBQ sauces in bottles or you can make your own.
How To Make  Slow Cooker Keto BBQ Ribs
Prepare the Ribs – To get the ribs ready for the slow cooker, first remove the membrane on the back. If it isn't already removed, use a knife and a paper towel to carefully pull it off.
Then cut the ribs into halves or thirds so they can fit in the slow cooker. Once the ribs are prepped, you're ready to make the dry rub.
Dry rub-Mix paprika, garlic powder, onion powder, pepper, salt, parsley, and brown sugar substitute in a bowl. Whisk until blended.
Then sprinkle the dry rub over one side of the ribs. Use your hands to rub it into the meat, coating as much of the surface as you can.
Flip the ribs over and coat the other side too. Now your ribs are flavored and ready to cook!
Slow Cook-Put your ribs in the slow cooker with some apple cider vinegar and water. Cook on low for 8 hours. After 8 hours, you'll have amazingly tender and juicy ribs ready to eat!
If you're short on time, you can cook them on high, but cooking them low and slow will get you the best flavor.
Broil with BBQ Sauce-Take the ribs out of the slow cooker and put them on a baking sheet. Then, spread a sugar-free BBQ sauce all over the ribs.
Put the baking sheet in the oven under the broiler.
This will thicken and caramelize the sauce, making the ribs extra tasty. Keep an eye on them, because the broiler can burn the ribs quickly – it should only take around 5 minutes. When it's done, the ribs are ready to be served hot!
YOU MAY ALSO LIKE:
Slow Cooker Paleo Cashew Chicken
Air Fryer Keto Salmon and Broccoli Frittata
Keto-Friendly Air Fryer Recipe: Bell Peppers Stuffed with Eggs, Cheese, and Bacon
Can I Store Slow Cooker Keto BBQ Ribs?
Yeah! I like to make more food than we need so we have leftovers. They'll stay fresh in the fridge for up to 4 days if you keep them in an airtight container.
Is it Necceserly to Use Sugar-Free BBQ Sauce?
If you're trying to watch your carb intake, it's best to buy BBQ sauce without added sugar. But if you don't care about carbs, go ahead and pick your favorite sauce and enjoy it on your ribs!
Why My Ribs Are Though?
If your ribs aren't ready after the time is up, keep cooking them. Eventually, they'll become tender and the meat will pull back from the bones.
Slow Cooker Keto BBQ Ribs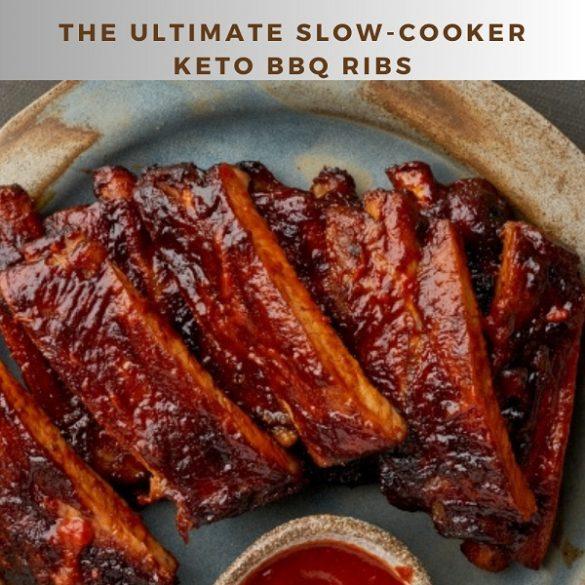 Ingredients
2 racks of baby back ribs
2 tablespoons smoked paprika
1 tablespoon keto brown sugar (or substitute)
1 tablespoon kosher salt
1 tablespoon freshly ground black pepper
2 teaspoon garlic powder
2 teaspoon onion powder
1 teaspoon chopped fresh parsley
2 tablespoons apple cider vinegar
1/2 cup (125 ml) sugar-free BBQ sauce
Instructions
Take off the membrane from the back of the ribs.
Cut each stack of ribs into two parts, so that they fit in the slow cooker.
In a small mixing bowl, combine the remaining ingredients, except the vinegar and BBQ sauce. Whisk well.
Sprinkle the dry rub evenly over each side of the ribs. Press the rub into the meat using your hands.
Pour the apple cider vinegar and 2 tablespoons of water into a slow cooker. Put the ribs into the slow cooker.
Cover the pot and cook on a lo-heat setting for 8 hours or on high for 4 hours.
Remove the ribs from the slow cooker. Place them on a baking sheet. Brush the ribs with barbecue sauce.
Put the baking sheet under the oven's broiler for about 5 minutes.
The sauce should become thick and start to turn brown.
Let the ribs sit for 5 minutes before you eat them.
Did You Make This Recipe?