Slow cooker paleo cashew chicken. This slow cooker cashew chicken is an easy, healthy meal. It's perfect for those following Whole30, paleo, gluten-free or soy-free diets.
To make it, just cut up some chicken and make a sauce in 10 minutes, then let the slow cooker do the rest. It's a quick and easy dinner that's both yummy and simple to clean up.
Serve it with your favorite veggie dish for a delicious and healthy meal that your whole family will love!
Cashew Chicken Ingredients:
To make Whole30 cashew chicken in the slow cooker, you'll need 2 pounds of diced, boneless, and skinless chicken breasts and 1 cup of raw cashews. These are the two main items. Then you'll need ingredients to make a sauce.
To make the sauce, you'll need coconut aminos, arrowroot flour, sugar-free ketchup, rice vinegar, sesame oil, garlic, ginger, salt, pepper, and Chinese five-spice powder.
They are easier to find and cheaper at Thrive Market, but you can also buy them at the grocery store.
If you are following the Paleo diet, you'll also need coconut sugar and honey. For Whole30, use 3 tablespoons of orange juice instead.
Try Primal Kitchen's Whole30 Approved sugar-free ketchup – it's delicious and you can find it in big stores like Target, Walmart, Amazon, and Thrive Market.
This is my healthier version of a favorite Chinese takeout dish. I'm not trying to make it authentic, but I'm using a special spice called Chinese 5 Spice. It's a mixture of 5 spices.
You don't need a lot, but it really makes the dish better. Without it the flavor won't be the same. You can buy Chinese 5 Spice in most grocery stores in the spice or international cooking section.
How to Make Paleo Cashew Chicken in a Slow Cooker
This recipe is easy and quick to make. Before you get started, chop your chicken into small pieces. Then, mix together the sauce ingredients. Put the diced chicken, arrowroot, salt, and pepper into the slow cooker.
Use tongs or a fork to mix everything together, so the chicken is covered in the arrowroot. It will take about 10 minutes to get everything ready.
Mix the cashew chicken sauce ingredients into a bowl or cup. Then, pour the sauce over the chicken and stir until it has spread evenly.
Put the lid on top of the slow cooker. Cook it on low heat for 3 or 4 hours. When it's almost ready to eat, add the cashew nuts and mix together 1 tablespoon of arrowroot and 1 tablespoon of water in a bowl.
Use the fork to mix it together until the flour is dissolved. Pour the mixture into the slow cooker and stir it in with the sauce. Put the lid back on.
Let the cashews sit for 20 minutes so they can get soft and the sauce can get thicker. During that time, get your food ready.
How to Serve Slow Cooker Paleo Cashew Chicken
This cashew chicken recipe is tasty! Serve it with steamed or roasted broccoli, rice (or cauliflower rice or broccoli rice if you're grain-free), or a stir fry of carrots, snap peas, zucchini, and green pepper. That way you get a delicious combination of crunchy veggies!
Slow Cooker Paleo Cashew Chicken
YOU MAY ALSO LIKE:
Keto-Friendly Air Fryer Recipe: Bell Peppers Stuffed with Eggs, Cheese and Bacon
Air Fryer Keto Pears Baked with Blue Cheese
Slow Cooker Keto Pork Stroganoff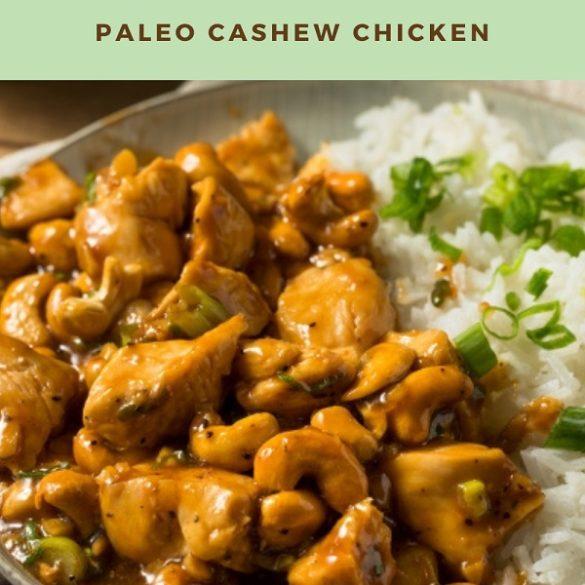 Ingredients
2 pounds (960 g) boneless and skinless chicken breasts or thighs, diced
3 tablespoons arrowroot flour, divided
1/4 teaspoon salt
1/4 teaspoon freshly ground black pepper
1/2 cup (125 ml) coconut aminos
3 tablespoons sugar-free ketchup
3 tablespoons rice vinegar
2 tablespoons sesame oil
2 tablespoons minced garlic
3 tablespoons orange juice
1/2 teaspoon Chinese five-spice powder
1/4 teaspoon crushed red pepper flakes
1 cup unsalted raw cashews
Instructions
Put the chicken diced into a 6-quart slow cooker. Sprinkle with 2 tablespoons of arrowroot flour, salt, and pepper. Use tongs to mix everything together.
In a bowl or measuring cup, mix the remaining ingredients (minus the cashews, water, and 1 tablespoon of arrowroot). Pour the sauce into the slow cooker over the chicken and stir.
Cover the pot and cook on a low-heat setting for 4 hours.
Open the slow cooker and stir in 1 cup of cashews. Mix 1 tablespoon of arrowroot flour with 1 tablespoon of water in a small bowl.
Use a fork to mix them together until the flour dissolves. Then pour the mixture into the slow cooker.
Add the cashews to the sauce, cover the pot, and let it cook for 20 more minutes. This will make the sauce thicker and make the cashews softer.
Notes
This recipe makes twice as much when you double the amount of sauce and chicken. To freeze it, let it cool completely before putting it in a bag or container made for the freezer.
To reheat, take it out of the freezer and put it in your fridge overnight. Then warm it up in a pan over medium heat for 10 minutes, or put it in a slow cooker set to low for an hour.
Did You Make This Recipe?