Slow cooker paleo orange sesame chicken. Forget takeout! Make healthy Orange Chicken in your slow cooker. It tastes sweet and tangy, and you can serve it over cauliflower rice if you're following the paleo diet. If not, you can serve it over white or brown rice, and it's still gluten-free.
Crockpot Paleo Orange Sesame Chicken – Yummy Asian Slow Cooker Recipe
I'm not happy with many of the slow cooker recipes and cookbooks I've seen over the years. The recipes are often too complicated and use words I don't understand. You can make so many meals easily and quickly by adding some meat and combining it with items in your pantry. For example, you can use a packet of something, a jar of something else, and a can of cream. These kinds of recipes are very convenient.
YOU MAY ALSO LIKE:
Slow Cooker Keto Barbacoa Beef
The crockpot can be used to make meals that are healthy and don't contain gluten. These meals can be made with fresh and nutritious ingredients.
Before you move on, don't worry – this recipe is still good for you even if you don't follow a paleo diet. Cooking with a crockpot is simple, even when it requires a few extra steps. This recipe gives you delicious, homemade flavors that you can't get anywhere else!
Serve this dish over cauliflower rice or zucchini noodles to make it paleo-friendly. You can also enjoy it with brown or white rice. Yummy! I love this meal. It's so simple to make and everyone can enjoy it, even if they don't eat gluten, grains, or dairy.
Change the sides so that everyone at the table is happy.
What are Coconut Aminos?
Coconut aminos are like soy sauce or tamari, but it's made from the sap of coconut trees instead of soybeans. It's a thin, dark liquid with a strong umami flavor, but not as intense.
If you don't follow the Paleo diet, you can replace the coconut aminos with either soy sauce or tamari. But if you have gluten sensitivity, make sure to pick the gluten-free option. Don't use as much of it as you would with coconut aminos, though – just half the amount.
What is Tapioca Starch?
Tapioca flour or tapioca starch is a way to thicken sauces and other recipes without using grains. It's like corn starch but can be used in dishes that follow the paleo diet.
If you don't eat paleo, you can use cornstarch instead. Just use half the amount. You could also use arrowroot, which is like tapioca starch.
How to Store Leftovers
You can keep leftovers in a sealed container in the fridge for up to 3 days. You can also freeze it for up to 2 months if you make too much.
Heat up your food in the microwave or on the stove. In the microwave, turn it on until it's hot and steamy. On the stove, put the food in a pan on medium heat and cover the pan until it's warm. If it's too dry, you can add some chicken broth.
Slow Cooker Paleo Orange Sesame Chicken
So, here is the final touch: This dish is made with orange zest and juice, chicken breasts, and a mix of seasonings such as sesame oil, garlic, and ginger.
1) one can easily make a delicious and nutritious paleo-approved dish with the help of a slow cooker;
2) orange zest and juice provide a subtle sweetness to the dish; and
3) seasonings like sesame oil, garlic, and ginger can be used to enhance the overall flavor.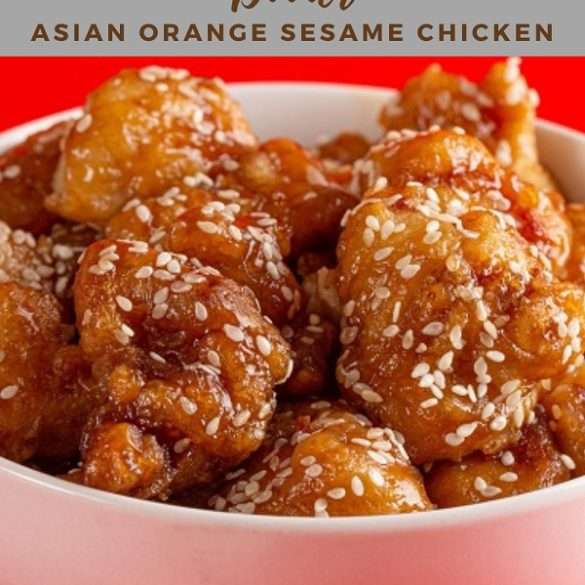 Ingredients
2½ pounds (1.44 kg) of boneless and skinless chicken breasts, cut into pieces
1 teaspoon kosher salt
1/2 medium yellow onion, peeled and thinly sliced
3 cloves garlic, peeled and minced
1-inch (2.5 cm)  knob of fresh ginger, grated
zest and juice of 2 oranges
freshly squeezed juice of 1 lemon
2 tablespoons sesame oil, divided
1/8 teaspoon freshly ground black pepper
pinch of crushed red pepper flakes
1/3 cup (80 ml) honey
1/3 cup (80 ml) coconut aminos
2 tablespoons tapioca flour
1 tablespoon toasted sesame seeds
Instructions
Put the chicken in a 4-quart (4 L) slow cooker. Sprinkle salt over it and mix it around so that the chicken is evenly covered.
Add the onions, garlic, ginger, 2 teaspoons of orange zest, half of the lemon juice, 1 Tablespoon of sesame oil, black pepper, and red pepper flakes. Stir it all together.
Cover the pot and cook on a low-heat setting for 5-6 hours, or until the chicken is tender.
Turn off the cooker and open the lid. using a slotted spoon, remove cooked chicken from the crockpot, reserving the cooking liquid.
Transfer the liquid to a large nonstick skillet. Add the honey, coconut aminos, the remaining orange zest, juice, the remaining lemon juice, and 1 tablespoon of sesame oil. Stir in the tapioca flour until there are no clumps left.
Bring the mixture to a boil. Then, turn the heat down to medium. Boil it for 15 minutes until it thickens and coats the back of a spoon. If you want, you can add more honey or salt to make it taste better.
Return the chicken to the slow cooker.  Pour the sauce over the chicken. Cook, uncovered, on a high-heat setting for a further 10 minutes.
Serve the chicken hot.
Did You Make This Recipe?