Air fryer keto salmon fillets. Keto Air Fryer Salmon is an easy-to-make meal that's low in carbs, follows the paleo and whole30 diets, and can be cooked in an air fryer or oven. It's ready in no time!
Try air-fried salmon with a flavorful seasoned oil! It's a fast and simple dinner that you can serve with a side of any low-carb veggies.
Salmon is a great food choice because it is low in carbs and high in healthy fats. It also has lots of other advantages for your health. It is a healthy food packed with lots of good stuff – like omega-3 fatty acids, protein, vitamin D, B12, B3, zinc, tryptophan, glutamine, and antioxidants. Eating it can help you stay strong and feel good.
It's best to buy wild-caught salmon when you can. This type of salmon is less likely to have chemicals or other things in it that could harm you. Farmed salmon can have more of these.
YOU MAY ALSO LIKE:
Slow Cooker Keto Chicken Stroganoff
Instant Pot Keto Eggs Benedict
INGREDIENTS:
Salmon Fillets, boneless – Salmon is packed with vitamin B12, which helps your body make DNA, and keeps your blood and nerves working well. Salmon is also full of omega-3 fatty acids, which you need for good health. You can't make omega-3s yourself, but your body needs them to lower your chances of having heart disease, stroke, some types of cancer, dementia, Alzheimer's, and other cognitive diseases, and to make it easier to cope with rheumatoid arthritis.
Avocado Oil – Avocado oil is healthy for your heart. It has lots of oleic acids, which is a type of unsaturated fat. Vitamin E is also inside avocado oil, and it helps the body take in other vitamins that come from fat. Monounsaturated fat, which is in avocado oil, has been linked to lower LDL cholesterol (the bad stuff) and higher HDL cholesterol (the good kind).

Lemon Juice – Lemons are a great fruit with many health benefits. They can help protect your heart from disease and lower your blood pressure. Lemons also boost immunity by having lots of vitamin C and antioxidants. Plus, lemon juice with honey can help relieve a cough or cold. So, don't forget to add lemons to your diet for an extra health boost!
Chili Powder – Red chili powder has many health benefits. Potassium helps keep blood pressure normal by keeping the blood vessels relaxed. Red chili powder also has an anti-inflammatory effect, helps control your weight, boosts your brain power, and strengthens your immunity. It even helps keep your skin and hair healthy. All these benefits make red chili powder a great addition to your diet!
Paprika – Paprika contains capsaicin, which is a compound found in peppers. This compound has many health benefits. It can help protect your body from harmful things like cancer, heart disease, and weak immunity. It can also help your body if you have gas.
Garlic Powder – Garlic powder is really useful and good for you. It helps to keep you healthy by giving your body a boost, lowering your cholesterol, and stopping blood clots. You can put it in soups, stews, sauces, vegetables, and meat dishes to give them extra flavor.
How to Cook Air Fryer Keto Salmon Fillets
Mix the ingredients in a bowl, except for the salmon. This will make a seasoning oil.
Use a brush or your fingertips to coat the fish fillets with the seasoning sauce. Put the fillets into the air fryer basket or on a baking sheet for the oven. Be careful when you do this.
Cook the fillets in the air fryer or preheated oven at 400 degrees Fahrenheit (200 degrees Celsius) for 10 minutes. The time can vary depending on how thick and big the fillets are.
Use a spatula to take cooked salmon fillets off the pan. Then put it on the plate and you are ready to eat!
Can I Store Cooked Salmon?
Yes, Put the cooked salmon in a container, and put it in the refrigerator for 2-3  days.
Air Fryer Keto Salmon Fillets
So, here is the final point: The ingredients needed are salmon fillets, avocado oil, garlic powder, chili powder, paprika, lemon juice, and salt. Directions include combining seasonings, brushing the fillets with olive oil, and coating them with the seasoning mixture before frying in the air fryer for 8 to 10 minutes.
1) the ingredients needed for making air fryer keto salmon fillets,
2) the directions for preparing and cooking the meal, and
3) the recommended cook time for the air fryer.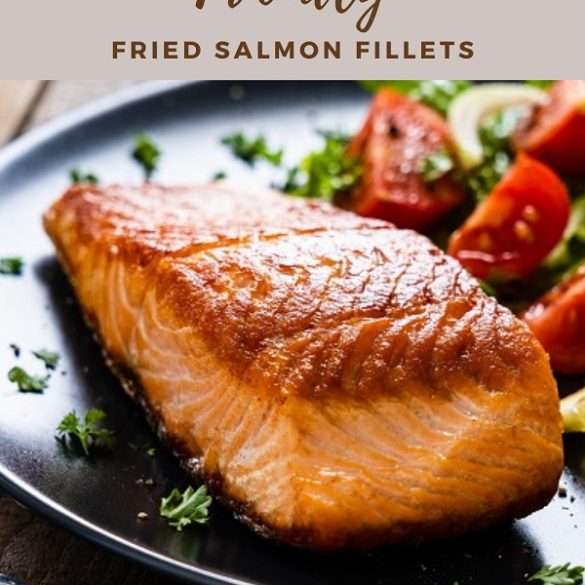 Ingredients
2 boneless salmon fillets
2 tablespoons avocado oil
1 tablespoon freshly squeezed lemon juice
1/2 teaspoon chili powder
1/2 teaspoon paprika
1/2 teaspoon garlic powder
1/4 teaspoon fresh thyme leaves
salt and freshly ground black pepper, to taste
Instructions
In a small mixing bowl, combine all ingredients, except salmon fillets. Mix well.
Brush the salmon fillets with the sauce.
Place fillets in the air fryer basket. Fry at 400º F (200º C) for 10 minutes.
Turn off the fryer and carefully take out fried fillets using a spatula and then serve it.
Did You Make This Recipe?