Slow cooker keto French onion soup. Enjoy a delicious and health-conscious slow cooker keto French onion soup recipe. Perfect for busy weeknights, this low-carb, high-protein meal is easy to make and flavor-packed.
Try it now and discover the amazing flavor of keto French onion soup!
This Keto French Onion Soup tastes like the same delicious French Onion Soup, but without the extra carbs. Enjoy it the same way, without all the extra carbs!
Slow Cooker French Onion Soup is one of our favorite dishes! It has a yummy beefy broth with caramelized onions and spices.
On top, it's finished with delicious Gruyere cheese. A great meal to come home to!
YOU MAY ALSO LIKE:
Slow Cooker Keto Chicken Divan
Air Fryer Keto Broccoli Parmesan
Crockpot Keto French Onion Soup
This is a great meal for people who love soup! I love bread, cheese, and onion broth. When you heat it up, the cheese melts and gets bubbly.
Taking the first bite of this gooey cheesy goodness is like being in heaven!
French Onion Soup is delicious. Making a flavorful broth from scratch takes a while, but it's worth it! This recipe is a great way to get the flavor you crave.
In this recipe, the onions and broth cook together in the slow cooker for a long time, making a tasty soup.
I love slow cooker meals because I don't have to worry about dinner when I get home – it's already done!
Having a set evening routine can make the evening go more smoothly. In my home, we have activities, homework, and soccer practices to manage.
A routine can help us manage our time and make sure all our tasks are completed.
Why Do We Call it French Onion Soup?
French onion soup is a traditional soup from France that has been around since the 1700s. It's usually eaten as an appetizer, but some people enjoy it as a meal, served with extra bread and salad.
How to Make  keto French Onion Soup from Scratch
To make French onion soup, you need broth or stock. You can make your own chicken broth, or use a store-bought one with less salt. Both work well.
Caramelizing onions takes time, but it's worth it! Cook them on low heat, until they're translucent and golden – not brown or crispy.
You don't need to stir them all the time, just make sure they aren't cooking too fast.
Caramelizing onions can be done quickly on the stovetop, or in a slow cooker over several hours. To do it in the slow cooker, start the night before.
When you wake up the next morning, the onions will be caramelized. Then you can add the rest of the ingredients.
Can I Caramelize Onions in a Slow Cooker?
Yes. Combine 3 pounds of sliced onions, 1/2 cup of butter, and 1/2 teaspoon of salt. Stir and cook on low heat for 8 to 10 hours. You'll only need half of the onions for this recipe, but you can add more if you want.
You can also freeze the remaining onions and use them later in mashed potatoes, casseroles, and soups. You don't need to add brown sugar if you use this method – the onions have enough natural sugar.
What is the Best Onion to Use in This Soup?
When making French onion soup, it's important to choose an onion that will turn golden and sweet when cooked. Regular white onions are best for making soup.
Sweet onions can make the soup too sugary, so use white onions instead.
If you only have sweet onions, it's best not to add any sugar to the recipe. That way, the dish won't be too sweet.
Are Onions Keto-Friendly?
Onions may not be the best choice if you're following a Keto diet. They don't have many carbs, but they're not ideal.
Avoid vegetables that grow below the ground if you're following a Ketogenic diet. These veggies have too many carbs for this type of eating plan.
Eating too much onion won't kick you out of Ketosis, so don't worry about it. But if you do eat a lot, you should think about other potential problems.
If you're following a Keto diet, you can have one serving of this soup per day. It's really filling, so you won't have space for more.
This soup was yummy and easy to make. The only task that was slow was browning the onions. I didn't have the time for that, so my wife did it.
What Kind of Cheese is the Best for French Onion Soup?
I love the topping on this recipe – Gruyere and Emmental cheeses. But if you don't have those, you can use Mozzarella, Parmesan, or Swiss. Yum!
I like serving this in bowls, topping it with cheese, then putting it under the broiler. But you can also put it on a pan and place it under the broiler if you like.
Try using your favorite Keto bread for this recipe. I used Diet Doctor's rolls in mine.
Slow Cooker Keto French Onion Soup
So, here is the final touch:-Slow cooker keto French onion soup is an easy, low-carb meal that uses 13 ingredients. It has a rich flavor from the caramelized onions and is cooked in a slow cooker for six to eight hours, resulting in a delicious and healthful meal.
1) Slow cooker keto French onion soup is an easy and flavorful meal suitable for a keto diet;
2) It can be prepared with 13 ingredients and cooked in a slow cooker
3) The soup has a rich flavor due to the caramelized onions.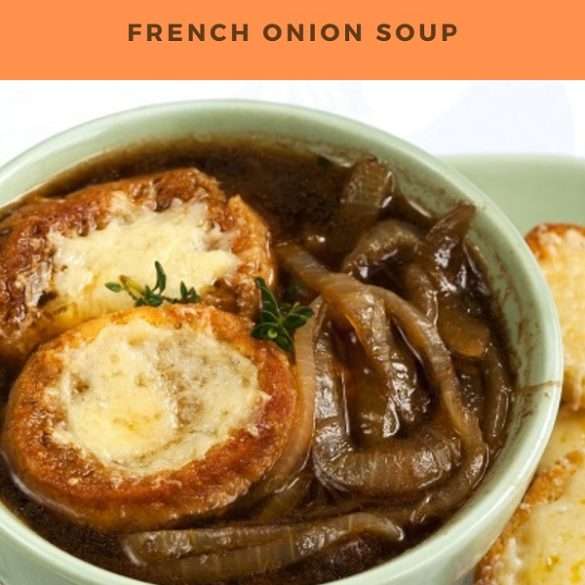 Ingredients
3 large white onions, peeled and sliced
3 tablespoons unsalted butter
2 tablespoons brown sugar
8 cups (2 L0 low-sodium beef broth
1 tablespoon Worcestershire sauce
1 clove garlic, peeled and minced
3 tablespoons red wine vinegar
1 teaspoon dried thyme
1 bay leaf
8 slices keto bread (Diet Doctor's rolls)
3/4 cup shredded Gruyere cheese
1/2 cup shredded Elemental cheese
6 tablespoons shredded parmesan cheese
Instructions
In a big nonstick pan, cook onions, butter, and brown sugar over medium heat. Cook it until it's golden and caramel color. This will take about 20 minutes.
Remove the onion mixture from the pan and transfer it to the slow cooker. Then, add all the other ingredients except for the bread and cheese.
Cover the pot and cook on a low-heat setting for 6-8 hours.
Turn off the cooker and open the lid. Discard bay leaf. Ladle the soup into soup bowls.
Top the soup with slices of bread and cheese, then put it in the oven for a couple of minutes until the cheese melts and turns golden brown.
Enjoy!
Did You Make This Recipe?