Instant pot keto French onion soup. This recipe for Instant Pot French Onion Soup is super easy, so it's perfect for a weeknight dinner. It's made with healthy ingredients and it's suitable for people on a keto, paleo, or Whole30 diet, so it's a soup that everyone can enjoy! No wine is needed to make this yummy soup.
I thought French onion soup was a special dish to order. I saw it a lot on menus at diners, so I'd get a bowl if I was feeling unwell or if it was cold outside.
I really like onions a lot! I've even eaten them raw before! I get so excited when I smell caramelized onions. Sautéing butter and onions together creates one of the best smells ever!
YOU MAY ALSO LIKE:
Slow Cooker Keto Creamy Asparagus Soup
Slow Cooker Keto Chicken Divan
Ingredients You Will Need to Make Instant Pot Keto French Onion Soup
Yellow Onions – Yellow onions are the ideal choice for this soup. They have a delicious taste when caramelized and they're also very affordable.
Garlic – Garlic and onion go together like peanut butter and jelly – they create the perfect flavor combination.
Worcestershire Sauce or Coconut Aminos – Add a rich, savory taste to your soup by using either Worcestershire sauce or Coconut Aminos.
Beef Broth – This soup starts with a flavorful base of beef broth. If you want a vegan version, use vegetable stock instead.
Arrowroot Starch or Flour – Arrowroot starch or flour can be used to give French onion soup a thicker texture. This will make the soup heartier.
Thyme and Bay Leaves – Thyme and bay leaves are dried herbs that bring a nice flavor to your food. They're an easy way to add an extra layer of taste to any dish.
How to Make Instant Pot Keto French Onion Soup
Cut the onions into thin slices like a rainbow. Mince the garlic. Put 3 tablespoons of butter or ghee into an Instant Pot and turn on the sauté setting.
Melt butter in an instant pot. Add onions and garlic. Cook for 15-20 minutes, stirring often. Keep an eye on it to make sure it doesn't burn. The onions should be soft and see-through when it's done.
Mix 1 tablespoon of arrowroot or flour with 2 tablespoons of Worcestershire sauce or Coconut Aminos. Stir until everything is blended.
Pour 8 cups of beef broth into a pot. Put in a few bay leaves and a few sprigs of thyme.
Set your pressure cooker to high, and cook for 15 minutes. When the timer is up, either release the pressure quickly or let it release naturally. Serve your food hot.
Do I Need to Caramelize Onions?
Caramelizing onions involves cooking them slowly in oil over low heat to bring out the natural sugar. You don't have to caramelize them for this recipe, but they still need to be cooked in the instant pot for 15-20 minutes. This will give them a brown color and flavor, plus more flavor from the herbs and beef stock.
How to Make Vegan French Onion Soup?
Caramelizing onions gives them a rich flavor. To make vegan French onion soup, you could use avocado oil. But for best results, use a butter substitute like Earth Balance.
Earth Balance Vegan Buttery Sticks contain a mix of different oils: palm fruit, canola, soybean, flax, and olive. They also have added ingredients like salt, flavor, soy protein, soy lecithin, lactic acid, and annatto extract (which makes it look colorful)
Can I Freeze this Soup?
Yes, you can store French onion soup in the freezer for up to 4 months. Put it in an airtight container or bag so it doesn't go bad.
Instant Pot Keto French Onion Soup
So, here is the final point- This recipe for keto-friendly French onion soup is made in an Instant Pot. The ingredients used are ghee, onions, beef stock, garlic, herbs, salt, black pepper, and arrowroot starch. The recipe requires a few simple steps, such as sauteing the onions and garlic in ghee, adding the beef stock, herbs, and seasonings, and cooking the ingredients under pressure.
1) French onion soup can be made keto-friendly;
2) the Instant Pot makes it easy to prepare;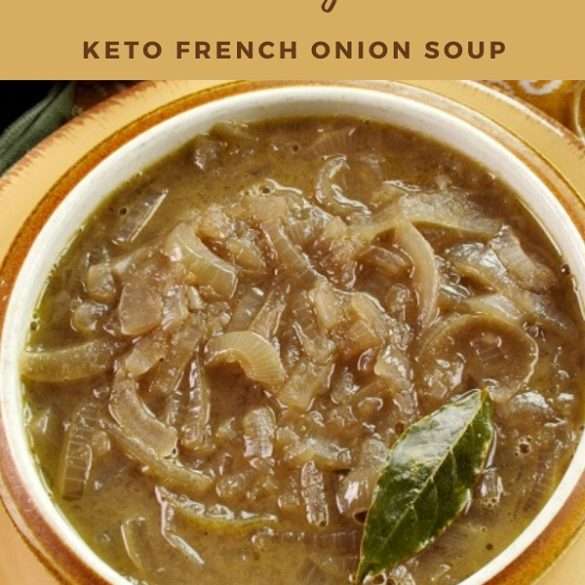 Ingredients
2 pounds (960 g) of yellow onions, peeled and sliced
3 cloves garlic, peeled and minced
3 tablespoons ghee butter
2 tablespoons coconut aminos
8 cups (2 L) beef broth
1 tablespoon Arrowroot Starch
2 bay leaves
4 sprigs fresh thyme
salt and freshly ground black pepper, to taste
Instructions
In an instant pot, turn the knob to the "Saute" setting. Put 3 tablespoons of butter or ghee into the pot and let it melt.
Add the onions and garlic. Cook for 15 to 20 minutes and keep stirring so it doesn't burn. When the onions look soft and clear, you're done.
Sprinkle Arrowroot Starch and coconut aminos. Stir well to combine. Pour in the broth, then add bay leaves and thyme sprigs.
Close the pot and lock the lid. Set the machine to cook to high pressure, Set the timer to cook for 15 minutes.
Using the Quick Release method, bring pressure to normal. Carefully unlock and open the lid.
Serve the soup hot.
Did You Make This Recipe?