Instant pot paleo chicken thighs. Making Instant Pot Chicken Thighs is super easy! Just put bone-in or boneless, skin-on or skinless chicken thighs in the Instant Pot and press the button. The chicken will come out tender and tasty. You can even use frozen chicken thighs!
Cook these chicken thighs in the instant pot! They're fast, flavorful, and super easy. Enjoy!
I love chicken thighs! They're so flavorful and don't dry out when you cook them. I use my Instant Pot Pressure Cooker to make them – it tastes amazing!
What is the Paleo Diet?
The Paleo diet is based on a scientific idea. This idea is called the discordance hypothesis. It suggests that the food people ate in the Stone Age did not have any sugar, chemicals, unhealthy fats, or added salt. Instead, it included more protein, healthy fats, and fiber.
Modern farming has changed our diets faster than our bodies could adjust, and this can lead to inflammation, digestion issues, and chronic health problems. This idea isn't perfectly accurate, though.
Our bodies have changed over time so that we can eat different kinds of food. This means we can get helpful nutrients from the food that we couldn't eat before. For example, enzymes are needed to digest the sugar in milk or the starch in grains. Professor Peter Ungar from the University of Arkansas says most of us can now eat these foods.
YOU MAY ALSO LIKE:
Slow Cooker Keto Cauliflower Soup
Slow Cooker Keto Chicken Divan
Ingredients Needed to Make Instant Pot Paleo Chicken Thighs
6-8 bone-in and skin-on chicken thighs-For this recipe, you'll want 6-8 chicken thighs with the skin still on. You can use either bone-in or boneless thighs, or even frozen chicken thighs.
kosher salt and freshly ground black pepper-Add enough salt and pepper to make the chicken taste delicious! Sprinkle it on both sides.
smoked paprika-I used smoked paprika to get more flavor
garlic powder-I love using garlic powder when I cook. It's a type of dried allium, like granulated garlic or garlic salt. My mom cooks with it, so I've been familiar with it since I was little.
1 cup (250 ml) water or broth-You need to add some liquid to the Instant Pot for the recipe to work. Most recipes say to use 1 cup of water or broth. Always check your pressure cooker instructions because some models need more liquid than others.
2 tablespoons avocado oil-We need 2 tablespoons of oil to fry the chicken thighs in the Instant Pot. Use avocado oil, as it can handle high temperatures. You can also use any other kind of oil.
How to Make Instant Pot Paleo Chicken Thighs
Season the chicken thighs with salt, black pepper, smoked paprika, and garlic powder to give them flavor.
I put some avocado oil in my Instant Pot, switched it on to the 'sauté' setting, and let it heat up. I cooked the chicken thighs in a few batches so they could get really tasty.
I cooked chicken thighs until they were browned, then added some water to the pot. I made sure to scrape the bottom so there were no pieces stuck to it.
Then put the trivet into the Instant Pot. The trivet helps the chicken thighs so they don't sit in the water and lose their taste.
When the timer went off, I left the pot alone for 10 minutes before turning the valve to let any remaining pressure out.
Can I Use Frozen Chicken Thigs?
Yes, you can cook frozen chicken thighs in an Instant Pot. Just make sure you set the pressure cooker for the correct time and temperature. You'll be able to have a delicious and nutritious meal in no time.
I'd skip the searing process. Instead, I'd season the frozen chicken thighs with salt and pepper. Then, I'd cook them in a pressure cooker on high heat for 15 minutes.
How Long Does it Take to Cook Chicken Thighs in an Instant Pot?
These chicken thighs had bones in them. They were cooked just right after 10 minutes of cooking and 10 minutes of natural release.
If you're using boneless, skinless chicken thighs, cook them for 5 minutes. Then let the pressure naturally release for 10 minutes. It might take the Instant Pot anywhere from 10 to 30 minutes to get to pressure, depending on how full the pot is and how warm it is.
What to Serve with Chicken Thighs?
Serve these delicious thighs alongside your favorite comfort foods like Cauliflower Mac and Cheese, Low Carb Broccoli Salad, or Parmesan Zucchini and Corn!
Or, cut up the chicken, mix it with Keto or Cranberry Salad, and serve it on 90-second bread. It's a simple and delicious dish.
Instant Pot Paleo Chicken Thighs
So, here is the final point-This post provides an easy recipe for Instant Pot Paleo Chicken Thighs. All you need to do is put the chicken, whether it be bone-in or boneless, skin-on or skinless, into the Instant Pot and press the button. The final results will be tender and delicious.
1) it is easy to make Instant Pot Paleo Chicken Thighs,
2) you can use either skin-on or skinless chicken thighs,
3) the chicken will come out tender and tasty.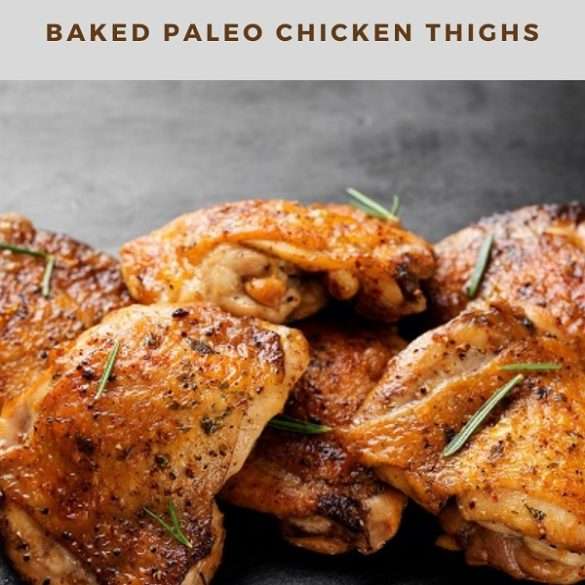 Ingredients
6-8 bone-in and skin-on chicken thighs
kosher salt and freshly ground black pepper, to taste
1 teaspoon garlic powder
1 teaspoon smoked paprika
2 tablespoons avocado oil
1 cup (250 ml) chicken broth
Instructions
Place the chicken thighs on a cutting board and sprinkle them with salt, pepper, garlic powder, and smoked paprika.
Turn on the Instant Pot and set it to "Sauté". Wait until the display says "hot". Put 1 tablespoon of oil in the pot. Brown the chicken thighs, a few at a time, adding more oil if needed. Flip the chicken to brown both sides.
Take the chicken out of the pot. Pour broth into it. Scrape the bottom of the pot with a wooden spoon to get rid of any burnt bits. Stop the sauté setting.
Put the trivet in the pot. Place the chicken on top, and close the lid. Set the pressure cooker to "High" and cook for 10 minutes.
When you're done cooking in the Instant Pot, wait 10 minutes before releasing the pressure. Then, let the rest of the pressure out by pushing the button to do a Quick Release.
Remove the cooked chicken thighs from the pot and serve with your favorite dish. Enjoy!
Notes
Tips and Tricks:
Scrape the browned bits from the bottom of the Instant Pot to avoid getting the "burn" warning.
A trivet is a metal part that helps keep food away from the water while pressure cooking. You need to use at least 1 or 2 cups of water or broth for each recipe.
Did You Make This Recipe?