Slow Cooker keto cauliflower soup. This slow cooker soup is a delicious way to enjoy all the flavors of a comforting loaded keto dish. With cauliflower as a low-carb base, you can add hearty ingredients like sausage, bacon, and cheese to make an easy meal that is sure to have everyone asking for seconds.
This Keto Cauliflower Soup is perfect if you're on a low-carb diet. Roasted cauliflower, cream cheese, cheddar, bacon, cream, and butter make it just as tasty as loaded potato soup, but with no carbs. So you don't need to choose between comfort food and being healthy.
This creamy Keto Cauliflower Soup is a warm and comforting dish that won't add extra inches to your waist. Enjoy its deliciousness without guilty feelings!
I used to love Loaded Potato Soup, especially O'Charley's version. It had 40 carbs, and you could get free rolls with it. It was a bad habit!
I used to think that any kind of soup was a healthy food. This shows how successful Campbell's Soup's advertising was, and how I didn't know much back then.
This soup is healthy and yummy! It's made with cauliflower and tastes like a loaded potato soup – but only with 6.6 net carbs. That's a great deal!
Slow Cooker keto cauliflower soup is a revolution in the kitchen, allowing health-conscious eaters to indulge in a comforting and hearty meal without the guilt that comes with more traditional recipes.
For those who are health-focused, sifting through the abundance of keto recipes can be daunting. Along with a long list of ingredients, many recipes can require up to an hour of cooking time, leaving busy cooks feeling overwhelmed. Slow Cooker keto cauliflower soup offers an easy and delicious alternative.
This simple and flavorful dish requires little preparation and just 6 to 8 hours in the slow cooker. The result is a creamy, flavorful, and indulgent soup that's loaded with vitamins, minerals, and health-promoting antioxidants.
Cauliflower is the star of this dish, but the supporting cast of celery, garlic, onion, and tomatoes make it a true culinary delight. The addition of red pepper flakes adds a kick that brings it all together, while the cream adds richness and depth.
The best part? Slow Cooker keto cauliflower soup is a low-carb, high-fat dish that fits perfectly into the keto diet. This diet helps those looking to lose weight and reduce their risk of chronic diseases, such as type 2 diabetes and metabolic syndrome.
By lowering your consumption of carbohydrates and increasing healthy fats, the body is encouraged to enter a metabolic state called ketosis, which begins the process of burning fat for energy.
Slow Cooker keto cauliflower soup is a total win when it comes to flavor and nutrition. Not only is it easy to prepare and versatile in many recipes, but it also offers a wholesome meal that helps you stick to your diet goals.
Plus, it's sure to please everyone, even those who aren't on the keto diet. Make sure to add this delicious dish to your arsenal of mouthwatering recipes and experience the revolution in your kitchen today.
YOU MAY ALSO LIKE:
Slow Cooker Paleo Orange Sesame Chicken
Slow Cooker Keto Barbacoa Beef
Cauliflower Benefits
Cauliflower is a superfood. It's packed with vitamins and antioxidants that boost your immune system and keep your hormones and electrolytes balanced. Cauliflower also helps your bones, cells, and heart stay healthy. It can even help prevent diseases like diabetes and colitis.
One cup of cauliflower has 5 carbs, 2 grams of fiber, and 2 grams of protein, and it's low in calories (25).
Do I Need to Roast Cauliflower to Make Keto Cauliflower Soup?
If you have the time, roast the cauliflower in the oven. It adds more flavor and only takes a few minutes to season. Plus, it takes about 20 minutes to bake. You can either do this before, or while the cauliflower is in the oven, you can cook the bacon, chop the onion, and sauté the garlic.
However, you can skip the roasting step if you're short on time or don't feel like doing it. It's totally okay!
Do I Need to Use An Immersion Blender?
I used an immersion blender to turn the cauliflower into a puree. If you don't have one of those, you can use a blender or food processor. Just put only a few cups of the soup in at a time and don't fill it more than halfway.
Make sure to put the lid on tightly or you could end up with a huge mess of soup.
Slow Cooker Keto Cauliflower Soup
So, here is the final point-This post provides a step-by-step guide on making a keto-friendly slow cooker cauliflower soup. It is a creamy, cheesy soup that takes only a few ingredients and 5 minutes of prep time.
1) Slow cooker keto cauliflower soup is a simple yet delicious dish that requires minimal prep time;
2) Ingredients such as onion, garlic, bacon, cauliflower, chicken broth, butter, and hot sauce add flavor and nutrition to the soup;
3) A creamy and cheesy texture is achieved by stirring cream cheese at the end of the cooking process.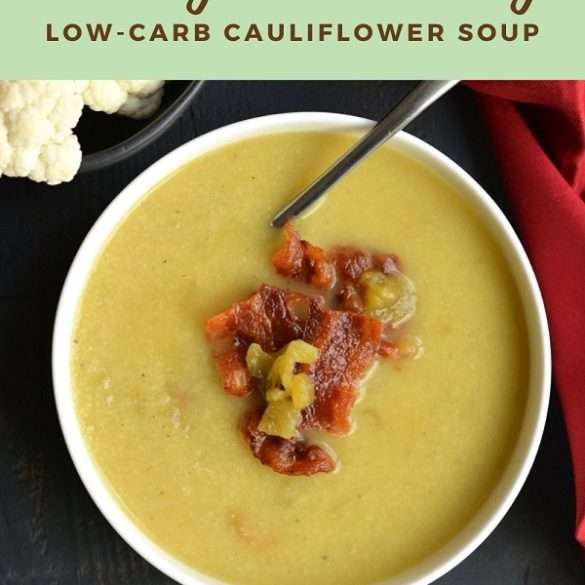 Ingredients
2 large cauliflower heads, separated into florets
10 slices bacon
4 cups (1 L) chicken broth
2½ cups grated Cheddar cheese
1 cup (250 ml) heavy cream
1/2 stick of unsalted butter
6 oz (180 g) cream cheese
1/2 chopped yellow onion
3 garlic cloves, peeled
1/2 teaspoon ground white pepper (optional)
1 teaspoon hot sauce (optional)
To Roast Cauliflower:
1/4 cup (60 ml) extra-virgin olive oil
5 cloves garlic, peeled and chopped
1/2 teaspoon crushed red pepper
2 teaspoons kosher salt
2 teaspoons dried thyme
Instructions
To roast cauliflower, you can buy it pre-cut into florets or use a whole head. If you use a whole head, you must remove the core, then chop it into florets. A food processor can help with this step, but be careful not to make it too small.
Mix olive oil, garlic, salt, pepper, and thyme. Put it in a bowl with the cauliflower, or sprinkle it over the florets on a pan with foil on it. This will make cleaning up easier.
Bake the dish for about 30 minutes at 400º F (200º C). You can turn it over halfway through the baking time, but it's not necessary.
Fry bacon and cut the onion into small pieces. Keep the bacon grease because you'll need it to cook the onion and garlic for a couple of minutes.
Add all the ingredients except cream cheese, cheddar, and heavy cream to the crockpot.
Cover the pot and cook on a low-heat setting for 4-6 hours.
Get your immersion blender or regular blender ready and blend the cauliflower to make the soup smooth and creamy.
Add the heavy cream, cream cheese, and 2 cups of cheddar cheese to the dish. Sprinkle the rest of the cheddar cheese, and bacon.
Enjoy!
Did You Make This Recipe?