Slow cooker Paleo tomato soup. Enjoy a healthy, hearty bowl of slow cooked Paleo tomato soup. This simple and delicious recipe is sure to be a hit with the entire family.
Enjoy a balanced meal while still incorporating your favorite Paleo ingredients. Packed with vitamin-rich tomatoes and nutrient-filled vegetables, this low-carb, gluten-free comfort food recipe is sure to be the star of your next meal.
Introduction to Slow Cooker Paleo Tomato Soup
Paleo Tomato Soup is a delicious and healthy meal that can be enjoyed any time of the year. This soup is packed with wholesome ingredients and is perfect for those who are following a paleo diet or looking for a nutritious meal option.
The best part about this recipe is that it can be made in a slow cooker, which means that you can set it and forget it while it cooks to perfection.
I'll guide you through the process of making Paleo Tomato Soup, from the ingredients you'll need to the steps involved in creating this hearty and flavorful soup. So, get ready to enjoy a warm and comforting bowl of  Tomato Soup!
Ingredients for Slow Cooker Paleo Tomato Soup
To make a delicious and wholesome soup, you will need a few key ingredients. First, you'll need fresh tomatoes, preferably Roma or San Marzano varieties.
You'll also need some garlic, onion, and celery to add flavor and depth to the soup. For seasoning, you'll need dried oregano, basil, and thyme, as well as salt and pepper to taste.
To keep this recipe Paleo-friendly, we'll be using coconut milk instead of cream or dairy milk. This adds a creamy texture without any added dairy. Finally, you'll need some chicken or vegetable broth to give the soup a rich and savory base.
Overall, the ingredients for this soup are simple and easy to find at your local grocery store. With these wholesome and hearty ingredients, you'll be able to create a delicious and nutritious soup that's perfect for any occasion.
YOU MAY ALSO LIKE:
Slow Cooker Keto Chicken Marsala
Slow Cooker Keto Butter Chicken
Steps to Make Slow Cooker Paleo Tomato Soup
To make this soup, you will need to follow a few simple steps. First, start by heating up the olive oil in a skillet over medium heat. Add the onions and garlic and cook until they become soft and fragrant. You can also roast the vegetables in an oven.
Next, add the diced tomatoes, chicken broth, and spices to the slow cooker. Stir everything together until well combined. Then, add the cooked onions and garlic to the slow cooker and stir again.
Cover the slow cooker and cook on low for 6-8 hours or on high for 3-4 hours. Once the soup is done cooking, use an immersion blender to blend it until smooth. If you don't have an immersion blender, transfer the soup to a blender and blend it in batches.
Finally, taste the soup and adjust the seasoning as needed. Serve hot with your favorite toppings, such as fresh herbs, croutons, or grated cheese. Store any leftovers in an airtight container in the refrigerator for up to 5 days.
Serving and Storing Tomato Soup
Once your Tomato Soup is ready, it's time to serve and enjoy! This soup is perfect for a cozy night in or as a starter for a dinner party. You can serve it with some crusty bread or crackers on the side.
If you have any leftovers, let the soup cool down to room temperature before storing it in an airtight container. You can keep it in the fridge for up to 4 days or freeze it for up to 3 months. When reheating, simply heat it up on the stove or in the microwave until it's hot all the way through.
This Paleo Tomato Soup is not only delicious but also nutritious and filling. It's a great way to get your daily dose of vegetables and healthy fats. Plus, it's easy to make and can be customized to your liking. Give it a try and see how it becomes a staple in your meal rotation.
Slow Cooker Paleo Tomato Soup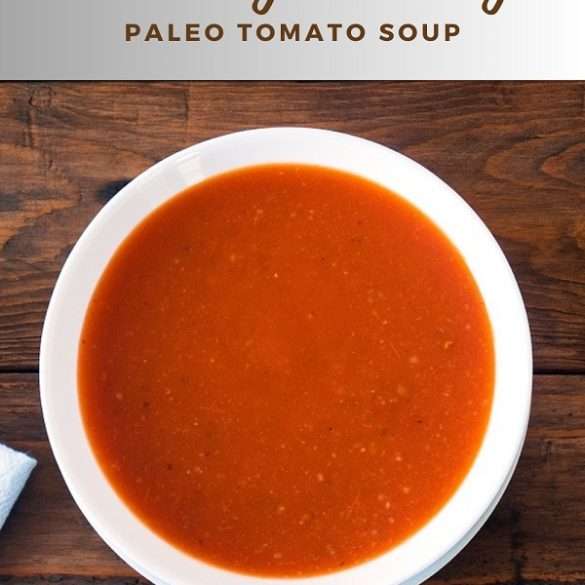 Ingredients
1½ pounds (720 g) of fresh tomatoes, chunked
2 tablespoons avocado oil
1/2 tablespoon kosher salt
1 teaspoon freshly ground black pepper
1 large yellow onion, peeled and chopped
3 garlic cloves, peeled and minced
1 tablespoon coconut oil
1 cup chopped carrots
1/2 cup chopped fresh basil
1 teaspoon chopped fresh parsley
2 cups (500 ml) vegetable broth
1 bay leaf
1/4 cup (60 ml) coconut milk
Instructions
Preheat an oven to 450º F (225º C).
Toss the tomatoes, avocado oil, salt, and pepper together.
Put them in a single layer on a baking sheet and bake for 25-30 minutes.
Put all the ingredients, including the roasted tomatoes, into a slow cooker.
Cover and cook it on low for 5-7 hours.
Let the soup cool, discard the bay leaf, then blend or process it until it's smooth.
Enjoy your Paleo Tomato Basil Soup!
Did You Make This Recipe?