Slow cooker keto chile verde. Chile Verde stew is a Mexican dish with a tangy, smoky flavor. You can make it with chicken, pork shoulder, or chuck roast. These meats have more fat than chicken which makes the stew extra delicious. It's a comforting treat on cold days.
How to Make the Perfect Slow Keto Cooker Chile Verde Stew
Do you love the smoky and spicy flavors of Mexican cuisine but struggle to find keto-friendly options? Look no further than this slow cooker chile verde stew recipe! Packed with protein and healthy fats, this dish is perfect for satisfying your cravings while sticking to your dietary goals.
I'd like to take you through the ingredients, preparation, cooking process, and serving suggestions for making the perfect slow keto cooker chile verde stew. So grab your apron and get ready to impress your taste buds and dinner guests alike!
Ingredients
Before we dive into the preparation of this delectable dish, let's take a look at the key ingredients that make this slow cooker chile verde stew so delicious.
First and foremost, you'll need pork shoulder or butt that's been trimmed and cut into chunks. Make sure to choose a high-quality cut of meat for the best flavor and texture. Next, you'll need fresh tomatillos, which are small green fruits that resemble tomatoes but have a tangy flavor.
Along with the tomatillos, you'll need some chopped onion and garlic, as well as jalapeño peppers for a bit of heat. You can adjust the amount of jalapeño to your liking, depending on how spicy you like your food.
To give the stew its signature smoky flavor, you'll need some canned green chilies and cumin. Don't forget to add some salt and black pepper to taste, as well as some chicken broth to keep everything flavorful and moist.
Finally, you'll want to add some healthy fats to the stew in the form of avocado oil or lard. This will help to keep you feeling full and satisfied, while also providing some much-needed nutrition.
Now that you know what you need to make this delicious slow cooker chile verde stew, let's get started on the preparation!
YOU MAY LIKE AS WELL:
Slow Cooker Keto Butter Chicken
Slow Cooker Keto French Onion Soup
Slow Cooker Keto Creamy Asparagus Soup
Preparation
To make the perfect slow cooker chile verde stew, preparation is key. Before you start gathering your ingredients, ensure that your slow cooker is washed and ready to use. Chop your vegetables, peel your garlic, and measure out your spices beforehand to save time and ensure that you have everything you need.
It's also important to choose high-quality ingredients, especially when it comes to meat. Opt for grass-fed beef or pasture-raised pork for the most flavor and nutrition.
Additionally, taking the time to brown your meat before adding it to the slow cooker will add an extra depth of flavor to your stew. With everything prepped and ready to go, you'll be able to breeze through the cooking process in no time.,
Cooking Chile Verde
Now that you have everything prepped and ready to go, it's time to start the cooking process. Begin by heating a tablespoon of oil in a medium-sized skillet over medium heat. Once the oil is hot, add your meat and brown it on all sides.
This step is crucial in creating the rich, complex flavors that make this dish so special. It may seem like an extra step, but trust us when we say it's worth it.
Next, add the browned meat, vegetables, and spices to your slow cooker. Pour in enough broth or water to cover all of the ingredients. Give everything a good stir to ensure that the flavors are evenly distributed.
Set your slow cooker to low heat and let it cook for eight hours. This will give the flavors plenty of time to meld together and create a deliciously complex stew. Resist the urge to peek inside the slow cooker too often, as this will release heat and extend the cooking time.
Once the cooking time is up, give your chile verde stew a taste and adjust any seasoning if needed. If the stew is too thick, you can add additional broth or water to thin it out.
Serving Keto Chile Verde
Now that your chile verde stew is ready, it's time to serve it up. Ladle the stew into bowls and top with your favorite garnishes, such as avocado, cilantro, or shredded cheese. This stew is hearty enough to be a meal on its own, but you can also serve it alongside a fresh green salad or some crusty bread for sopping up the delicious broth. Enjoy!,
Now that your Mexican chile verde stew has been simmering away for hours, it's time to enjoy the fruits of your labor. Serving this flavorful and satisfying dish is easy – just grab some bowls and your favorite garnishes.
To start, ladle the stew into individual bowls, being sure to get a generous helping of both the tender chunks of pork and the savory broth.
If you're feeling fancy, you can top each bowl with some fresh avocado, cilantro leaves, or shredded cheese. These garnishes will add a pop of color and extra flavor to your chile verde stew.
While this stew is certainly hearty enough to enjoy on its own, you might want to serve it alongside something else. A fresh green salad or some crusty bread would be a great way to round out the meal and help soak up all that delicious broth.
So grab a spoon and dig in – your slow cooker chile verde stew is ready to be devoured!
Slow Cooker Keto Chile Verde
So, the slow cooker chile verde stew is a fantastic addition to any keto meal plan. This recipe is easy to make and packed with smoky, rich flavors that will leave you wanting more. It's versatile, allowing you to customize it with your choice of meat or toppings.
Whether you're busy during the week or looking for a lazy weekend meal, this dish is perfect for you. So, why not give it a try and impress your family and friends with your cooking skills?
As Julia Child once said, "Cooking is like love, it should be entered into with abandon or not at all." So, enter into this recipe with abandon and enjoy every bite!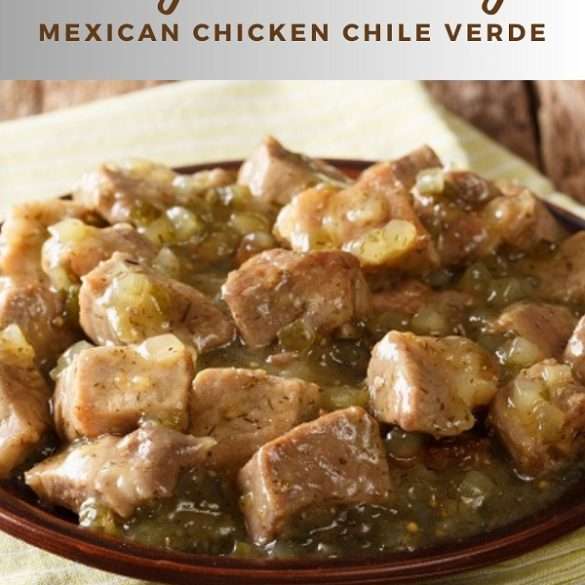 Ingredients
3 pounds (1.44 kg) pork shoulder, trimmed and cut into cubes
2 tablespoons avocado oil
2 tablespoons almond flour
2 poblano peppers
2 Anaheim peppers
2 jalapeno peppers
4 garlic cloves
6 tomatillos, husks removed
1 white onion, peeled and quartered
chopped fresh cilantro
3/4 teaspoon salt
1/4 teaspoon freshly ground black pepper
1/2 teaspoon ground cumin
1/2 teaspoon dried oregano
1 cup (250 ml) chicken broth
Instructions
Set your oven to 450° F (225º C). Put peppers, tomatillos, garlic, and onion on a baking sheet. Put the baking sheet on two shelves below the top of the oven.
Bake the vegetables for 20-25 minutes until the outside is dark and a bit crispy. Check them often so they don't get too cooked.
Put the vegetables in the blender and lay the cilantro on top. Put the lid on and push the button until the mixture is the way you want it. If it's too thick, add a bit of the chicken broth to help it blend.
Put almond flour in a bowl or in a ziplock bag. Place a skillet on the stove and turn the heat to medium-high. Put enough oil in the skillet to coat the bottom.
When the pan and oil are hot, put the pork in the flour and put it in the skillet. Brown the pork on all sides. If you don't have a big enough pan, you may need to brown the pork in batches. Don't worry about cooking it all the way through, just brown it.
Add the meat to your slow cooker. Pour the salsa on top and then sprinkle with salt, pepper, cumin, and oregano. Top with the chicken broth and give everything a good stir.
Cover the pot and cook on a low-heat setting for 9 hours.
Notes
To thicken your sauce, add 2 tablespoons of flour to the dish. To make it even thicker, make a cornstarch slurry. To do this, mix 2 tablespoons of cold water and 2 tablespoons of almond flour. Then add the mixture to the hot sauce and cook it for 15 more minutes.
Did You Make This Recipe?