Slow cooker keto ropa vieja. So, tonight I'm cooking Cuban Ropa Vieja in my slow cooker. Enjoy this tasty, low-carb version of ropa vieja. This keto ropa vieja is packed with flavor and will quickly become a favorite in your meal rotations. Get cooking now to reap the delicious rewards of this easy keto dish!
How to Make the Perfect Slow Cooker Keto Ropa Vieja Every Time
Are you in search of a savory and flavorful Cuban-inspired dish that won't derail your keto diet? Look no further than slow cooker keto ropa vieja. But let's be honest, the perfect slow cooker keto ropa vieja can be a tough nut to crack. Fear not!
With the right ingredients, preparation, and cooking techniques, you'll have a mouth-watering dish that will impress even the most discerning of taste buds.
From choosing the best ingredients to the finishing touches, we've got you covered. Get ready to delight your loved ones and guests with this crowd-pleaser that will have everyone scrambling for seconds!
Choosing the Right Ingredients
To ensure that your slow cooker keto ropa vieja is a success, it's important to start with the right ingredients. When shopping, opt for the highest quality meat available, such as grass-fed beef or organic chicken.
Fresh vegetables, including bell peppers, onions, and tomatoes, will add vibrant colors and rich flavors to your dish.
Be sure to choose a sugar-free and low-carb beef broth to keep your meal keto-friendly. Don't forget to stock up on the right spices, such as cumin, paprika, and oregano, to give your slow cooker keto ropa vieja an authentic Cuban taste. By using the right ingredients, you're already on the path to success. Next up, we'll cover prepping for success.
Prepping for Success
To ensure that your slow cooker keto ropa vieja comes out perfectly every time, prepping is key. Start by chopping all necessary vegetables and measuring out spices and broth ahead of time. This will not only save you time during the cooking process but also ensure that all ingredients are ready to go when needed.
Additionally, searing the meat before adding it to the slow cooker can add extra flavor and texture to the final dish. By prepping your ingredients and meat properly, you'll be setting yourself up for slow-cooking success and a delicious keto ropa vieja.
YOU MAY ALSO LIKE:
Slow Cooker Keto Chicken Marsala
Slow Cooker Keto Butter Chicken
Instant Pot Paleo Chicken Thighs
Slow Cooking to Perfection
The slow cooker is a fantastic tool to create flavorful and tender dishes without much effort. However, it's important to keep a few things in mind to ensure that your slow cooker keto ropa vieja comes out perfectly every time.
The key is to cook it low and slow. Ideally, you want to allow for at least eight hours of cooking time, but sometimes it may take longer, depending on the size of the meat and the age of your slow cooker.
It's also essential to resist the temptation to lift the lid and check on the meat. Doing so can cause the heat to escape, which can significantly slow down the cooking process. Instead, trust the slow cooker to do its job and only check on the dish when it's closer to being done.
One last thing to keep in mind is that the meat should be submerged in liquid to avoid it drying out. If you notice that the meat is starting to look dry, add a cup or two of broth or water to the slow cooker, depending on how long it has left to cook.
By following these tips and allowing the slow cooker to work its magic, your keto ropa vieja will turn out perfectly tender and flavorful, ready for the finishing touches.
Finishing Touches
By following the slow cooking process to a tee, your keto ropa vieja is well on its way to being a hit. However, the finishing touches can really take it up a notch. First and foremost, let the meat rest for at least ten minutes before shredding it with a fork. This allows the juices to redistribute throughout the meat, resulting in a more succulent and flavorful dish.
Once you've shredded the meat, it's time to add some color and texture. Sauté some peppers and onions in a pan until they're slightly caramelized and add them on top of the meat. This not only adds a pop of color but also a contrasting flavor and crunch.
Finally, garnish with some fresh cilantro and a squeeze of lime juice to brighten up the dish and add some acidity. Serve your keto ropa vieja with some cauliflower rice, sliced avocado, and a sprinkle of cheese for a complete and satisfying meal.,
Slow Cooker Keto Ropa Vieja
In conclusion, slow cooker keto ropa vieja is a rich and satisfying Cuban-inspired dish that can be perfected with the right approach. By carefully selecting the best ingredients, prepping properly, slow cooking with care, and providing the finishing touches, you can create a meal that will leave your loved ones raving.
So whether you're looking to impress your guests or simply craving some comfort food, give this recipe a try and enjoy the delicious rewards. As the popular saying goes, "slow and steady wins the race," and in this case, slow and steady also win over taste buds. So get cooking and savor the flavors of this mouthwatering dish!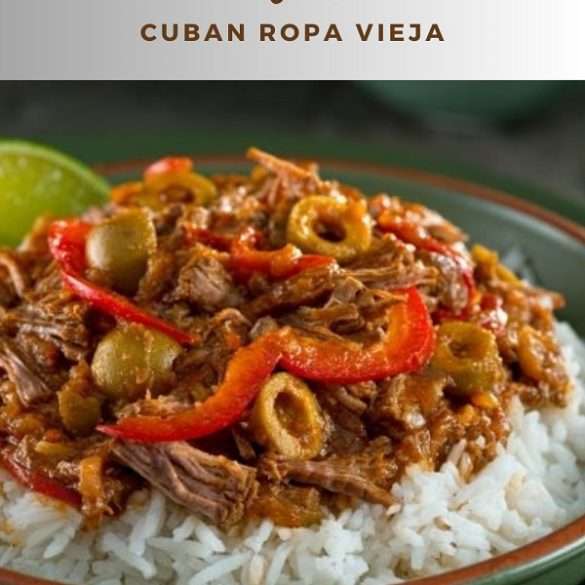 Ingredients
2 pounds (960 g) flank steak
salt and freshly ground black pepper
1 red bell pepper, seeded and sliced
1 small white onion, peeled and sliced
8 oz can (240 ml) tomato sauce
1 tablespoon apple cider vinegar
1 tablespoon ground cumin
1/2 cup green olives, pitted and sliced
cauliflower rise, to serve
Instructions
Season the beef with salt and black pepper. Place it in a slow cooker.
Add the sliced red bell pepper, onions, tomato sauce, vinegar, cumin, and green olives.
Cover the pot and cook on a low-heat setting for 8 hours, or until the meat is tender. Once you've cooked the flank steak, use two forks to shred it. Put the pieces into the sauce and mix them together.
Place ropa vieja over the cooked cauliflower rice.
Serve hot.
Did You Make This Recipe?