Instant pot paleo cauliflower mushroom risotto. If you're in the mood for something tasty and nutritious in no time, this Instant Pot Paleo Cauliflower Mushroom Risotto is perfect! You can have it ready in just 30 minutes.
I'm really into mushrooms lately. They have lots of vitamins, minerals, and antioxidants, which can help prevent cancer and keep me healthy. It's important to keep my body strong with sudden temperature changes, so I'm trying to eat more mushrooms to make sure I get the immune boost and nutrients I need.
Instant Pot Paleo Cauliflower Mushroom Risotto
I love risotto, so I decided to make a healthier version. I made it with cauliflower and mushrooms so it's gluten-free and low in carbs. I'm so happy with how it turned out – it's just as good as the real thing.
This recipe is so easy because it only takes 15 minutes to make in the Instant Pot. You'll get a creamy, delicious Cauliflower Mushroom Risotto that looks and tastes fancy–so it's sure to impress your friends!
This dish is a perfect side to go with your turkey, ham, or roast over the holidays. It's delicious and a great way to get a lot of vegetables in your meals. This can be especially helpful on days when you want to treat yourself – like Thanksgiving or Christmas.
YOU MAY ALSO LIKE:
Slow Cooker Keto Butter Chicken
Instant Pot Paleo Chicken Thighs
Instant Pot Keto French Onion Soup
How to Make Instant Pot Cauliflower Mushroom Risotto in Half the Time
Are you tired of spending hours in the kitchen making dinner? Do you crave a creamy, comforting bowl of risotto without the tedious stirring and constant attention? Look no further than your trusty Instant Pot.
With just a handful of ingredients and some basic cooking techniques, you can enjoy a nutritious and delicious meal that's perfect for any occasion. Let's dive in and discover how to make this quick and easy dish with step-by-step instructions.
Preparation
To make this Instant Pot cauliflower mushroom risotto recipe, you'll need to do a bit of preparation beforehand. Start by cleaning and slicing your mushrooms, cutting your cauliflower into small florets, and finely chopping your onion and garlic. Measure out your bone broth and have all of your ingredients ready to go before you start cooking.
Keep in mind that the cooking process will be quite quick, so it's important to have everything prepped and ready to add to the Instant Pot as soon as you need it. With all of your ingredients set up and your Instant Pot preheated, you'll be ready to move on to the cooking process and have a delicious risotto ready in no time.
Cooking
Start by setting your Instant Pot to "saute" mode and melting a bit of ghee butter or oil in the pot. Add your chopped onion and garlic and saute for a few minutes until they're tender and fragrant. Then, add your sliced mushrooms and continue cooking until they're golden brown and slightly crisp.
Next, add in your cauliflower florets, stirring everything together until the rice is coated in the butter and veggies. Pour in your bone broth and give everything a good stir. Close your Instant Pot lid and set it to "pressure cook" on high for 6 minutes.
Once the cooking time is up, allow the pressure to release naturally for 10 minutes before manually releasing any remaining pressure. Open the lid and stir in your Parmesan cheese, giving everything a good mix until the cheese is melted and the risotto is creamy and smooth.
Now that your Instant Pot cauliflower mushroom risotto is cooked to perfection, it's time to move on to the next step of pressurizing and depressurizing to ensure a safe and successful cooking experience.
Pressurizing and Depressurizing
Once your risotto is cooked to perfection, it's important to properly pressurize and depressurize your Instant Pot to ensure a safe and successful cooking experience. First, press the "Cancel" button and then the "Venting" knob to release any remaining pressure.
Once the valve has dropped and all pressure is released, carefully remove the lid. Give the risotto a good stir, making sure to evenly distribute any remaining liquid.
Now that your risotto is mixed and creamy, it's time to serve and enjoy!
Mixing and Serving
Once your risotto is mixed and creamy, it's time to serve and enjoy! This dish pairs perfectly with a side salad or a fresh piece of bread. To serve, ladle the risotto into bowls and top with freshly grated Parmesan cheese and a sprinkle of chopped parsley. If you're feeling adventurous, you can also top it with sautéed mushrooms or a drizzle of truffle oil.
Don't forget to clean your Instant Pot after cooking. The removable inner pot and accessories can be washed in the dishwasher or by hand with warm soapy water. Make sure to dry everything thoroughly before storing.
Now that you've mastered the art of making Instant Pot Cauliflower Mushroom Risotto, use your newfound skills to experiment with different flavor combinations. Maybe try adding some roasted garlic or sun-dried tomatoes for a bold new taste. The possibilities are endless, so have fun and keep on creating delicious dishes!
Instant Pot Paleo Cauliflower Mushroom Risotto
So, utilizing your Instant Pot to make Cauliflower Mushroom Risotto is a game-changer for busy weeknights. This dish packs a ton of flavor and nutrition in just a few simple steps. By prepping your ingredients beforehand, following the cooking, pressurizing, and depressurizing guidelines, and mixing everything, you'll have a creamy and savory meal on the table in no time. So, go ahead and give it a try! Your taste buds and your schedule will thank you. As the saying goes, "good food is the foundation of genuine happiness.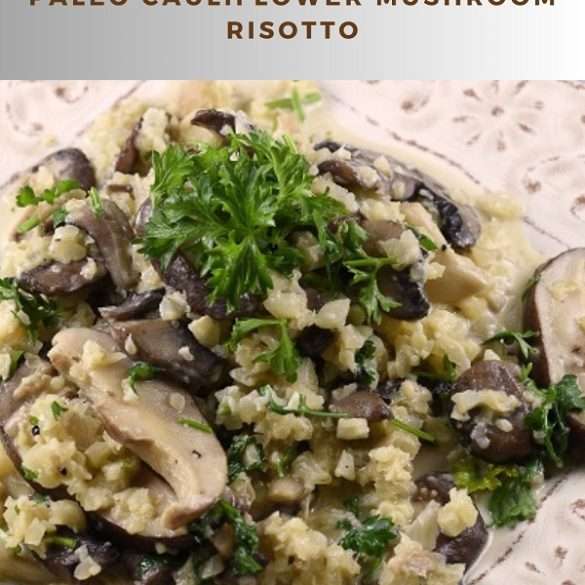 Ingredients
1 head of cauliflower, leaves removed and cut into florets
1 tablespoon ghee
1 small yellow onion, peeled and diced
1 pound (480 g) mushrooms, sliced
3 garlic cloves, peeled and minced
2 tablespoons coconut aminos
1 cup (250 ml) full-fat coconut milk
1 cup (250 ml) bone broth
2 tablespoons nutritional yeast
1/2 teaspoon sea salt
freshly ground black pepper, to taste
Instructions
Take the leaves off the cauliflower. Cut the florets off the roots.
To make "rice", use a cheese grater or food processor with a grater. Grate the cauliflower until it is the size of rice.
Add some ghee or coconut oil to your Instant Pot. Turn it to 'Sauté' and let it heat up for 5 minutes. Make sure the bottom of the pan is completely coated.
Add onion, mushrooms, and garlic to the pan. Cook and stir for 7 minutes until the mushrooms become soft.
Add coconut aminos to your Instant Pot and stir-cook for 2 minutes. The vegetables will brown. When they're done, turn off the Instant Pot.
Add cauliflower, coconut milk, bone broth, nutritional yeast, and a pinch of salt. Stir everything together.
Close the pot and lock the lid. Set the machine to cook to high pressure.set the timer to cook for 2 minutes.
Once the beeping stops, quickly open the pressure valve and remove the lid. If there is too much liquid, you can pour some out (it depends on how wet the cauliflower was).
Sprinkle the starch over the risotto and stir well, then season with black pepper.
Serve hot.
Did You Make This Recipe?