Slow cooker keto maafe. This Slow Cooker African Peanut Soup is super easy to make and perfect when you're super busy. It's also known as Granat Stew, Groundnut Stew, or Senegalese Maafe. Enjoy!
What is Slow Cooker Keto Maafe?
Slow Cooker Keto Maafe is a delicious and nutritious West African dish that has gained popularity among people following the ketogenic diet. It is a hearty stew made with a variety of vegetables, meat, and a rich peanut butter sauce.
The dish is traditionally made on the stovetop, but it can also be prepared in a slow cooker for added convenience. Slow Cooker Keto Maafe is not only tasty but also packed with nutrients, making it an excellent meal option for those looking to maintain a healthy lifestyle while still enjoying flavorful food.
YOU MAY ALSO LIKE:
Slow Cooker Paleo Apple Butter
Slow Cooker Keto Chicken Marsala
Ingredients Needed for Keto Maafe
To make Slow Cooker Keto Maafe, you will need a variety of ingredients that are both delicious and nutritious. The main ingredient is chicken, which should be boneless and skinless for the best results.
You will also need peanut butter, which is a staple in many African dishes and adds a rich, creamy flavor to the dish.
Other essential ingredients include peanut stew sauce, which provides a smooth and creamy texture to the stew, and tomato puree, which adds a tangy and slightly sweet flavor. To give the dish a spicy kick, you will need cayenne pepper or white pepper.
For added nutrition and flavor, you can add vegetables such as tomatoes, onions, and zucchini. These vegetables not only provide essential vitamins and minerals but also add color and texture to the dish. Finally, don't forget to season with salt and pepper to taste.
Overall, the ingredients for Slow Cooker Keto Maafe are easy to find and readily available at most grocery stores. With the right combination of ingredients, you can create a delicious and healthy meal that your whole family will love.
How to Make This Recipe
To make Slow Cooker Keto Maafe, you will need to follow a few simple steps. First, gather all the ingredients needed for the recipe. Then, prepare the vegetables by washing and cutting them into bite-sized pieces.
Next, heat up some oil in a pan and brown the chicken until it's cooked through. Once the chicken is done, remove it from the pan and set it aside.
In the same pan, sauté the onions and garlic until they are fragrant and translucent. Add in the tomato paste, peanut butter, and spices, stirring until everything is well combined.
Transfer the mixture to the slow cooker and add in the chicken broth, diced tomatoes, and vegetables. Mix everything together and cook on low for 6-8 hours or on high for 3-4 hours.
Once the cooking time is up, stir in the cooked chicken and let it warm up in the slow cooker for a few minutes. Serve hot and enjoy your delicious and nutritious Slow Cooker Keto Maafe!
Serving Suggestions and Nutritional Information for Slow Cooker Keto Maafe
After spending hours preparing a delicious and nutritious meal, it's important to know how to serve it in a way that complements its flavors. Slow Cooker Keto Maafe is no exception. Here are some serving suggestions to make your meal even more enjoyable.
Firstly, consider pairing your Slow Cooker Keto Maafe with a side dish. A simple green salad or roasted vegetables would be a great option. You could also serve it over cauliflower rice or zucchini noodles for a low-carb alternative to traditional rice.
Secondly, garnish your Slow Cooker Keto Maafe with fresh herbs like cilantro or parsley. This will add a pop of color and freshness to the dish.
Lastly, let's talk about nutritional information. One serving of Slow Cooker Keto Maafe contains approximately 400 calories, 30 grams of fat, 20 grams of protein, and only 8 grams of net carbs. This makes it an excellent choice for those following a ketogenic diet.
Slow Cooker Keto Maafe
Finally, Slow Cooker Keto Maafe is a delicious and nutritious meal that can be enjoyed by anyone looking for a low-carb option. By following these serving suggestions and keeping track of the nutritional information, you can create a meal that is both satisfying and healthy.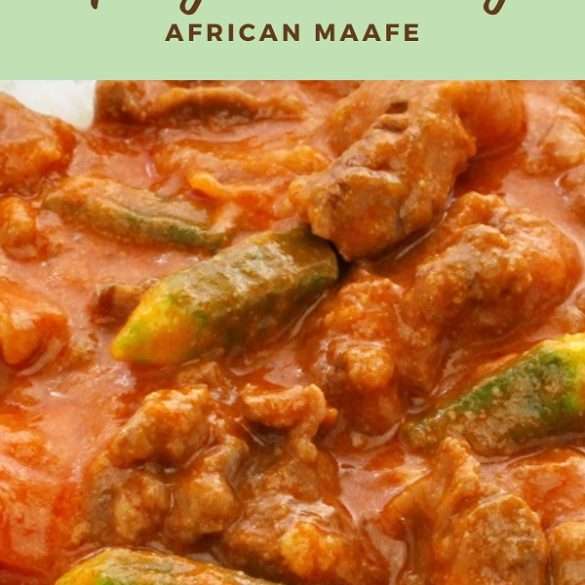 Ingredients
1 pound (480 g) boneless and skinless chicken breasts or thighs, cubed
2 cups (500 ml) water
1 pound (480 g) fresh tomatoes, chopped
peanut stew sauce
5 tablespoons smooth peanut butter
3 tablespoons tomato puree
2 pieces of peeled ginger
2 cloves garlic, peeled
1 teaspoon ground coriander
1/2 teaspoon freshly ground white pepper
1 stoke cube
2 teaspoons avocado oil, divided
1 yellow onion, peeled and finely diced
1 zucchini, peeled and sliced
Instructions
Heat 1 tablespoon of oil in a frying pan over medium heat. Add chicken and brown on all sides.
Remove browned meat from the pan and transfer it to a slow cooker.
Heat the remaining oil in the pan. Add onions and cook, stirring occasionally, until onions are softened.
Add softened onions to the cooker. Stir in the remaining ingredients.
Cover the pot and cook on a low-heat setting for 7-8 hours.
Did You Make This Recipe?