Slow cooker paleo chicken broth recipe. The Paleo chicken broth is a hearty, healthy soup that cooks in your crock pot. It's packed with flavor, and you likely have most of the ingredients on hand.
Slow cooker recipes are an amazing way to make a low-effort, high-reward dish. This recipe is perfect for a throw-together meal and incorporates healthy ingredients so you can keep your diet on track.
Why should I use a slow cooker for this recipe?
Slow cookers are a great way to prepare delicious, hearty meals without much work. They are easy to use and can be left unattended while they do their thing. The slow cooking process makes the meat incredibly tender, which is perfect for those who have trouble chewing or have a sensitive stomach.
The slow cooker is also perfect for those who don't want to spend hours in the kitchen each day. It's an excellent way of getting dinner on the table with minimal effort and fuss.
What is the Difference Between a Broth and Soup?
The broth is a great way to add flavor to your dishes. It's also a great way to get nutrients in your diet. Bone broth is created by cooking bones, vegetables, and spices for a long time.
The difference between broth and soup is that broth is only made with meat or vegetables whereas soup can be made with any combination of meat, vegetables, beans, grains, and more. The broth has a richer flavor than soup because it's cooked for hours at a low temperature.
The Benefits of Cooking with Chicken Broth for Your Gut Health
Chicken broth is rich in minerals, collagen, and amino acids that are crucial for gut health.
It is rich in minerals, collagen, and amino acids that are crucial for gut health. It helps with digestion, nutrient absorption, immune function, and more.
What is Paleo Broth and Why is it Good for You?
Paleo Broth is a soup made from bones, vegetables, and other ingredients that have been simmered for a long time. It is also known as "bone broth."
The benefits of this soup are that it can help you to maintain a healthy gut and immune system, it can help you to feel full and satisfied after eating, it can help you to lose weight, and it can provide relief for digestive issues.
How Can I Use Paleo Chicken Broth?
Paleo chicken broth is a great way to add flavor to your dishes. You can use it as a soup base or as an ingredient in a dish like risotto.
Some people also drink it straight up. This is especially popular during the winter months when the cold and flu season is in full force. It helps boost your immune system and provides you with vitamins that you might not get enough of if you're not eating right.
Can I Store Chicken Broth?
Absolutely! There are a few ways to store chicken broth. You can store it in the fridge for up to three days or freeze it for up to three months.
– Freezing: Allow the broth to cool down before freezing. Once it is cooled, place it in a freezer bag and seal it tightly. Place the bag in the freezer and allow at least 24 hours for the broth to completely freeze. Then label with the date, contents, and cooking instructions.
– Refrigerating: Store in an airtight container that is not made of metal or aluminum. The best containers are those made of plastic or glass because they do not react with acidity in food items like metal does.
– Storing on Countertop: Store on a cool counter away from sunlight and heat sources such as stovetops or ovens that can cause spoilage.
Slow Cooker Paleo Chicken Broth Recipe
You may also like:
Slow Cooker Paleo Cranberry Sauce Recipe
Slow Cooker Paleo Fish Chowder Recipe
Slow Cooker Paleo Beef Stew Recipe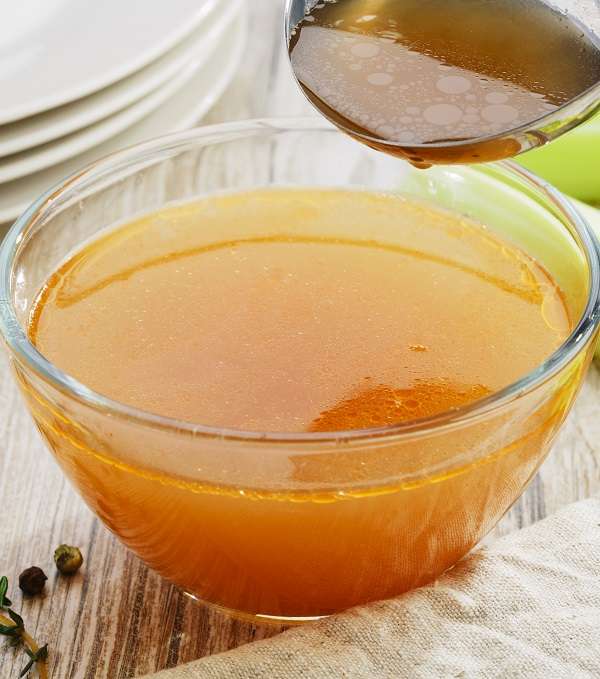 Ingredients
1 whole chicken
2 tablespoons salt
1/2 tablespoon freshly ground black pepper
Instructions
Combine all ingredients in a slow cooker.
Add enough water to cover the chicken,
Cover the pot and cook on a low-heat setting for 5 hours.
Turn off the cooker and open the lid. Separate the broth from the cooked chicken.
Allow the broth to cool. Store the broth and chicken separately.
Enjoy!
Did You Make This Recipe?