Air fryer keto Korean chicken wings – crispy, crunchy, and baked to perfection. This recipe is gluten-free and keto, but can be cooked in the oven or deep-fried as well.
Korean chicken wings is a dish that takes less than 20 minutes to make. It's a great low-carb meal.
While the original recipes take hours of prep time and cooking in the oven, this recipe relies on only an air fryer, which means that you can have delicious Korean chicken wings without having to wait very long for them to be prepared.
An air fryer is quick and convenient and provides the same taste and texture as those from an oven. The only issue appears to be with the breading coming off when you cut into it.
What is a good air fryer for keto recipes?
A good air fryer for keto recipes should have a large enough capacity to cook multiple servings at once. It should also be able to cook food precisely and quickly.
It is important that the air fryer has a high wattage and heat so that it cooks food quickly. A good quality air fryer will have a ceramic coating on the inside of the cooking chamber to ensure that the food does not stick or burn.
The best air fryers for keto recipes are those with variable temperature settings, so you can adjust them to your desired heat level. The best ones also have an adjustable timer, so you know exactly when your meal will be ready.
Is there anything I should avoid when using an air fryer?
Air fryers are a great way to make healthier versions of your favorite fried foods. They can be used to make anything from French fries to chicken wings. However, there are some things you should avoid when using an air fryer.
You should not use cooking oils or fats with high smoke points in the air fryer, because they will cause the oil to splatter and smoke excessively. You should also avoid frying more than one item at a time in the air fryer, as this will cause uneven cooking and burnt food.
Are Chicken Wings a Keto-Friendly?
The answer is yes, chicken wings are keto! Carbs in wings come from veggies & other healthy foods. So you can eat them regularly as part of a ketogenic diet if you prepare them right.
What Makes These Air Fryer Keto Korean Chicken Wings So Good?
Korean Keto Chicken Wings are a delicacy that is getting popular in the US. They are crispy and crunchy, but not greasy. The perfect balance of sweet and salty flavors is what makes these wings stand out from the rest.
What is Gochujang?
Gochujang is a spicy and savory condiment made from fermented soybeans, salt, rice, and chili powder.
It is an essential ingredient in many Korean dishes including bibimbap and kimchi.
It is also used to make gochujang sauce which can be used as a dipping sauce or as a marinade for meat.
The flavor of the sauce varies depending on how much sugar has been added.
The sauce can also be used to make other sauces such as gochujang mayonnaise, gochujang-based salad dressings, or gochujang butter for the bread.
Can I Substitute Gochujang?
Korean food is often very spicy. Gochujang is a traditional Korean condiment that has a sweet and spicy taste. It is made from soybeans, rice, and red chili peppers.
The substitute for gochujang varies depending on what you are cooking. If you are making bibimbap or bulgogi then you can substitute it with Sriracha or hoisin sauce respectively.
For kimchi soup, you can use soy sauce as an alternative to gochujang. Sriracha is a Thai sauce that can substitute gochujang in bibimbap and bulgogi. It is made with garlic, sugar, red chiles, vinegar, and salt. Sriracha can be found at most grocery stores and Asian markets.
You can also find it on Amazon or you can buy the brand from any store like Trader Joe's or Whole Foods. Alternatively, you could try making your own Sriracha sauce by combining unsalted butter, red chiles, garlic, vinegar, and salt.
Air Fryer Keto Korean Chicken Wings
You may also like:
Air Fryer Keto Avocado Fries Recipe
Air Fryer Paleo Chicken Breasts Recipe
Air Fryer Paleo Red Potatoes Recipe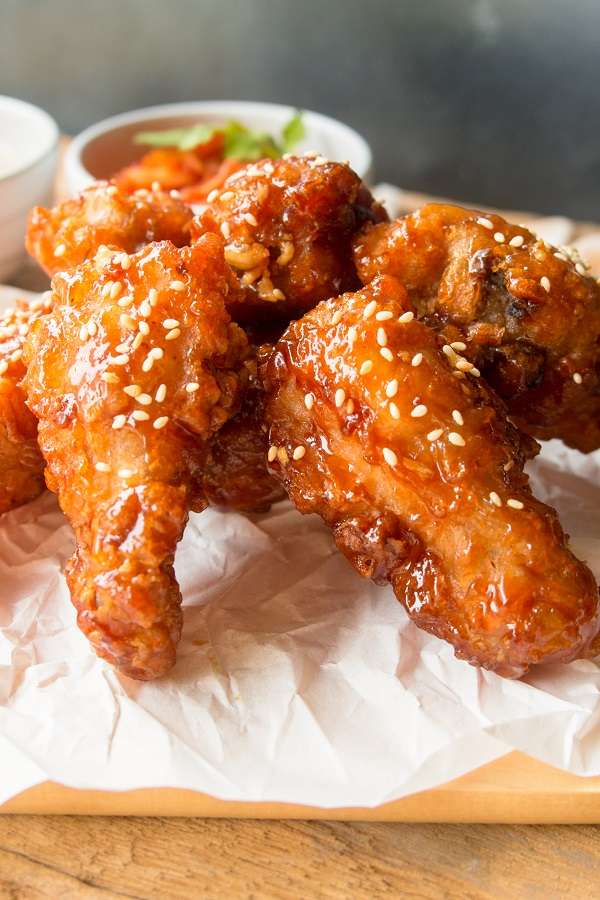 Ingredients
2 pounds (960 g) chicken wings
1 teaspoon kosher salt
1 teaspoon freshly ground black pepper
To Make  a Sauce:
2 tablespoons Gochujang
1 tablespoon mayonnaise
1 teaspoon agave nectar
1 tablespoon sesame oil
1 tablespoon minced ginger
1 tablespoon minced garlic
2 packets Splenda
For Finishing:
2 teaspoons sesame seeds
1/4 cup chopped scallions (optional)
Instructions
Preheat your air fryer to 400º F (200º C).
Season the chicken wings with salt and black pepper and place them in the air fryer basket.
Fry at 400º F (200º C) for 20 minutes, turning the wings halfway through.
Meanwhile, in a mixing bowl, combine all sauce ingredients. Mix well.
Pour about half of the sauce over fried chicken wings, then toss them well to coat.
Return chicken wings to the fryer and fry for a further 5 minutes.
Remove fried chicken wings from the air fryer and transfer them to a serving plate.
Sprinkle with sesame seeds and chopped scallions (if used).
Serve hot.
Did You Make This Recipe?