Air fryer keto avocado fries recipe. So we are back with another Air fryer recipe! This time, we are making keto avocado fries. These delicious crispy fries take only a few minutes to make and you don't even have to turn on your oven.
This recipe is a healthier option to the fried version. The air fryer allows us to crisp up the avocado fries without adding any oil. And, with no frying mess and less fat content, this will be one of your favorite keto recipes!
What is Keto Diet Food?
Ketogenic diets are becoming more popular. It's an eating plan that involves reducing your carb intake, so instead of relying on sugar and processed foods, you can eat more protein and fat ( like Atkins's diet). Although it's not for everyone, it might be worth checking out if you're trying to eat healthier.
Is Avocado a Keto-Friendly?
Yes, avocados are a great keto choice because they are high in fat, low in carbs, and contain an impressive amount of protein. This fruit is also rich in potassium, calcium, and other helpful nutrients.
Why do fries taste so much better when they're cooked in an air fryer?
An air fryer is a cooking appliance that has been gaining popularity in the past few years. It is designed to cook food by circulating hot air around it. This type of cooking can be done with or without oil, which makes it a healthy alternative to deep-frying.
The main reason fries taste so good when cooked in an air fryer is, that they are cooked at a lower temperature than the traditional oven or stovetop, which means they don't absorb as much oil.
The lower temperature also means that the outside of the fries don't get as crispy as they would if they were deep-fried, but this also makes them healthier because it reduces the amount of fat absorbed by your body during consumption.
3 Easy Tips to Healthy Living with the Use of an Air Fryer
Air fryers are a great way to cook healthy food. They are also a great tool for people who have busy lives and don't have time to cook.
The first tip is to use your air fryer as an oven. This is a great way to cook meat without having the mess of frying on the stovetop or in an oven.
The second tip is to use less oil when cooking with your air fryer. This will help you avoid all of the calories that come with frying food in oil.
Third, take care of your air fryer by making sure it's clean after each use and storing it away so that it doesn't get dirty and clogged up in the kitchen.
Keto-Friendly Air Fryer Avocado Fries Recipe
This recipe is a Keto-friendly version of the classic French fry. It's easy to make and tastes amazing!
I love fries, but I don't like how they're usually covered in carbs and fried in oil. So, I set out to create a healthier version of the classic French fry. These Keto-friendly Air Fryer Avocado Fries are made with avocado, eggs, and spices. They're crispy on the outside and creamy on the inside!
The best part about this recipe is that you can make it as spicy as you want! You can use any type of seasoning that you want to spice up these fries or add some hot sauce for an extra kick.
Air Fryer Keto Avocado Fries Recipe
You may also like:
Air Fryer Paleo Chicken Breasts Recipe
Slow Cooker Paleo Cranberry Sauce Recipe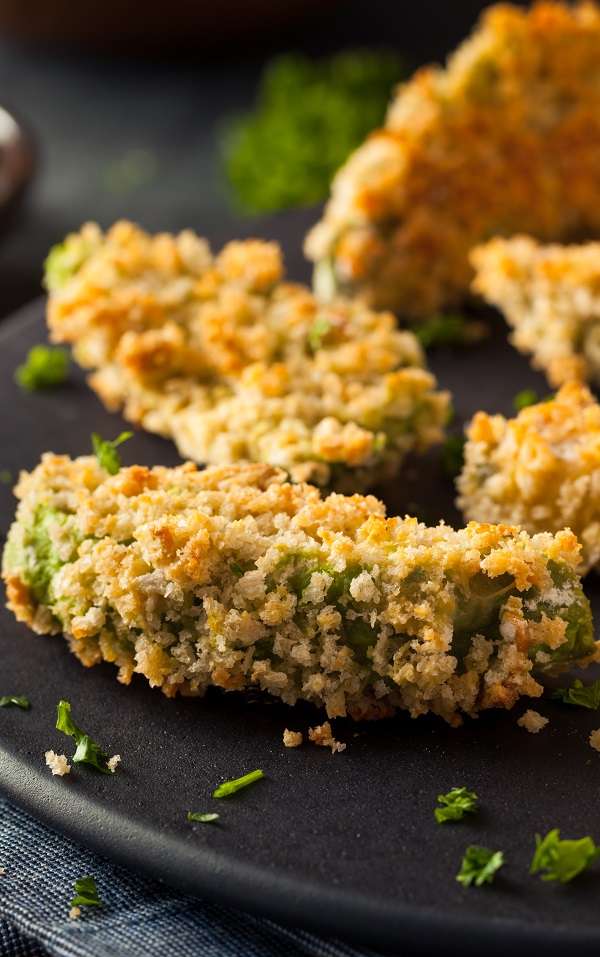 Ingredients
2 whole avocados, peeled, pitted, and sliced into fries
1/2 cup almond flour
1 teaspoon Cajun seasoning
1/2 teaspoon salt
3 eggs, beaten
2 cups ground pork rinds (optional)
1/2 teaspoon cayenne pepper
2 tablespoons water
1 teaspoon garlic powder
Instructions
In a small mixing bowl, combine almond flour, Cajun seasoning, and salt. Mix well and set aside.
In another bowl, combine beaten eggs and water. Whisk well and set aside.
In bowl number 3, combine ground pork rinds, garlic powder, and cayenne pepper. Stir well.
Working in batches, dip each avocado slice in the flour mixture, then dip coated avocados into the egg mixture, and finally, dip into the pork rind mixture.
Place coated avocado slices in a single layer in the air fryer basket.
Fry at 400º F (200º C) for 12 minutes, flipping avocados halfway through.
Serve hot.
Did You Make This Recipe?