Slow cooker paleo cranberry sauce recipe. This paleo cranberry sauce recipe is sweet, tangy, and thick, just like the real thing. All you need is a slow cooker and some ingredients to make it even better.
Is Cranberries Paleo-Friendly?
Cranberries are low in calories and high in fiber, which makes them a great fruit to add to your diet.
In the Paleo Diet, you can eat "all the meats, seafood, eggs, and vegetables you want." You just need to avoid grains and legumes.
Cranberries are not a grain or a legume. They are sweetened with sugar which is allowed in the Paleo Diet. Cranberries also contain no gluten so they are ok too!
What is the best slow cooker for paleo cranberry sauce?
 The goal is to find the best slow cooker for making cranberry sauce that has a timer and is dishwasher safe.
The first thing to look at when choosing a slow cooker is if it has a timer. This way, you can set it and come back hours later to find your food cooked and ready to eat. The second thing to consider is if the slow cooker is dishwasher safe. This way, you can clean up with minimal effort after cooking your food. Stainless steel is the most common material for a slow cooker and it should be dishwasher safe.
Thanksgiving is around the corner, and I have just the recipe you need to prepare a healthy, delicious cranberry sauce that is paleo-friendly.
If you are looking for a healthy and delicious cranberry sauce recipe that is also easy to prepare, then this is the one for you. All you have to do is place all the ingredients in a slow cooker and let it simmer for 8-10 hours.
The ingredients are:
-2 pounds of fresh cranberries (960 g))
–1 large organic orange – zest and juice
-3/4 cup (180 ml) organic honey
-1/2 teaspoon salt
-ground cinnamon and clove to taste
What is your favorite way to use cranberries?
Cranberry sauce is a popular condiment to have on the table during Thanksgiving dinner. It is also used as a topping on many other dishes such as pork chops and ham.
There are many ways to use cranberry sauce. You can use it in a sandwich, on top of ice cream, or even in your coffee!
How can I make the cranberry sauce thicker?
The consistency of cranberry sauce can be adjusted by adding a thickening agent. One way to do this is by adding tapioca flour.
First, mix the tapioca flour with water to create a slurry. Add the slurry to the cranberry sauce and stir until combined. The cranberry sauce should thicken as it cools.
Slow Cooker Paleo Cranberry Sauce Recipe
You may also like:
Air Fryer Paleo Red Potatoes Recipe
Slow Cooker Paleo Fish Chowder Recipe
Instant Pot Keto Butter Chicken Recipe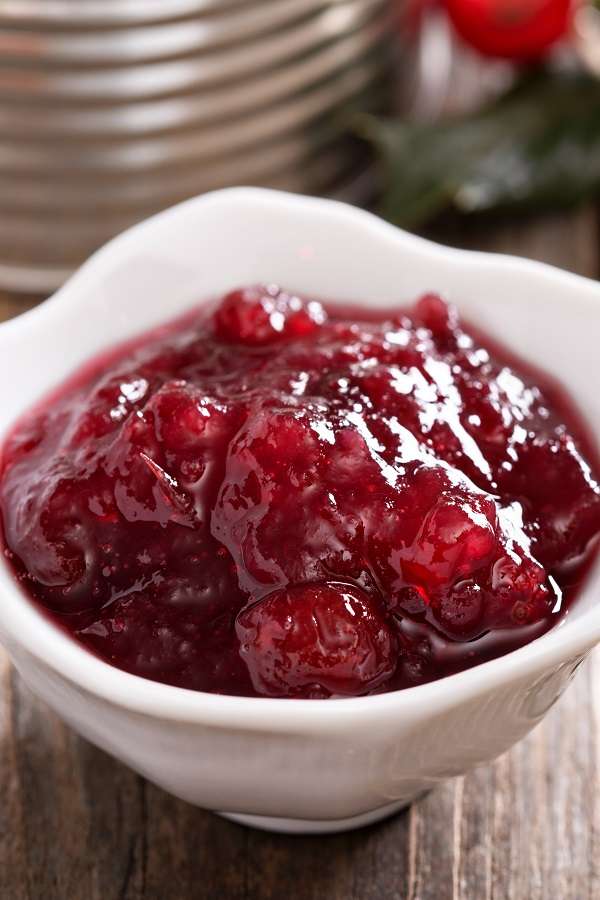 Ingredients
2 pounds (960 g) of organic cranberries, rinsed and patted dry
zest and juice of 1 organic orange
2/3-3/4 cup (160-180 ml) of organic honey (use concentrated fruit juice sweetener as a substitute for vegans)
1/2 teaspoon salt
ground cinnamon and cloves, to taste
Instructions
Place cranberries in a slow cooker.
In a mixing bowl, combine the honey, cinnamon, cloves, orange juice, and grated orange zest. Stir well.
Pour the honey mixture over the cranberries in the slow cooker.
Cover the pot and cook on a high-heat setting for 2½ hours, stirring once an hour.
Turn off the cooker and open the lid. Allow cranberry sauce to sit for 15 minutes.
Serve either cold or hot with your favorite dish. Enjoy!
Did You Make This Recipe?