Instant pot keto butter chicken recipe. This keto butter chicken recipe is a recipe with Indian flavors. The butter chicken includes the creaminess of coconut milk, the tanginess of tomato, and the spiciness of cayenne pepper.
Butter chicken is a dish that originated in the Indian subcontinent. It consists of chicken in a tomato-based sauce with butter and cream, usually spiced with garam masala and other spices.
What is the Keto Diet?
The keto diet is a very low-carb, high-fat diet, which shares many similarities with the Atkins and low-carb diets.
The keto diet has been shown to have many benefits including weight loss, reduced hunger, and a possible reduction in type 2 diabetes. It is not clear that the keto diet can help people with type 1 diabetes.
The ketogenic diet is a high fat, adequate-protein, low carbohydrate diet that forces your body to break down fats for energy instead of carbohydrates.
What is Keto Butter Chicken and What are the Benefits?
Keto Butter Chicken is a popular Indian dish that is made with butter and coconut milk, which are both keto-friendly. The benefits of Keto Butter Chicken are numerous. It is a delicious recipe that not only tastes great but also has many health benefits.
Its low carb, high protein, and high-fat content make it an excellent meal for those following a keto diet plan. The recipe is simple to make and has many health benefits such as weight loss and increased energy levels.
The benefits of this dish are:
– Weight loss
– Increased energy levels
– Low carb
– High protein
– High Fat
Instant Pot Keto Butter Chicken Recipe
You may also like:
Slow Cooker Paleo Beef Stew Recipe
Instant Pot Keto Chicken Tinga Recipe
Air Fryer Keto Bacon-Wrapped Avocado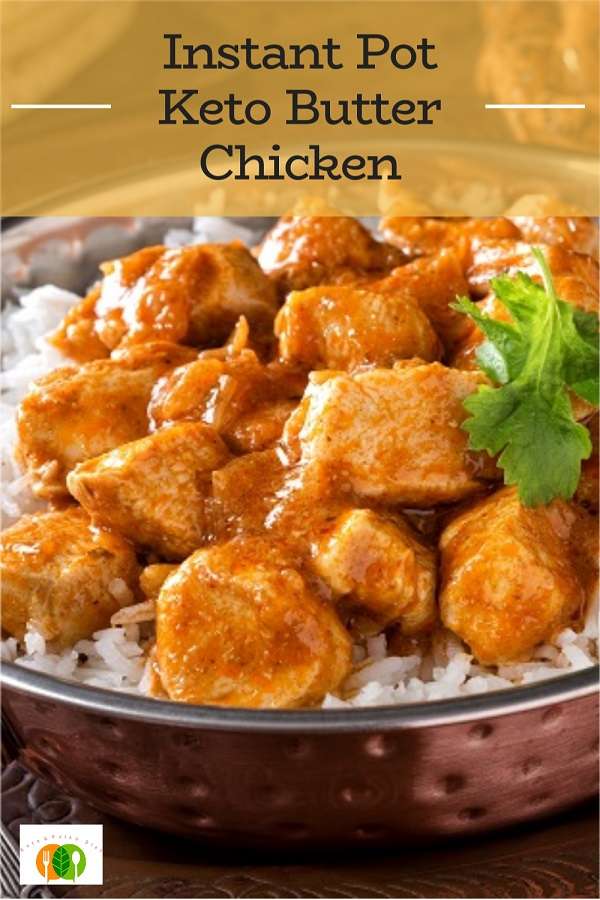 Ingredients
3 tablespoons Ghee butter, divided
1/4 cup Yellow onion
1 inch (2.5 cm) Grated ginger
2 teaspoons Garam Masala
1 teaspoon Salt
1 cup (250 ml) Tomato sauce
1 1/2 pounds (720 g) Boneless and skinless chicken thighs
2 teaspoons Ground coriander
3 cloves Garlic
1/2 teaspoon Ground turmeric
1/2 teaspoon Paprika
13½ oz (400 ml) Full fat coconut milk
Instructions
Transfer the chicken thighs to the cutting board.
Cut into bite pieces.
Peel and dice the yellow onion (1/4 cup)
Peel and mince 3 garlic cloves.
Heat 1 tablespoon of ghee butter in an electric instant pot turned to saute mode.
Add cubed chicken to the hot oil and saute, stirring occasionally, for 1-2 minutes, until browned.
Stir in diced yellow onion and saute, stirring occasionally, for 2-3 minutes, or until softened.
Stir in garlic and ginger. Continue cooking for a further 20 seconds, or until fragrant.
Stir in the remaining ingredients, except butter.
Close the pot and lock the lid.
Set the machine to cook at high pressure.
Set the timer to cook for 6 minutes.
Using the Natural Release method, bring pressure to normal.
Carefully unlock and open the lid.
Stir in the remaining butter.
Serve over the cooked rice.
Did You Make This Recipe?