Slow cooker paleo beef stew recipe. A healthy and filling beef stew made in the slow cooker that is gluten-free and paleo-friendly.
Why Cooking in a Slow Cooker is Better Than the Traditional Method
The slow cooker is a wonderful invention because it is so easy to use. Plus, it gives you the freedom to cook while you are away at work or doing other things.
Some people say that slow cooking is not as good as the traditional method of cooking because the meat can get tough and dry. But this is not true! The meat will be tender and moist if you know how to cook it properly in a slow cooker.
What All You Need To Know About Making The Perfect Slow Cooked Paleo Beef Stew
Beef stew is a classic dish that has been around for centuries.
In this section, I will share all the tips and tricks on how to make the perfect slow-cooked beef stew. The best part about this recipe is that you can use whatever vegetables are in season. So, you can make it any time of year!
I will also share my favorite spices that I like to use when making beef stew, as well as some of the health benefits of eating this dish.
The 5 Best Paleo Beef Stew Recipes with Crock-Pot Instructions
The paleo diet is a type of diet that is based on the idea that the human body should be eating what it was designed to eat. This means avoiding processed foods and anything that our ancestors would not have eaten. In this article, we will be looking at five of the best paleo beef stew recipes for you to try with crock-pot instructions.
1. Slow Cooker Beef Stew with Carrots, Potatoes, and Celery
2. Crock Pot Beef Stew with Mushrooms and Carrots
3. Slow Cooker Spicy Paleo Beef Stew with Tomatoes and Green Chiles
4. Paleo Beef Stew Recipe With Butternut Squash
5. Slow Cooker Paleo Chili
You may also like: Instant Pot Keto Butter Chicken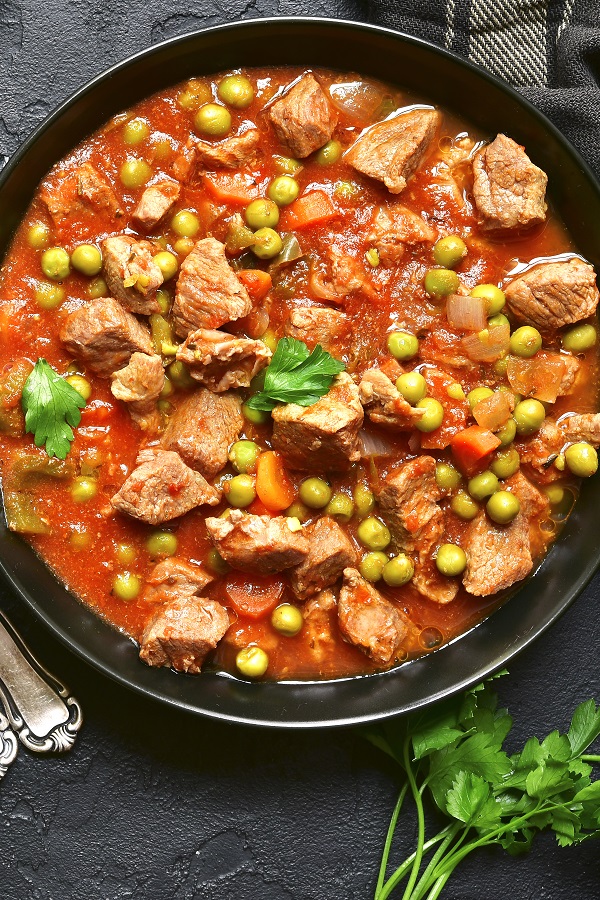 Ingredients
2 pounds (960 g) of Beef stew meat
1 pound (480 g) of Carrots
1 large Yellow onion
3 tablespoons Minced garlic
3 tablespoons Chopped fresh parsley
6 oz (180ml) Can tomato paste
1½ tablespoons Coconut aminos
1 teaspoon Salt
1 teaspoon Freshly ground black pepper
3 cups (750 ml) Beef broth
1 cup Frozen peas, thawed
1 stalk Celery
Instructions
Peel and roughly chop carrots.
Peel and dice the yellow onion. Chop the celery stalk.
In a 6-quart (6 L) slow cooker, combine all ingredients, except peas.
Stir well.
Close the pot and cook on a low-heat setting for 6-7 hours, or until beef is tender, adding peas in the last 30 minutes of cooking.
Turn off the cooker and open the lid.
Stir the beef stew well before serving.
Transfer the stew to serving plates. Serve hot.
Did You Make This Recipe?