Instant pot paleo beef fajitas. Get dinner on the table in a flash with this delicious paleo beef fajitas recipe. With only 10 minutes of prep time, you'll be able to enjoy tender and flavorful fajitas any day of the week. Everyone will love this dish!
Is Beef A Paleo-Friendly?
Beef is one of the most popular sources of protein and it has long been a staple in many diets. But is beef a Paleo-friendly food? The answer to this question depends on how you approach the Paleo diet.
Generally speaking, beef can be part of a healthy, Paleo-friendly diet when eaten in moderation and sourced from grass-fed or pasture-raised animals.
Grass-fed beef is higher in essential nutrients like omega-3 fatty acids, vitamins, and minerals than grain-fed beef. Eating lean cuts of grass-fed beef can provide your body with important proteins and other nutrients while still keeping your calorie intake in check.
The Benefits of Using an Instant Pot for Making Your Fajitas
Fajitas are one of the most popular dishes in Mexican cuisine. But preparing them can be time-consuming and require a lot of effort.
That's why using an Instant Pot is a great way to make delicious fajitas without spending too much time in the kitchen. With this kitchen appliance, you can benefit from shorter cooking times, more control over the temperature, and improved flavor of your fajitas.
Let's explore how an Instant Pot can help you make your favorite Mexican dish in no time!
The Health Benefits of Eating Paleo-Friendly Fajitas & How they Can Help You Live Healthier
Eating paleo-friendly fajitas is a great way to stay healthy and enjoy delicious meals. Not only are they packed with nutrients, but they also contain a variety of vitamins and minerals that can help you reach your health goals.
Eating paleo-friendly fajitas can help you lose weight, reduce inflammation, improve digestion, and even boost your energy levels. With the right ingredients and preparation techniques, you can make easy, healthy meals that are both tasty and nutritious.
What is Paleo Fajitas and Why Should You Make Them with an Instant Pot?
If you are looking for a delicious and healthy meal that is easy to make, then paleo beef fajitas made in an instant pot are a perfect choice. Not only will they provide you with all the nutrition and flavor of traditional beef fajitas, but they can also be prepared quickly and easily using an Instant Pot. With just a few simple ingredients, you can make a delicious meal that is sure to please even the pickiest eaters. Read on to learn more about why paleo beef fajitas should be your go-to Instant Pot recipe!
How to Serve Up Your Deliciously Healthy Paleo Beef Fajitas
Fajitas are a classic favorite that can be made paleo-friendly with the right ingredients. This recipe for Paleo Instant Pot Beef Fajitas is a great way to serve up a delicious and healthy meal. Not only is it easy to make, but it's also full of flavor thanks to the combination of spices and seasonings.
Serve this dish with your favorite toppings, such as guacamole, salsa, shredded lettuce, or sour cream for an even more flavorful experience.
Creative Topping Ideas for a Delicious and Nutritious Paleo Beef Fajita Meal
If you are looking for a nutritious and delicious meal that is easy to make, look no further than the Paleo Beef Fajitas. Not only is it an incredibly tasty dish, but it is also healthy and packed full of nutrition.
To make this meal even more delicious, here are three creative topping ideas that will take your fajitas to the next level. From a creamy avocado sauce to a zesty salsa Fresca, these toppings will add flavor and texture to your fajitas while keeping them Paleo-friendly.
Instant Pot Paleo Beef Fajitas
You may also like:
Air Fryer Keto Chicken Fajitas
Instant Pot Paleo Tomato Pesto Soup
Instant Pot Keto Vegetarian Spaghetti
Instant Pot Keto Pasta Carbonara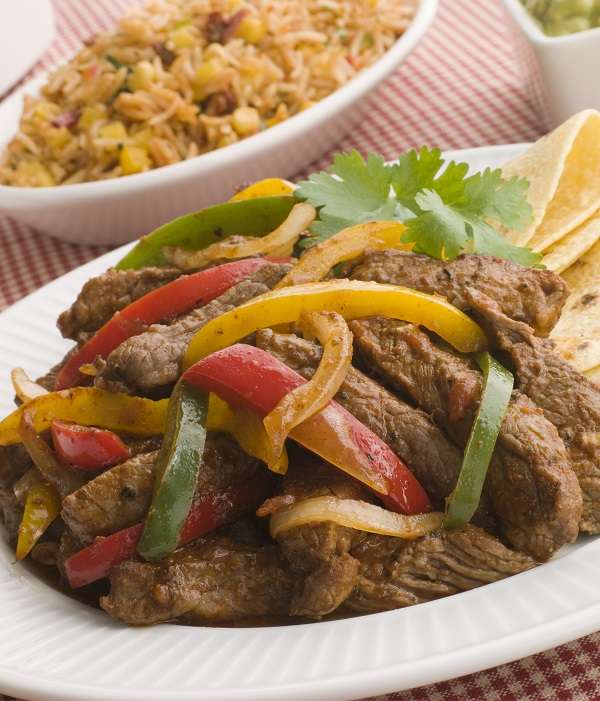 Ingredients
1 tablespoon avocado oil
1½ pounds (720 g) sirloin steak, sliced into strips
2 tablespoons chili powder
1½ teaspoons salt
1 teaspoon ground cumin
1 teaspoon garlic powder
1/2 teaspoon onion powder
1/4 teaspoon ground coriander
1 green bell pepper, seeded and sliced
1 red bell pepper, seeded and sliced
1 yellow bell pepper, seeded and sliced
1/2 cup sliced red onions
3 cloves garlic, peeled and minced
1/2 cup (125 ml) beef broth
Instructions
In a large mixing bowl, combine dry ingredients. Mix well.
Add sliced beef and toss well to coat it with the spicy mixture.
Heat the avocado oil in an electric instant pot turned to saute mode. Add seasoned meat and brown for 1-2 minutes.
Add the remaining ingredients. Stir well to combine.
Close the pot and lock the lid.
Set the machine to cook to high pressure. Set the timer to cook for 7 minutes.
Using the Quick Release method, bring pressure to normal. Carefully unlock and open the lid.
Serve cooked beef fajitas hot.
Did You Make This Recipe?