Instant pot keto naan bread. Get ready to enjoy the delicious taste of naan bread without all the carbs. With our Instant Pot Keto Naan Bread recipe, you can make a batch in no time and enjoy a tasty, low-carb version of this classic Indian dish.
What is Keto Diet?
The keto diet is a popular lifestyle choice for many people looking to lead a healthier life. It involves reducing your intake of carbohydrates and increasing your intake of fats and proteins. This helps your body to enter a state of ketosis, where it burns fat for energy instead of carbohydrates.
The keto diet has been proven to be effective in helping people lose weight, reduce their risk for chronic diseases, and improve their overall health. Additionally, there are plenty of delicious recipes that you can make while following the keto diet, so you won't have to worry about missing out on the foods you love!
What is Keto Naan Bread and Why Choose it over Traditional Naan?
Keto naan bread is a delicious and healthy alternative to traditional naan bread. It is grain-free, low in carbs, and gluten-free, making it an ideal choice for those on a keto diet or anyone looking to cut down on carbs.
Keto naan bread can be used in many of the same recipes as regular naans, such as wraps and flatbreads. It can also be used to make delicious instant pot naan bread recipes that are sure to satisfy even the pickiest of eaters. With its health benefits and versatility, Keto Naan Bread is becoming a popular choice for those looking for a tasty and nutritious alternative to traditional naan.
The Benefits of Making Keto Naan Bread with an Instant Pot
Making keto naan bread with an Instant Pot is a great way to enjoy a delicious and nutritious meal without spending too much time in the kitchen. Not only is it easier to make than traditional naan, but it also requires fewer ingredients and less effort. Plus, it's a great way to enjoy the health benefits of the ketogenic diet without sacrificing flavor. With this easy recipe, you can have delicious keto naan bread in no time!
Ingredients You'll Need to Make Keto Instant Pot Naan Bread
Keto Instant Pot Naan Bread is a delicious and nutritious dish that is perfect for those following the ketogenic diet. It's easy to make, requires minimal ingredients, and can be made in an Instant Pot.
To make this delicious keto-friendly bread, you will need almond flour, baking powder, garlic powder, Greek yogurt, and unsalted butter. You will also need eggs, mozzarella cheese, and fresh parsley. With these simple ingredients, you can create a tasty naan bread that is low in carbs but still full of flavor!
Tips & Tricks For Making the Perfect Instant Pot Keto Naan Bread in an Instant Pot Every Time
Making keto naan bread in an Instant Pot can be a daunting task. But, with the right tips and tricks, you can make the perfect keto naan every time. From choosing the right ingredients to cooking it in an Instant Pot, this guide will provide you with all the tips and tricks you need to make a delicious keto naan bread that is sure to please your taste buds. So, read on to learn how to make the perfect keto naan bread in an Instant Pot every time!
What is the difference between Keto Naan Bread and Regular Naan Bread? Keto naan bread starts off with a dough that is made with almond flour, baking powder, and eggs. This dough is then topped with yogurt and melted cheese. Then, it is baked in an instant pot.
Regular naan bread starts off with a dough that is made with all-purpose flour, water, and yeast. This dough is then topped with yogurt and an egg. It is then baked on the stovetop or in the oven.
Are Eggs Keto-Friendly?
Eggs are a staple food in the keto diet. They are high in healthy fats, protein, and essential nutrients like vitamins A and D, making them an ideal food for those following a low-carb lifestyle.
Whether boiled, poached, scrambled, or fried, eggs offer a quick, convenient and delicious way to get your daily dose of nutrients while still adhering to a keto-friendly diet.
Is Full-Fat Greek Yogurt Keto-Friendly?
With the popularity of the keto diet, many people are looking for alternatives to traditional high-carb snacks. Full-fat Greek yogurt is an excellent choice for those on a keto diet as it contains fewer carbs than other yogurts and is packed with beneficial probiotics. It's a great way to get your essential fats and proteins while still keeping up with your keto goals.
Instant Pot Keto Naan Bread
You may also like:
Instant Pot Paleo Lemon Salmon
Instant Pot Paleo Tomato Pesto Soup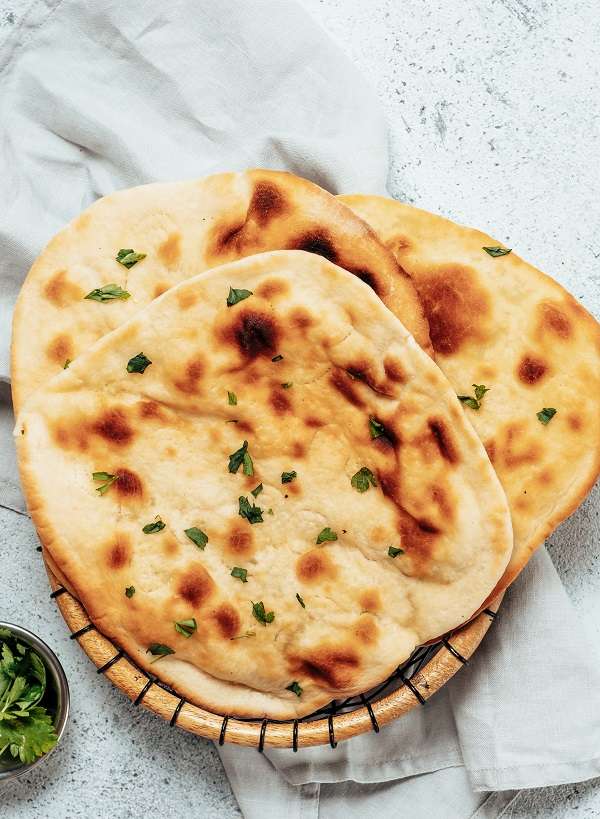 Ingredients
3 cups shredded Mozzarella cheese
2 tablespoons Full-fat Greek yogurt
2 large eggs, beaten
1½ cups wholesome yum blanched almond flour
1 tablespoon baking powder
1/2 teaspoon garlic powder
Instructions
In a large mixing bowl, combine shredded cheese and Greek yogurt.
Microwave for 2-3 minutes, stirring every 30 seconds, until melted and smooth. Mix again at the end until well combined.
In another large bowl, combine almond flour, baking powder, and eggs. Stir well.
Combine the flour mixture and cheese mixture together, then use your hands to knead and work the dough until it becomes a consistent mixture. Squeeze with your fingers as you form the dough.
Form the dough into a ball, then wrap it with plastic wrap and refrigerate for 15 minutes.
Take your chilled dough from the fridge and divide it into 6 distinct sections. Take one piece and roll it into a ball, then shape it with your hands into a flatbread shape.
Transfer the dough to an electric instant pot. Cover the pot with the glass lid or use any plate that fits the pot.
Switch the cooker to the yogurt function. Set the timer for 30 minutes. The bread will be ready when it is doubled in size.
Meanwhile, in a small mixing bowl, combine the butter and garlic powder. Mix well.
Remove cooked naan bread from the instant pot and transfer it to an oven. Brush with the butter mixture. Bake at 375º F (190º C) for a further 2-3 minutes.
Enjoy!
Did You Make This Recipe?