Instant pot paleo tomato pesto soup. This easy soup is perfect for an evening in, with just a few ingredients and little time needed in the kitchen.
This Instant pot paleo tomato pesto soup is made of tomatoes, oregano, basil, and pesto. A bowl of this healthy soup will warm you up from the inside out.
What is Paleo and How is it Different from Traditional Diets?
The Paleo diet is a diet that is based on the eating habits of our hunter-gatherer ancestors. The Paleo diet excludes all processed foods and encourages you to eat a lot of protein, vegetables, and fruit.
The paleo diet is also known as the caveman or Stone Age diet. This type of diet has been around for over 40 years and was popularized by Dr. Walter L. Voegtlin in his book "The Stone Age Diet" published in 1975.
It's important to note that the paleo diet isn't just about food, but it's also about what you drink and how much you exercise. The paleo lifestyle includes a healthy balance between eating well, exercising, sleeping well, stress management, and other activities like soaking up some sun with your clothes off!
Top 5 Reasons to Make This Soup in Your Instant Pot Today!
Tomato soup is a classic dish that can be made in many different ways. The Instant Pot is one of the best tools to make this soup because it makes the process much quicker and easier. Here are five reasons why you should make this soup today:
1. It's easy to make – All you have to do is dump everything into the pot, set your desired time, and voila! You have a delicious meal ready in no time.
2. It's healthy – Tomatoes are a rich source of lycopene which has been shown to reduce cancer risk and lower cholesterol levels. They also contain vitamin C which provides protection against infections, eye disease, heart disease, and even wrinkles!
3. It tastes amazing – This soup tastes great whether you prefer it with or without salt or pepper; with or without milk; with or without bread cubes; with or without cheese; etc., so there's really no wrong way to make it.
4. It's inexpensive – In total, you'll spend $6 on ingredients to make this soup which is a perfect price for a hearty meal that can last for days.
5. It saves time – The Instant Pot saves time because it makes the cooking process much quicker and easier than usual methods like boiling a pot of water or frying an onion over the stovetop.
Top 5 Best Paleo Instant Pot Recipes For the Fall Season
The Tomato pesto soup recipe is not just a delicious soup, it's also a great way to get your omega-3s.
This tomato pesto soup will be ready in less than 45 minutes and has the added benefit of being vegan and gluten-free.
The Instant Pot is one of the latest kitchen appliances to take off. It's a pressure cooker that can do so much more than making soups!
Fall is a season of change. The leaves are changing colors, the air is getting colder and it's time to put away the summer clothes and break out the sweaters.
This article will go over 10 of the best paleo instant pot recipes for fall that you can make in your pressure cooker.
1) Paleo Pressure Cooker Beef Stroganoff (vegetarian, vegan option available in recipe notes)
2) Paleo Pressure Cooker Pork Carnitas (gluten-free, dairy-free option available in recipe notes)
3 ) Paleo Pressure Cooker Beef Stew with Vegetables
4) Paleo Pressure Cooker Bone Broth
5) Paleo Pressure Cooker Pumpkin Soup with Sage and Thyme
Instant Pot Paleo Tomato Pesto Soup
You may also like:
Instant Pot Keto Chicken Adobo
Slow Cooker Paleo Chicken Soup Recipe
Slow Cooker Paleo Italian Meatballs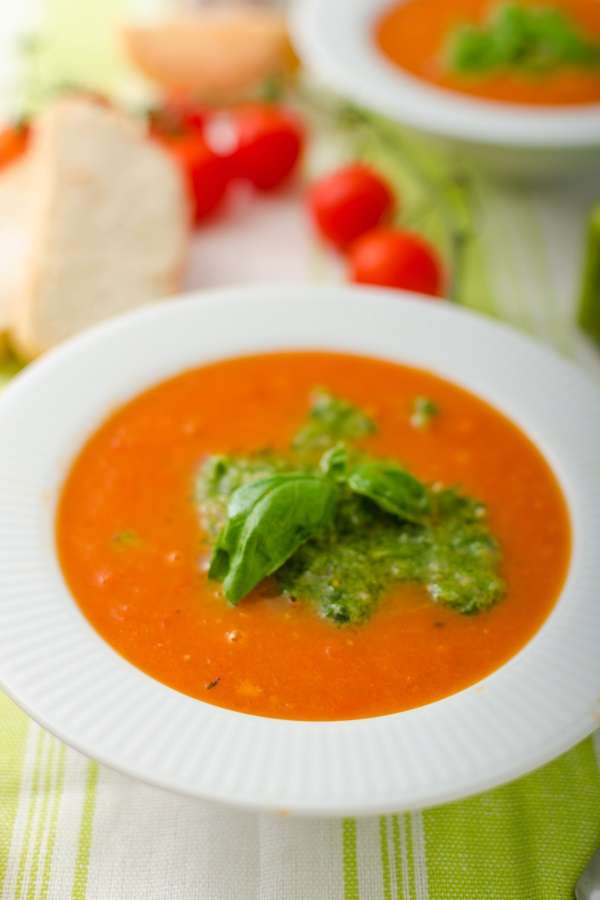 Ingredients
2 28 oz  cans (840 ml) each)) whole, peeled San Marzano tomatoes
1 16 oz (480 g) bag of frozen cauliflower
4 cups (1 L) of chicken bone broth
3 tablespoons basil pesto
1-2 teaspoons salt
1 teaspoon garlic powder
1 teaspoon dried oregano
1/2 teaspoon freshly ground black pepper
basil leaves, for garnish
Instructions
In an electric instant pot, combine all ingredients. Stir well.
Close the pot and lock the lid.
Set the machine to cook to high pressure. Set the timer to cook for 15 minutes.
Using the natural Release method, bring pressure to normal. Carefully unlock and open the lid.
Using an immersion blender, blend the soup until smooth.
Ladle the soup into soup bowls. garnish with extra basil pesto and basil leaves. Serve hot.
Did You Make This Recipe?