Slow cooker keto chicken tikka masala. Enjoy the classic flavors of tikka masala without all the fuss. This slow cooker keto chicken tikka masala is made with simple ingredients and comes together in no time. Perfect for a delicious, healthy, low-carb dinner that everyone will love.
Learn How to Balance Flavor & Nutrition with This Slow Cooker Recipe
Eating healthy doesn't have to be boring or complicated. With a slow cooker, you can create delicious and nutritious meals with ease. This slow cooker recipe is the perfect way to balance flavor and nutrition while still keeping it simple. You'll get all the health benefits of a keto diet without sacrificing taste or convenience.
Plus, this recipe is easy to customize so you can make it your own! So if you're looking for easy keto meals and healthy keto meal ideas that are also great for weight loss, this slow cooker recipe is just what you need!
What is Chicken Tikka Masala and How Can You Enjoy it on a Keto Diet
Chicken Tikka Massala is one of the most popular dishes in Indian cuisine. It is made with marinated chicken cooked in a creamy, spiced tomato sauce. This dish is often served with rice or naan, but it can also be enjoyed on a keto diet.
The key to enjoying Chicken Tikka Masala on a keto diet is to find recipes that are low in carbs and high in healthy fats and proteins. By using slow cooker recipes, you can make this classic dish without compromising flavor or texture. With the right ingredients and some creativity, you can enjoy this delicious Indian dish while still staying true to your keto lifestyle.
Health Benefits of Keto Slow Cooker Chicken Tikka Masala
If you're looking for a flavorful and healthy dinner option, then Keto Chicken Tikka Masala is a perfect choice. This delicious dish is packed with essential nutrients and vitamins that can help improve your overall health. Not only does it provide a delicious low-carb dinner option, but it also boasts a variety of health benefits. From reducing inflammation to boosting your metabolism, this slow cooker dish can help you achieve optimal health.
How to Make Tikka Masala in the Slow Cooker
Getting this recipe started in your slow cooker is incredibly easy – it only takes a few minutes of prep work. All you have to do is follow the steps and you'll have something delicious ready for dinner!
Begin by dicing the chicken and onion into small pieces and adding them both to the slow cooker. Then, you'll mix in the blend of all the spices – lemon juice, garlic, ginger, ghee, stock, and tomato paste.
Stir the mixture rapidly to incorporate the seasonings and liquid together and make sure that the chicken is properly coated.
Let the chicken tikka masala simmer on low heat for 6-8 hours or on high heat for 3-4 hours. Ensure it's covered while cooking. Once your chicken is done cooking, you can then incorporate the canned coconut milk for added flavor. Once the sauce has reached its desired consistency, arrowroot powder can be added to give it a thicker texture. Give everything a good mix and place the lid back on.
Lower the heat if necessary, and let it simmer for 10-15 minutes so the coconut milk can heat up and mix with the sauce.
Make sure to serve this delicious tikka masala with your favorite grain – whether that be cauliflower rice or traditional basmati rice. Top it off with cilantro and you've got yourself a delicious meal. Enjoy!
Slow Cooker Keto Chicken Tikka Masala
You may also like:
Instant Pot Paleo Beef Fajitas
Air Fryer Keto Chicken Fajitas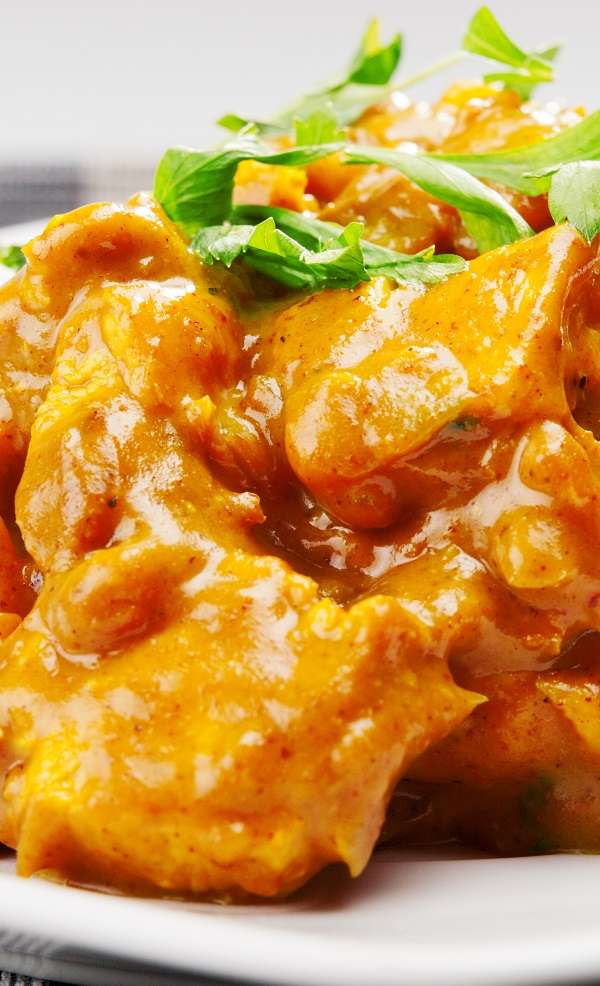 Ingredients
1½ pounds (720 g) of boneless and skinless chicken breasts, cubed
1 medium white onion, peeled and diced
3/4 cup (180 ml) chicken broth
freshly squeezed juice of 1 lemon
1 tablespoon ghee butter
1 tablespoon minced ginger
2 tablespoons minced garlic
2 teaspoons ground turmeric
1½ teaspoons salt
1 teaspoon ground cumin
1 teaspoon coriander
1 teaspoon chili powder
1 teaspoon paprika
1/2 teaspoon ground cinnamon
1/2 teaspoon freshly ground black pepper
6 oz (180 ml) can of tomato paste
14 oz (420 ml) can unsweetened coconut milk
2 teaspoons arrowroot flour dissolved in water
chopped fresh cilantro, for garnish
Instructions
In a slow cooker, combine all ingredients, except, the coconut milk, arrowroot mixture, and cilantro.
Stir well.
Cover the pot and cook on a low-heat setting for 6-8 hours.
Open the lid and stir in the coconut milk and arrowroot mixture  . Close the cooker again and cook on a low-heat setting for a further 10-15 minutes.
Garnish with chopped cilantro. Serve hot.
Did You Make This Recipe?