Air fryer keto pecan-crusted chicken. Enjoy this crunchy and delicious air fryer keto pecan-crusted chicken recipe! Pecans offer an added layer of flavor, while air frying makes the chicken extra crispy. Perfect for a weeknight dinner or special occasion meal, this low-carb and keto chicken is a family favorite!
The Best Air Fryer Keto Pecan-Crusted Chicken Recipe for Low-Carb Diets
Are you looking for a delicious, low-carb dinner that won't leave you feeling guilty? Look no further than this air fryer keto pecan-crusted chicken recipe.
With just a few simple ingredients and an air fryer, you can enjoy a tasty meal that's both healthy and satisfying. This recipe is the perfect way to get started on your low-carb diet journey. Plus, it's so easy to make, even the most novice of cooks can whip it up in no time!
What is the Keto Diet and Why an Air Fryer Makes the Perfect Cooking Tool
The keto diet is one of the most popular low-carb diets out there, with its focus on eating foods high in healthy fats and low in carbohydrates. And for those who want to make the most of this diet, an air fryer is the perfect cooking tool. Air fryers allow you to make delicious meals without adding extra fat or oil, so you can enjoy all the taste and flavor without all of the calories.
Plus, they're incredibly easy to use and clean up quickly – making them a great choice for busy people looking to stay healthy. With an air fryer, you can enjoy all the benefits of a keto diet while still enjoying delicious meals that are quick and easy to prepare.
What is Keto Pecan-Crusted Chicken and Why You Should Try It
If you're looking for a healthy, delicious dinner option that won't break the bank, Keto Pecan-Crusted Chicken is a perfect choice.
This air fryer keto dish is easy to make, takes just minutes to cook, and is packed with flavor. Not only will it satisfy your taste buds, but it's also a great way to get in some extra protein and healthy fats. If you're looking for an easy dinner option that won't leave you feeling guilty afterward, this dish should be at the top of your list!
What Are the Health Benefits of Eating Keto Pecan-Crusted Chicken?
Eating keto pecan-crusted chicken can be a great way to enjoy a delicious and healthy meal. Not only is this dish tasty, but it also provides many health benefits due to its high protein and low carb content. Eating keto pecan-crusted chicken can help improve your overall health by providing essential nutrients, including vitamins and minerals, as well as helping you maintain a healthy weight.
Additionally, this dish is also beneficial for those on the keto diet due to its high-fat content which helps promote weight loss.
Proteins and Amino Acids: The protein and amino acid content of this dish is essential for preventing muscle catabolism, muscle superfluousness, and weight loss. These two nutrients are necessary for the body to build muscles as well as cells. Additionally, these substances can also increase energy levels by providing a steady supply of energy substrates to the body. The protein in this dish provides an abundance of high-quality proteins which are necessary for building muscle tissue and increasing strength levels.
In addition to being beneficial for maintaining muscle strength, eating keto pecan-crusted chicken can also help with weight loss, as it contains a high amount of fat.
Pecan crust is typically made by adding toasted pecans to a mixture of eggs and cream cheese that is baked until crispy. This keto-friendly recipe substitutes the cream cheese with avocado, eliminating the potential for potential food sensitivities or allergic reactions associated with dairy ingredients.
Air Fryer keto Pecan-Crusted Chicken
You may also like:
Air Fryer Keto Chicken Fajitas
Air Fryer Keto Buffalo Cauliflower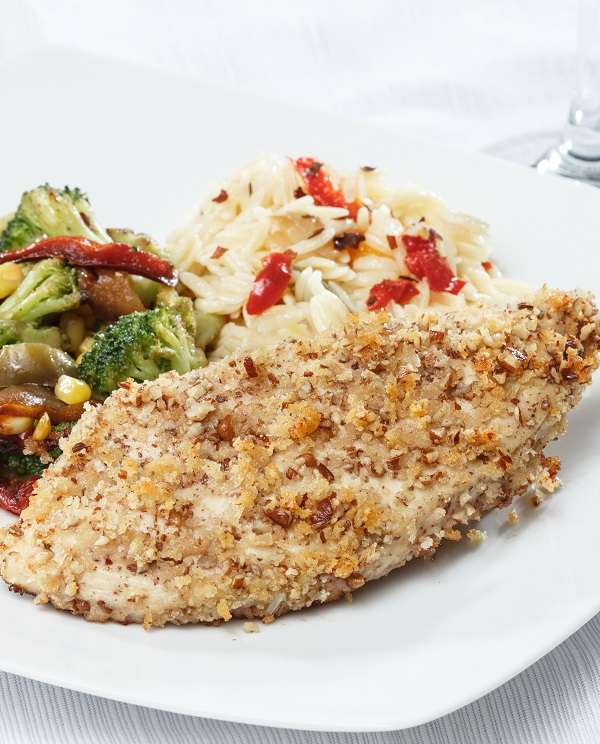 Ingredients
1 cup finely chopped pecans
1/2 teaspoon seasoned salt
1/4 teaspoon seasoned pepper
2 boneless and skinless chicken breasts
2 tablespoons unsalted butter, melted
avocado oil
Instructions
Preheat your air fryer to 370º F (185º C)
In a shallow bowl, combine pecans, seasoned salt, and seasoned pepper. Stir well.
Dip the chicken evenly in melted butter, then dredge in pecan mixture.
Place seasoned chicken in the air fryer basket.
Spray with avocado oil.
Fry for 10 minutes, turning halfway through.
Did You Make This Recipe?