Instant pot paleo chicken breasts with cauliflower rice. Embarking on a health journey is no small feat, especially when it involves making dietary changes.
The Paleo diet, revered for its wholesome attributes, can be a massive steering wheel to well-being. This diet is built around the eating habits of our ancestors, championing natural, unprocessed food that provides high nutritional value.
One key area is learning to balance flavor with these dietary requirements, which is where mastering cooking techniques comes into play. Equip yourself with knowledge on the operations of the multi-functional Instant Pot, an appliance that can take the guesswork out of cooking paleo meals, while retaining the flavors and nutrients.
Get ready to delve into the methods of preparing a succulent Paleo chicken breast meal, accompanied by Cauliflower Rice – a low-carb alternative to regular rice, all made in the comfort of your Instant Pot.
Understanding the Paleo Diet
The Paleo diet, also known as the Caveman or Stone Age diet, involves consuming foods that our hunter-gatherer ancestors are believed to have eaten thousands of years ago.
This diet draws emphasis on whole, unprocessed foods that align with our bodies' evolutionary and genetic adaptation for better health and fitness.
Nutritional Benefits of the Paleo Diet
Following the Paleo diet can present numerous health benefits. These include weight loss, improved glucose tolerance, better blood pressure control, and lower triglycerides. It can also lead to a reduction in symptoms of certain diseases such as Type 2 diabetes and cardiovascular disease.
The increase in dietary fiber and reduction in processed and sweetened foods additionally contribute to improved digestive health.
Foods Included in the Paleo Diet
The Paleo Diet typically includes lean meats, fish, fruits, vegetables, nuts, and seeds. These are foods that could have been procured through hunting and gathering. Lean meats include grass-fed animals and wild game. Fish, especially those rich in omega-3 fatty acids like salmon, mackerel, and albacore tuna, are encouraged.
Fruits and vegetables are a significant part of this diet as they add color, flavor, and heaps of vitamins and minerals to meals. Healthy fats from nuts, seeds, avocado, olive oil, and coconut oil are also included.
Foods Excluded from the Paleo Diet
The Paleo Diet avoids foods that became common after the advent of farming and later industrialization. These include grains like wheat, barley, and oats, legumes such as beans, lentils, peanuts, and peas, dairy products, refined sugars, and processed foods.
Salt and potatoes are also usually excluded. Whenever in doubt, remember the rule of thumb: if it looks like it was made in a factory, don't eat it.
Ensuring the Recipe Remains Paleo-friendly
In making a Paleo-friendly recipe like Instant Pot Paleo Chicken Breasts with Cauliflower Rice, it's essential to consider your ingredients carefully. For this recipe, the chicken breasts would fit within the lean meats category.
The recipe requires replacing traditional rice with cauliflower rice, keeping it within the Paleo fruit and vegetable category. Any fats used for cooking should be sourced from the healthy fats category. Remember to avoid using processed ingredients, refined sugars, or dairy to maintain its Paleo diet integrity.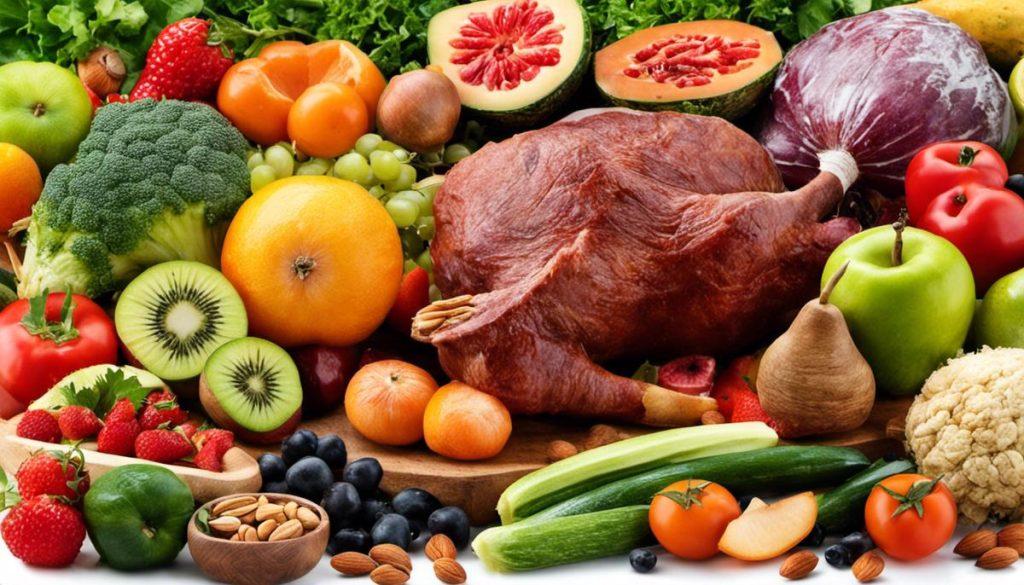 Mastering Instant Pot Techniques
Understanding the Instant Pot
An Instant Pot is a multi-cooker primarily known for its pressure cooking capabilities. Utilizing steam pressure, the Instant Pot can cook food at a faster rate compared to conventional cooking methods.
Besides pressure cooking, the Instant Pot also has other features, such as slow cooking, sautéing, and yogurt making, among others.
Familiarizing with Instant Pot Functions
The Instant Pot comes with many pre-set programs designed for various ingredients and dishes, such as soup, meat/stew, bean/chili, poultry, rice, porridge, and many more. Each function is designed for a different kind of cooking process, and they mostly differ in terms of cooking time and pressure level.
For instance, the "Poultry" setting is optimized for cooking chicken, while the "Rice" function is meant for cooking rice at optimal pressure.
Mastering Instant Pot Timing Mechanisms
Each pre-set program on the Instant Pot includes an automatic timer for cooking. The timer can be adjusted manually to lengthen or shorten the cooking time as per the recipe's requirements. It's important to note that the cooking time doesn't include the time needed for the pot to reach pressure or the time needed for the pressure to naturally release. Thus, plan your cooking accordingly.
Adhering to Instant Pot Safety Procedures
Always ensure the Instant Pot lid is securely closed before starting the cooking process. Make sure the sealing ring is properly in place. Never attempt to open the lid while the cooker is still under pressure; it is safely unlocked only when all the pressure is released. Be careful when manually releasing steam pressure via the steam release valve to avoid the risk of burns.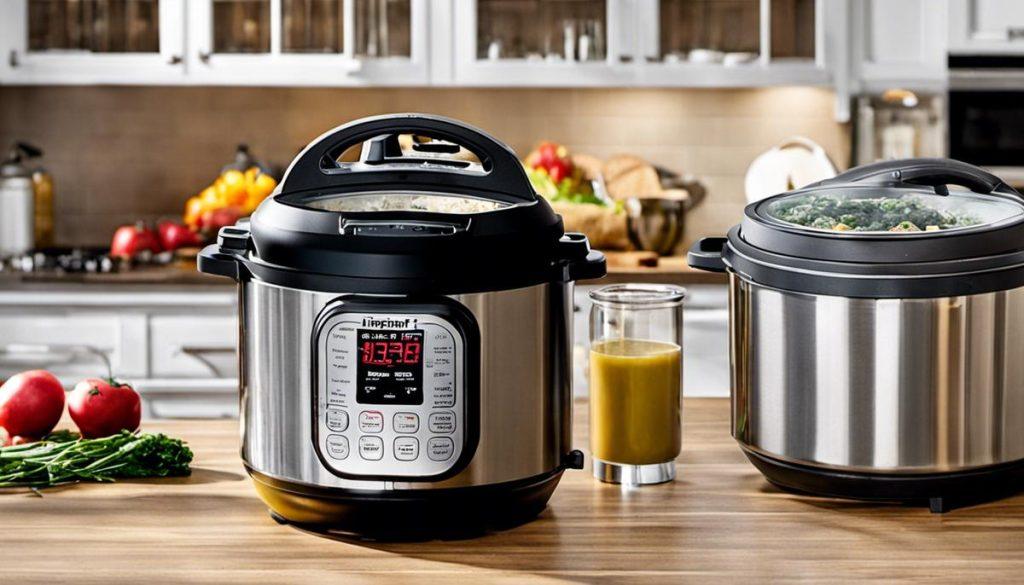 Cooking Paleo Chicken Breasts with Cauliflower Rice
For this recipe, press the "Sauté" function on your Instant Pot. Add oil, and once it's heated, add the chicken breasts. Sauté until they're browned on both sides, then remove the chicken and set it aside.
Add onions and garlic to the pot. Sauté until the onions are translucent. Then add a cup of vegetable broth into the pot, along with your preferred spices and herbs. Place the chicken breasts back into the pot.
Close the lid and make sure the steam release valve is set to "Sealing." Press the "Poultry" function and set the timer for 10 minutes.
Once the cooking process is over, let the pressure release naturally for 10 minutes, then release the remaining pressure manually. Remove the chicken breasts and use two forks to shred them.
For the cauliflower rice, sauté cauliflower florets in a pan until they're slightly browned and have a texture similar to rice.
Serve the shredded chicken over a bed of cauliflower rice to enjoy a wholesome Paleo meal.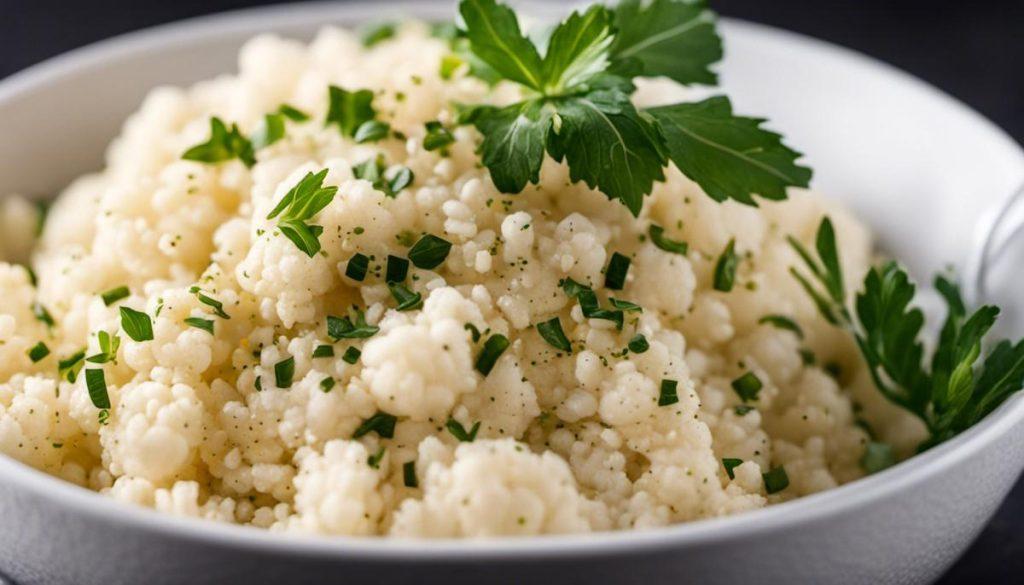 Preparing the Chicken Breasts
The first step to preparing Paleo Chicken Breasts is to choose your chicken. Look for chicken breasts that are free of hormones and antibiotics to meet Paleo requirements.
Marinating Chicken Breasts
Marinating the chicken breasts is essential for adding extra flavor and ensuring the chicken remains moist during cooking. A basic Paleo marinade might include olive oil, lemon juice, minced garlic, and a mixture of your favorite herbs such as rosemary and thyme. Avoid using processed or sugary sauces for marinating as they do not comply with the Paleo diet principles.
Place the chicken breasts in a bowl or plastic bag and pour the marinade over top, ensuring the chicken is fully covered. Allow the chicken to marinate in the refrigerator for at least 2 hours preferably overnight.
Cooking the Paleo Chicken Breasts
Remove the chicken from the refrigerator and allow it to return to room temperature before cooking – this will help the chicken cook evenly. You can now start cooking the chicken using the Instant Pot. Turn on the saute function and allow the pot to preheat for a few minutes.
Once the Instant Pot is hot, you can add the chicken breasts. Avoid overcrowding the pot, cook in batches if you need to. Cook the chicken undisturbed for about 3-4 minutes per side, or until it looks golden brown. You can then add a cup of chicken broth or water before securing the lid.
Make sure the valve is set to "sealing." Then select "manual" or "pressure cook" and set the time for 10 minutes. Allow the Instant Pot to come up to pressure and cook the chicken. When the time is over, allow the pot to naturally release pressure for 10 minutes and then quickly release the remaining pressure.
Preparing the Cauliflower Rice
While your chicken breasts are cooking, you can prepare the cauliflower rice. You'd need to start by grating the cauliflower florets or make use of a food processor until it resembles grains of rice.
You can either steam the cauliflower rice or saute it in a large pan with a bit of olive oil until tender. Season with salt, pepper, and any other seasoning that fits within the Paleo guidelines.
You May Also Like:
Air Fryer Teriyaki Chicken Wings
Ensuring Proper Cooking
Ensure to check the chicken's internal temperature with a meat thermometer to be sure it's cooked thoroughly. The chicken is cooked when it reaches an internal temperature of 165°F (74°C). Ensure to check the chicken's internal temperature with a meat thermometer to be sure it's cooked thoroughly. The chicken is cooked when it reaches an internal temperature of 165°F (74°C).
Serving the Meal
Serve the perfectly cooked Paleo chicken breasts over a bed of cauliflower rice. Enjoy your flavorful, moist, and Paleo-compliant meal.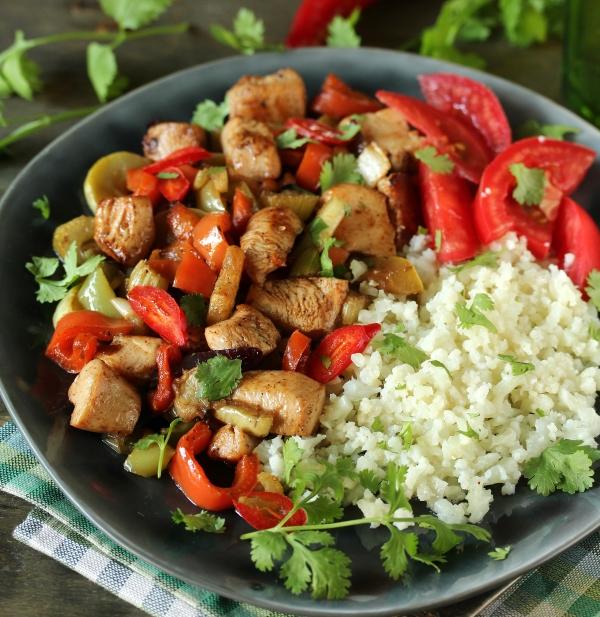 Making Cauliflower Rice
Choosing the Right Cauliflower
Select a fresh, firm cauliflower for your rice. Avoid ones with brown spots or wilted leaves as these are signs that the cauliflower is old. The size of the cauliflower does not affect the quality of the rice, so choose a size that suits your needs.
Preparation before Ricing
Before you start, wash the cauliflower in cool water and pat it dry. Removing the leaves and the hard stem will prevent them from ending up in your cauliflower rice. Break the cauliflower into florets. The size of the florets doesn't matter because you'll chop them very fine in the next steps.
Ricing Cauliflower with a Food Processor
Using a food processor makes the process quick and efficient. Pulse the cauliflower florets into the consistency of rice or couscous. Make sure not to over-process as it will turn into a puree rather than a rice-like texture.
Ricing Cauliflower using a Box Grater
If you don't have a food processor, a box grater is a good alternative. Use the medium-sized holes of the grater to grate the cauliflower florets into rice. This method may be a little more time-consuming and messy, but it does the job just fine.
Ricing Cauliflower using a Blender
Rice your cauliflower by using a powerful blender. Put the florets inside, add some cold water, and pulse until they become puree. Then simply strain the riced cauliflower and dry it with a clean kitchen towel.
Cooking the Cauliflower Rice
Choose either sauteing or microwaving to cook the cauliflower rice. Sauteing in a pan with a bit of olive oil gives it a nice texture and brings out a toasty, nutty flavor. Cook it on medium heat for about 5 to 8 minutes. Microwaving on the other hand is quicker, just pop it in a microwave-safe dish, cover it for 3 minutes and you're done.
Storing Your Cauliflower Rice
If you made a larger batch and have extra, you can store your uncooked cauliflower rice. Keeping it in an airtight container in the refrigerator for up to 5 days or freezer for up to 2 months makes quick and easy meals in the future. Cooked cauliflower rice can be stored in the refrigerator for up to a week.
Remember, when turning cauliflower into rice, be open to a little trial and error. Adjust your technique and cooking time as needed to achieve your desired texture and flavor.
The right approach to the Paleo diet should be characterized by a blend of knowledge about the diet's philosophy and the culinary skills necessary for creating delicious, adherent meals. The incredible versatility of the Instant Pot, combined with paleo-approved ingredients, can revolutionize your home cooking experience.
By mastering the techniques of marinating and cooking chicken breasts and creating cauliflower rice, you unlock a new realm of delicious, healthy meals.
These expand beyond our Paleo Chicken Breast meal to an array of other nutritious, flavorful paleo dishes. Embark on this culinary adventure with these skills at your fingertips, and you'll appreciate the dual rewards of taste and health that meals like these can provide.
Instant Pot Paleo Chicken Breasts with Cauliflower Rice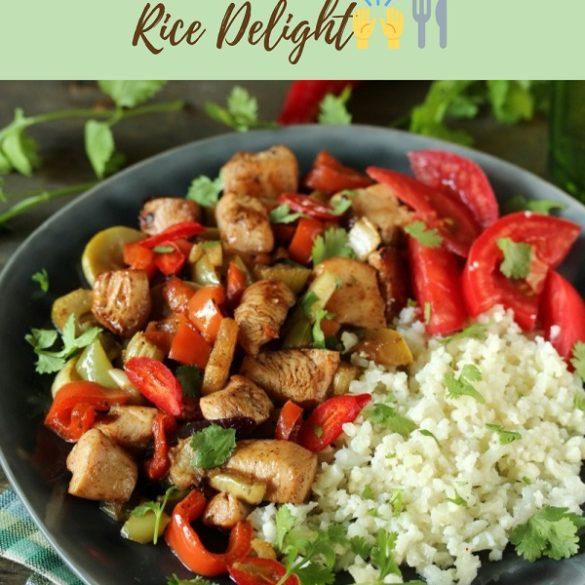 Ingredients
2 pounds (960 g) boneless and skinless chicken breasts, cubed
2 teaspoons baking soda
1 teaspoon olive oil, divided
2 teaspoons sesame oil
3 tablespoons minced fresh ginger
4 cloves garlic, peeled and minced
1 green bell pepper, cored and sliced
1 red bell pepper, cored and sliced
1/3 cup (80 ml) coconut aminos
1/3 cup (80 ml) rice vinegar
1/2 cup (125 ml) orange juice
1/2 yellow onion, chopped
2 tablespoons arrowroot powder
1 tablespoon cold water
Instructions
In a large mixing bowl, combine cubed chicken and baking soda. Toss well and set aside for 10-15 minutes.
Rinse the chicken thoroughly, then pat it dry with paper towels.
Heat 1 teaspoon of olive and 2 teaspoons of sesame oils in an electric instant pot turned to saute mode.
Add the chicken and onion and cook, stirring occasionally, for 2 minutes.
Push cooked chicken and onion to the side of the pot, and add the remaining olive oil. Add chopped ginger and garlic. Cook, stirring, for a further 1 minute.
Turn off the instant pot.
Pour in the orange juice to deglaze with a wooden spoon any stack-on residue on the bottom of the cooker.
Stir in the remaining ingredients, except the arrowroot.
Close the pot and lock the lid.
Set the machine to cook to high pressure. Set the timer to cook for 5 minutes.
Using the Quick Release method, bring pressure to normal. Carefully unlock and open the lid.
Switch the instant pot to saute mode. Add the arrowroot slurry to the chicken mixture.
Bring to a boil, stirring often until the sauce begins to thicken, for about 5 minutes.
Serve over the cauliflower rice.
Did You Make This Recipe?