Instant pot paleo aloo saag. Looking for a healthy and delicious meal that's easy to make? Look no further than Instant Pot Paleo Aloo Saag!
This flavorful dish combines tender potatoes with nutrient-rich spinach in a creamy, dairy-free sauce. With the help of your Instant Pot, you can have this satisfying meal on the table in no time.
What is Paleo Aloo Saag?
Paleo Aloo Saag is a delicious and healthy dish that originates from the Indian subcontinent. It is a vegetarian recipe that consists of potatoes (aloo) and spinach (saag) cooked in aromatic spices and coconut milk.
The dish is also paleo-friendly, which means it is free from grains, dairy, and legumes. Instant Pot Paleo Aloo Saag is a perfect meal for those who are looking for a flavorful and nutritious dish that is easy to prepare. With the help of an Instant Pot, you can have this dish ready in no time.
Ingredients Needed for Paleo Aloo Saag
To make this dish, you will need a handful of ingredients that are easily available in any grocery store. The main ingredient is spinach, which is the star of this dish. You will also need potatoes, onion, garlic, ginger, and a few spices to add flavor to the dish.
For the spinach, you can use either fresh or frozen spinach. If using fresh spinach, make sure to wash it thoroughly and remove any tough stems. For the potatoes, choose small to medium-sized ones and peel them before cutting them into cubes.
The onion, garlic, and ginger are used to add flavor and depth to the dish. Make sure to finely chop the onion and mince the garlic and ginger before adding them to the Instant Pot.
As for the spices, you will need cumin seeds, coriander powder, turmeric powder, red chili powder, and salt. These spices are what give the dish its distinct flavor and aroma.
Overall, the ingredients needed for Instant Pot Paleo Aloo Saag are simple and easy to find. With just a few basic ingredients, you can whip up a flavorful and nutritious dish that is perfect for any meal.
YOU MAY ALSO LIKE:
Instant Pot Paleo Cauliflower Mushroom Risotto
Slow Cooker Keto Butter Chicken
How to Make Instant Pot Paleo Aloo Saag (Alternative Way)
To make Instant Pot Paleo Aloo Saag, you will need to start by washing and chopping the spinach leaves. Then, peel and chop the potatoes into small pieces. Set aside these ingredients for later use.
Next, turn on your Instant Pot and press the sauté button. Add ghee or oil to the pot and let it heat up. Once hot, add cumin seeds and let them sizzle for a few seconds.
Add chopped onions and garlic to the pot and sauté until the onions turn translucent. Then, add chopped tomatoes and cook until they become soft.
Now, add the chopped potatoes and spinach to the pot. Mix well with the onion mixture. Add salt, turmeric powder, coriander powder, and red chili powder to the pot. Mix everything together.
Add water to the pot until the vegetables are just covered. Close the lid of the Instant Pot and set it to manual mode for 5 minutes on high pressure.
Once the cooking time is complete, allow the pressure to release naturally for 10 minutes before opening the lid. Stir the contents of the pot well and mash the potatoes slightly with a spoon.
Your Instant Pot Paleo Aloo Saag is now ready to be served.
Serving Suggestions and Tips for Paleo Aloo Saag
To serve Instant Pot Paleo Aloo Saag, you can pair it with some steamed rice or naan bread. You can also garnish it with some fresh cilantro leaves and a dollop of yogurt.
If you want to add some crunch to your dish, you can sprinkle some roasted cashews or almonds on top. For a spicier version, you can add some chopped green chilies or red chili flakes.
You can also experiment with different vegetables in this recipe. You can add some carrots, peas, or even sweet potatoes to the mix. This will not only add more flavor but also make the dish more nutritious.
When reheating leftovers, you may need to add some water or coconut milk to thin out the sauce as it tends to thicken when refrigerated.
Overall, Instant Pot Paleo Aloo Saag is a versatile and flavorful dish that can be enjoyed any time of the day. With these serving suggestions and tips, you can elevate the dish and make it even more delicious.
Instant Pot Paleo Aloo Saag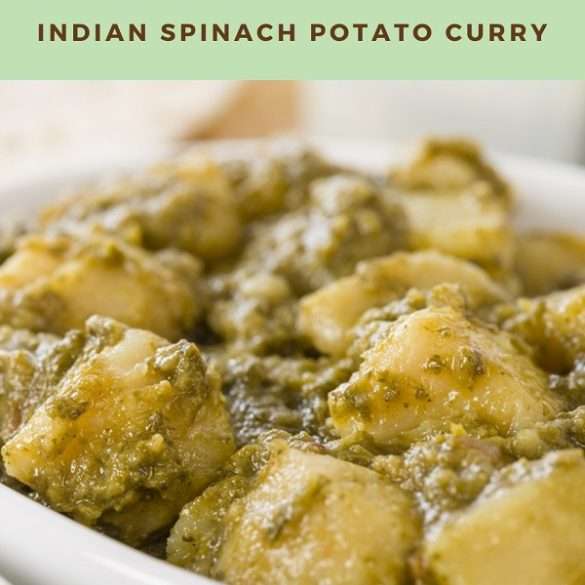 Ingredients
1 tablespoon ghee
1 teaspoon cumin seeds
2 teaspoons minced ginger
1 tablespoon minced garlic
1 cup chopped yellow onion
1 teaspoon salt
1/2 teaspoon ground turmeric
1 teaspoon garam masala
2 teaspoons ground coriander
1 teaspoon ground cumin
12 oz (360 g) baby spinach
1 teaspoon red chili powder
1 cup (250 ml) water
2 cups cubed Russet potatoes
Instructions
Heat the ghee in an instant pot turned to saute mode.
Add cumin seeds. When cumin seeds begin to sizzle, add chopped onions. Saute, stirring occasionally, for about 2 minutes.
Add minced garlic and ginger. Saute for a further 1 minute.
Stir in salt and spices along with 2 tablespoons of water. Mix well.
Add 1 cup (250 ml) of water and scrape the bottom of the instant pot. Add the spinach gently pushing it down.
Place the potatoes on a steamer basket, then sprinkle them with 1/4 teaspoon garam masala. Lower the basket in the cooker and place it over the spinach. Gently push it down.
Close the pot and lock the lid. Set the machine to cook to high pressure. Set the timer to cook for 4 minutes.
Using the Quick Release method, bring pressure to normal. Carefully unlock and open the lid.
Using an immersion blender, puree the spinach mixture. Add cooked potatoes to pureed spinach mixture and stir well.
Serve hot.
Did You Make This Recipe?