Slow cooker keto Tuscan soup. Enjoy a delicious, low-carb Tuscan soup with this simple slow cooker keto recipe. This filling and flavorful soup feature ingredients like sausage, kale, heavy cream, and more for a satisfying meal that's easy to make and sure to delight the whole family.
What Are the Benefits of Eating Low-Carb Soups?
Eating low-carb soups can be a great way to get the nutrition you need while still managing your weight. Low-carb soups are packed with vitamins, minerals, and fiber, as well as being high in protein.
Also, low-carb soups can help you lose weight and maintain a healthy lifestyle. A low-carb diet is a way of eating that focuses on eating foods with a lower amount of carbohydrates. The idea behind a low-carb diet is to use foods high in protein, fat, and fiber in order to allow the body's natural processes to regulate weight.
A high-protein diet can help you lose weight and keep it off. Low-carb soups are a great way to meet your daily needs for fiber and vitamin B-12 while also meeting your dietary needs for protein.
The health benefits associated with low-carb soups include improved digestion, healthier bones, better heart health, less inflammation, reduced risk for diabetes, and improved skin health. Protein-packed low-carb soups can be a delicious way to help you lose weight and keep it off.
The Benefits of Slow Cooking & Why it's Perfect for Keto Dieters
Slow cooking is a great way to get the most out of your ingredients and make nutritious meals with minimal effort. It's especially beneficial for those following a keto diet, as it allows you to create delicious meals without having to spend hours in the kitchen.
Slow cooking also helps to maximize flavor and preserve nutrients in food, making it an ideal way for keto dieters to get the most out of their meals. In this article, we'll explore the benefits of slow cooking and why it's perfect for keto dieters looking for delicious crock pot recipes!
What is Keto Tuscan Soup and Why it's So Delicious?
Keto Tuscan Soup is a delicious, low-carb soup that is perfect for a keto diet. It's easy to make in a slow cooker and can be enjoyed as an appetizer or as a main course. The combination of fresh vegetables and herbs makes it both flavorful and nutritious. Not only does it taste amazing, but it's also packed with essential vitamins and minerals.
Plus, since it's low-carb, you don't have to worry about going over your daily carb limit. Whether you're looking for an easy meal or just want something tasty to enjoy on your keto diet, Keto Tuscan Soup is a perfect choice!
Tips & Tricks to Make the Most Out of Your Keto Slow Cooker Recipes
Keto slow cooker recipes are a great way to make delicious and healthy meals without spending too much time in the kitchen. With the right tips and tricks, you can make the most out of your Keto slow cooker recipes and enjoy nutritious meals throughout the week.
Here are some helpful tips and tricks to get you started on making delicious Keto slow cooker recipes that will keep you on track with your diet goals.
Prep Your Ingredients: Before you head into your Keto slow cooker recipes, make sure that you have all of the ingredients prepped and ready to go.
This will save time in the kitchen and help you prep for a day of healthy cooking. Some dishes are even better with a little preparation time, so be prepared before you start cooking for your family.
Buy Frozen Meat For Low-Carb Cooking
Options: A lot of Keto slow cooker recipes will include meat that can be thawed as an easy, effortless way to cook it in your slow cooker. Since thawing frozen meats is time-consuming and frustrating, you'll want to take the time to buy your meats frozen so you can simply thaw them in your microwave before using them.
Slow Cooker Keto Tuscan Soup
You may also like:
Instant Pot Keto Pasta Carbonara
Slow Cooker Paleo Chicken Soup Recipe
Slow Cooker Paleo Italian Meatballs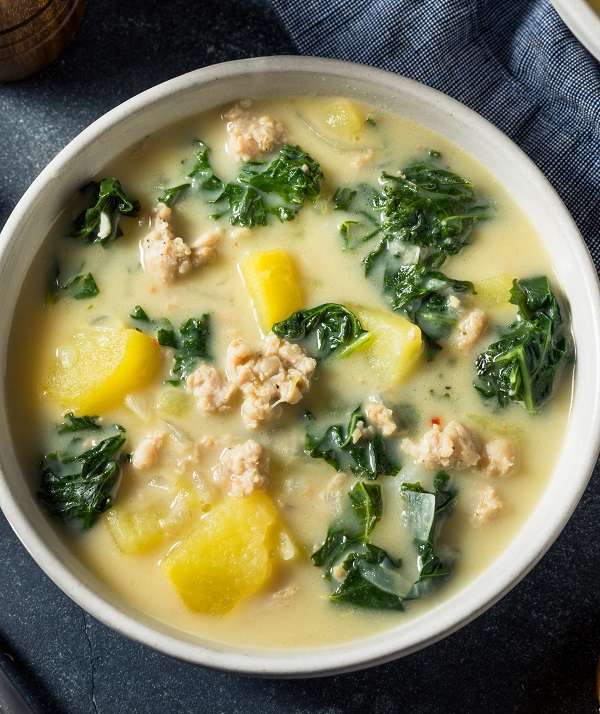 Ingredients
1 pound (480 g) mild ground Italian sausages
1 tablespoon olive oil
1 medium yellow onion, peeled and finely diced
1 pound potatoes, peeled and cubed
3 cloves garlic, peeled and minced
4½ cups (1.1 L)  chicken stock
3 cups chopped kale
1/4 teaspoon crushed red pepper flakes
1 teaspoon salt
1/2 teaspoon freshly ground black pepper
1/2 cup (125 ml) heavy cream
Instructions
Heat the olive oil in a medium nonstick skillet over medium-high heat.
Add ground sausages and cook until browned. using a slotted spoon, remove cooked sausages from the skillet and transfer them to a 6-quart (6 L0 slow cooker. Discard the grease.
Add onions to the same skillet and saute, stirring occasionally, until translucent, for about 3-4 minutes.
Remove cooked onions from the skillet and add to the slow cooker along with the remaining ingredients, except heavy cream. mix well.
Close the pot and cook on a high-heat setting for 4 hours.
Turn off the cooker and open the lid. Stir in the heavy cream. Mix until well combined.
Serve hot.
Did You Make This Recipe?